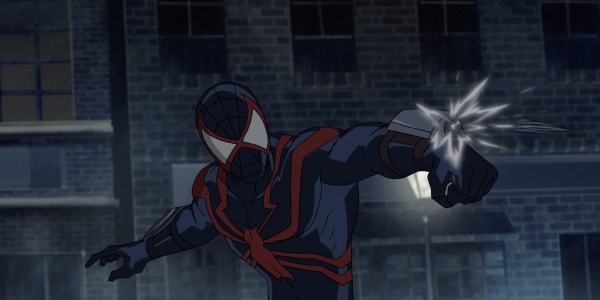 One week before the anticipated release of Spider-Man: Across the Spider-Verse in the Middle East, the Sony blockbuster has been quietly pulled from cinemas without any official announcement as to why.
The sequel to the 2018 Oscar-winning animated hit Spider-Man: Into the Spider-Verse—which netted around $400 million at the global box office and over $1.7 million in the UAE—was listed in cinema programs as recently as last week in countries such as Kuwait, the UAE, Oman, Saudi Arabia, Qatar, Bahrain, Lebanon, and Egypt, but has since disappeared from listings.
Across the Spider-Verse has seemingly fallen afoul of strict LGBTQ+ censorship laws due to a blink-and-you'll-miss-it scene featuring a transgender-flag poster that reads "Protect Trans Lives."
The film subtly integrates additional affirmation for the transgender community, with Spider-Gwen, voiced by Hailee Steinfeld, prominently displaying pink and blue hues—symbolic of the transgender flag—while her father's police uniform briefly reveals a badge adorned with the trans flag.
LGBTQ+ activities are still illegal in the UAE and, according to Equaldex, are punishable by life in prison, flogging, chemical castration, forced psychological treatment, and even death.
So although censorship laws in the region have recently loosened in a bid to appear more liberal, it's likely that the scene in question clashed with the "local customs and values" guidelines.
Sony and Empire Entertainment, the Middle East distributor for the film, did not respond to Fortune's request for comment.
UAE's history with blocking LGBTQ+ content
As entertainment companies strive to be more inclusive in their content, the list of films blocked from release in the UAE keeps growing.
Just last year, Disney and Pixar's Toy Story spinoff Lightyear was banned in several Middle Eastern countries over a scene depicting a same-sex kiss between two space rangers.
Similarly, Pixar's animation Onward was axed from release in Kuwait, Oman, Qatar, and Saudi Arabia because of a reference to lesbian parents. 
Meanwhile Thor: Love and Thunder, Doctor Strange in the Multiverse of Madness, West Side Story, and Eternals also faced bans in the Middle East under similar pretenses.
Mideast backlash
With film prohibitions being a fairly regular occurrence in the region, you may assume that its residents are shrugging off another ban.
However, fans are taking to Twitter, Reddit, TikTok, and more to voice their anger over the removal of Spider-Man. 
'THIS SUCKS! I've never missed a movie with Spider-Man in it since 2012," a Reddit user complained.
Meanwhile, TikTok users are sharing their distraught reactions to the news which is racking up thousands of viewers.
@fhwwwd

damn. #fyp #spiderman

♬ Palace – ADTurnUp
In the comments section of these videos, you'll find a mixed bag of responses from fans: Some are in denial of the ban and others are sharing ways to circumnavigate it.
@adh_ily

Never been sadder 😔 #fyp #fypシ #dubai #uae #spidermanacrossthespiderverse #canonevent

♬ Spider-Man 2099 (Miguel O'Hara) – Daniel Pemberton
Meanwhile, over on Twitter, one user vented: "The UAE literally banned the new Spider-Man movie cause a trans flag was in it for literally 3 seconds. Like just delete the scene and move on. I was so excited to watch it too."
"So ur telling me heart stopper [a television series] is okay, but SPIDERMAN ISNT CUZ THERES ONE TRANS FLAG??? i hate the uae," another shouted into their keyboard. 
Across the Spider-Verse is the second part of a trilogy that will conclude with a third chapter scheduled to hit regional cinemas next year.