Don't sweat over testing natural deodorants—we did the hard work for you.
By
Harper's Bazaar Staff
Jul 16, 2019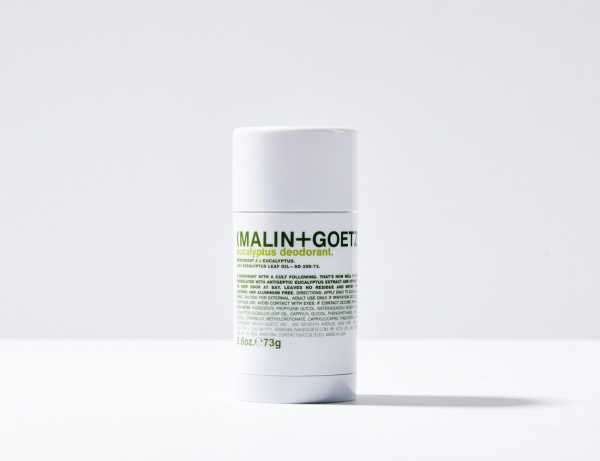 Malin + Goetz
There is no such thing as an aluminum-free antiperspirant. There are, however, plenty of aluminum-free deodorants out there—some better than others. Natural deodorants don't block your body from sweating, but they do keep body odor and bacteria at bay with a combination of natural oils, clays, and ingredients like baking soda. The trial-and-error process can be daunting for anyone who needs to smell presentable around fellow humans, so we did the hard work for you. These are the five natural deodorants our editors trust.
View Gallery
12 Photos
1 of 12
Charcoal Deodorant
Follain
$14 AT FOLLAIN
Charcoal, tea tree oil, and cornstarch work together to wick away moisture and reduce odor-causing bacteria. The formula is also free from baking soda.
2 of 12
HoliStick N °3
Agent Nateur
$21 AT VIOLET GREY
This formula does contain baking soda, but it's also one of the chicest natural deodorants out there. The ingredient list reads more like a grocery list: coconut oil, baking soda, avocado and sunflower butters, honey, and lavender and eucalyptus essential oils.
3 of 12
Natural Deodorant
Corpus
$24 AT VIOLET GREY
This water-based formula makes you feel fancier every time you swipe it on. We love the bergamot, pink lemon, orange blossom, and cardamom scent—it's more like a luxury fragrance than a classic deodorant scent.
4 of 12
The Visionary
Type:A
$10 AT FOLLAIN
From the packaging to the sweat-activated technology, this deodorant is a game-changer. The baking soda-based formula continues to keep you dry and stink-free for hours and hours—so you always smell like you just applied it.
5 of 12
AER Deodorant
Taos AER
$19 AT FOLLAIN
This formula is 70 percent organic and feels powdery on skin—not wet or slick. That's due to the arrowroot powder and baking soda, which keeps you super-dry if sweat if your main issue.
6 of 12
Hoppin' Fresh Deodorant
Ursa Major
$18 AT FOLLAIN
Baking soda-free, this formula glides on like a dream and keeps you not only dry and fresh, but also cool and breezy thanks to the blend of eucalyptus, ginger, rosemary, and lemon.
7 of 12
Cream Deodorant
Routine
$30 AT CREDO BEAUTY
All the deodorant heavy-hitters—baking soda, corn starch, and kaolin clay—combine to make this geranium, rosemary, and mandarin-scented cream one of the top-performing formulas.
8 of 12
Coconut & Vanilla Deodorant
Native
$13 AT TARGET
From the easy-to-apply packaging to the delicious coconut-vanilla scent, this is the natural deodorant that will make you believe they can actually work. It's been known to convert even the most diehard antiperspirant fans.
9 of 12
Deodorant Cream
Meow Meow Tweet
$14 AT TARGET
The glass jar is sustainable and recyclable, but it's a little messier to apply than your standard twist-up tube. You won't care though once you start using the stuff: the baking soda-free formula keeps you smelling fresh without any irritation.
10 of 12
Coconut Deodorant
KOPARI
$10 AT NORDSTROM
Kopari's natural deodorant has a base of coconut oil, so it glides on clear and won't leave an annoying stain on your tee shirts. Plus, the coconut scent smells amazing and keeps your skin super-soft and free of irritation.
11 of 12
Deodorant Cream
Soapwalla
$18 AT FOLLAIN
Baking soda, kaolin clay, and tea tree oil team up in this classic natural deodorant formula to fight odor-causing bacteria and gently control sweat. Some fans claim it's still to date the only aluminum-free formula that's worked for them.
12 of 12
Eucalyptus Deodorant
MALIN+GOETZ
$10 AT NORDSTROM
The strong eucalyptus and citrus scent isn't for everyone, but this deodorant is one of the best we've ever used for keeping us smelling fresh until the end of the day—even in the summer and after sweaty workouts.
Next
The Best Moisturizers with Serious SPF
Advertisement – Continue Reading Below
This content is created and maintained by a third party, and imported onto this page to help users provide their email addresses. You may be able to find more information about this and similar content at piano.io
More From
Skincare
Naomi Osaka Is Expanding Her Suncare Line
The Best Aluminum-Free Deodorants
Advertisement – Continue Reading Below
17 Tanners That Won't Make You Look Like a Cheeto
21 Skincare Holiday Gifts We're Freaking Out Over
The 14 Best Retinol Creams
Holiday Gifts to Keep You Glowing and Stress-Free
Created for
From Harper's BAZAAR for
Created by Harper's BAZAAR for
Biossance Holiday
Refill Your Empties at Dermstore's Cyber Week Sale
Don't Miss Out on These Sephora Cyber Week Deals
Harry Styles's Beauty Brand, Pleasing, Is Out Now
The Return of the Face-Lift
Skincare
Beauty
The Best Natural and Organic Toothpastes
The Best Organic and Natural Face Washes
The Best Natural and Organic Perfumes
The 15 Best Organic and Natural Shampoos
Why You Need Natural Toothpaste and Deodorant
The 7 Best Organic and Natural Candles
Source: www.harpersbazaar.com