The supermodel speaks with BAZAAR.com about her company's buzzy new skincare.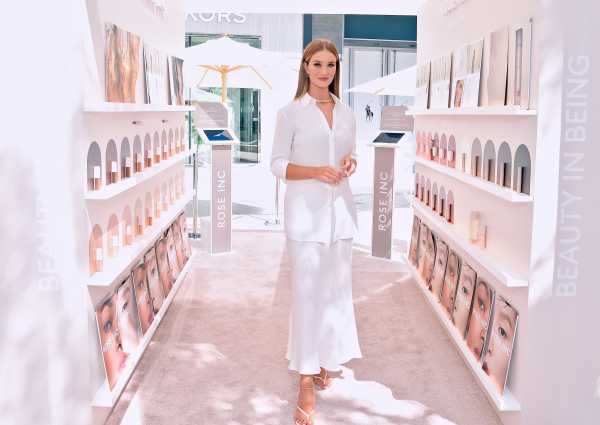 Rosie Huntington-Whiteley is no stranger to beauty. With over 20 years of modeling experience and brand campaigns under her belt, she's a bonafide makeup and skincare expert. Huntington-Whiteley ultimately filtered those learnings into the launch of Rose Inc in 2018, which initially began as a content platform, and later expanded into her current product line.
To hone in more closely on Rose Inc's clean and sustainable ethos, the supermodel, founder, and chief creative officer has partnered with California-based renewable chemical company Amyris, known for also developing formulations for popular brands like Biossance, as well as buzzy emerging ones, like Queer Eye star Jonathan Van Ness's recently launched JVN line. Now with the holidays in full swing, Rose Inc has just launched two new additions to her coveted collection: a brightening eye cream and luxe set of reusable glass cooling globes that aim to minimize puffiness while encouraging lymphatic drainage.
BAZAAR.com chats with Huntington-Whiteley about what's next for her company, the supermodel's current skincare and makeup routines, and why carving out alone time as a busy mom and entrepreneur is a non-negotiable.
Tell us a more about some of Rose Inc's recent product launches—what are you most excited about?
We have a beautiful exfoliating cleanser, which was something I wanted to do from early on because I'm a big exfoliating advocate. I'm always mindful to not recommend anything too much to anyone else, but for me, I love it—I love to exfoliate. I have acne-prone skin, and gentle daily exfoliation is really essential for me. We have our Clarifying Toner which has acids in it, making it great for daily exfoliation. The toner is fantastic—it has pomegranate seed extract in there, which helps with its exfoliating quality, plus the beads are eco-friendly. That was essential, making sure that when the beads go down the drain they're not harmful to the environment. I also wanted to have a cleanser where you're going to get that manual exfoliation from as well.
We additionally have an eye cream that just launched; I don't know about you, but when I went into my 30s I was like, 'yeah OK, now I need an eye cream.' I've never been sold on an eye cream in my 20s, but when you get into your 30s and you start to see those little fine lines, and I have a kid now, so I definitely am starting to look a little more tired. But I just wanted to have a cream that was specifically formulated for around the eye area, so that was a really great product to work on. It also has this lovely light-reflecting quality, which helps brighten the under-eyes. I love applying eye cream because it helps with the rest of my makeup application, particularly concealer. One of my tips with an eye cream is to apply it as your first step after cleansing—I normally apply some type of active or serum after I've cleansed, so by just adding a little bit of eye cream, you're creating a sort of protective barrier for that sensitive area around your eyes for any actives that might creep up. Lastly, I add all-over moisturizer and then an SPF.
This content is imported from Instagram. You may be able to find the same content in another format, or you may be able to find more information, at their web site.
Source: www.harpersbazaar.com