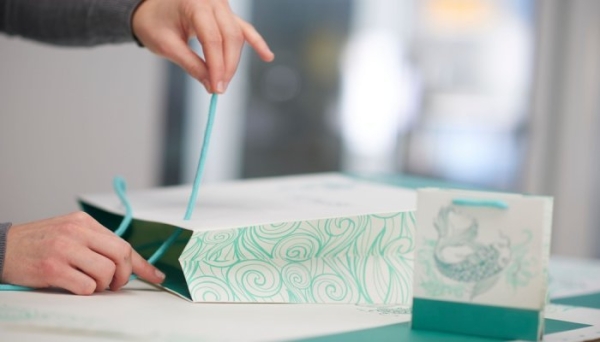 A specialist in high-end cardboard and paper packaging for luxury brands in the fashion, cosmetics, perfume, jewellery, spirits and technology sectors, the German manufacturer, now owned by vph GmbH & Co, is to increase capacity at its production site in Bulgaria to meet the demand for made-in-Europe solutions. The company has enjoyed strong growth in recent years and aims to maintain this course in the near future.
Now a key player in custom-made premium cardboard packaging (paper carrier bags, folding cartons and rigid boxes), the company founded in Germany in 1855 had a purely family destiny until it was acquired in 2016 by vph GmbH & Co, a major German paper merchant and member of the IGEPA Group. Since then, Rissmann has worked to consolidate its market position with a focus on automation and sustainability, resulting in rapid sales growth to EUR 60 million in 2022, almost doubling the 2019 figure. To maintain this sustained pace, the company intends to build on its reputation for quality, substantial investment in automation and digitisation of its design and production processes, and growing demand for made-in-Europe solutions.
New investments in Europe
"Producing in Europe is increasingly seen by our customers as a major asset, with even the largest groups who keep a very close eye on their budgets looking to diversify and shorten their supply chains," explains Sophie Ivens, CEO of the company since 2020. "We have built a strategy on this basis, relying on the trust of our customers, based on the quality of our products and our CSR commitments."
To implement this near-shoring strategy, Rissmann relies on its historic industrial site in Nuremberg, Germany, on a network of partners in Hungary, where the company has a logistics platform, and on a new plant in Bulgaria, operational since 2022.
The German site specialises in the automated and semi-automated manufacture of luxury boxes. It benefits from high-tech equipment that is constantly being modernised to deliver high levels of productivity, quality and responsiveness. Rissmann entrusts manual finishing operations to Hungarian partner workshops employing people with disabilities, thereby promoting their integration through work. The Bulgarian factory focuses on the manual assembly of bags and boxes, but will gradually be automated to meet growing demand. Currently being expanded to 7,000 m2 the Bulgarian site will also be equipped with hot stamping machines.
To meet the diversified needs of the market, Rissmann combines its in-house production capabilities with those of its long-standing network of strategic partners in Asia, selected to meet the expectations of luxury brands in terms of professionalism, quality and sustainability. The company has a sales and quality administration office in Qingdao, China, and a sales office in Hong Kong.
A holistic approach
Another of Rissmann's strengths is its holistic approach to production, from design to industrialisation, innovation and sustainability.
"Integrated industrialisation is a key issue for the success of industrial projects in Europe, by relying on automation, where appropriate, to remain flexible," Sophie Ivens points out. "The advantage of being a manufacturer is that we can work on the different automation options right from the design phase."
The emphasis on innovation is obvious in Rissmann's relationship with its suppliers. The company, which sources from prestigious papermakers in the luxury sector, or specialists in decoration techniques such as hot stamping, gilding, embossing etc. and printing, places great importance on the relationship with its value chain, opening its factories to collaborate on new techniques and product testing.
The same holistic approach to sustainability is taken: the company uses solar energy for more than 60%, recycled and recyclable materials, biodegradable and compostable materials and implements social actions in all its activities. Rissmann is FSC-certified and has been awarded the EcoVadis Silver rating.
Finally, it is worth noting the recent creation of Rissmann Inc. in the United States, reflecting the company's desire to extend its international reach and offer a closer service to its US customers.
Portfolio