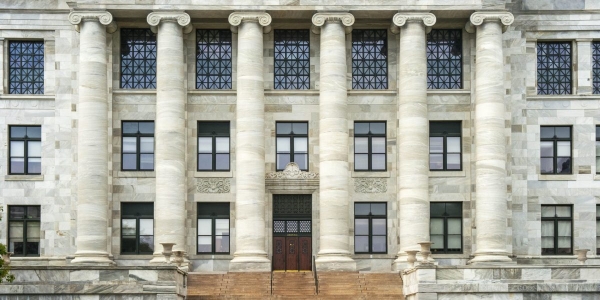 The manager of Harvard Medical School's morgue was indicted on federal charges he stole body parts as part of a human-remains trafficking conspiracy involving his wife and others.
Cedric Lodge allowed buyers into the school's morgue to choose body parts from donated cadavers and transported heads, brains, skin, and bones to his home in New Hampshire, according to the five-count indictment filed in Pennsylvania.
"Some crimes defy understanding," US Attorney Gerard M. Karam said Wednesday in a statement. He called the conspiracy "particularly egregious" because victims had donated their remains for educating students and advancing science.
"For them and their families to be taken advantage of in the name of profit is appalling," Karam said.
Named as buyers in the indictment are Katrina MacLean of Salem, Massachusetts, who ran a studio called "Kat's Creepy Creations," and Joshua Taylor, of West Lawn, Pennsylvania. Lodge's wife Denise is accused of shipping the remains and operating a PayPal account that received $37,355 in proceeds from the conspiracy.
Harvard Medical's deans called the alleged crimes "an abhorrent betrayal" in a statement. The school has set up a web page with resources for donor families and next of kin.
All four defendants were arrested Wednesday. Cedric Lodge and his wife were released on conditions after appearing in federal court in New Hampshire. Cedric's appointed lawyer, Behzad Mirhashem, didn't immediately respond to a request for comment, nor did an attorney for Denise Lodge. 
Taylor pleaded not guilty in Pennsylvania and was released. His attorney, Christopher Opiel, declined to comment. MacLean appeared in court in Boston. Her attorney, Gordon Spencer, didn't immediately respond to a request for comment.
Prosecutors separately charged an employee of a mortuary and crematorium in Little Rock, Arkansas, for allegedly selling and shipping the remains of two stillborn babies to a Pennsylvania resident named Jeremy Pauley, who was also charged.
Investigators claim the Harvard morgue manager agreed to look for skin for MacLean to provide to Pauley so he could tan the skin to create leather. MacLean also agreed to buy two dissected cadaver faces for $600 from the morgue manager in October 2020, according to prosecutors.
In September 2021, MacLean shipped human skin to Pauley, according to the indictment. She later contacted Pauley to check on the package. She allegedly told him she "wanted to make sure it got to you and I don't expect agents at my door."