For one thing, she loves the brand's new Capture Totale products.
Dior
In 2020, everyone is a skin care expert. Armed with knowledge from YouTube dermatologists and scientific Reddit threads, women have become more discerning than ever before about the products they're willing to splurge on. So it makes sense that Dior would release its most thoughtful and sustainable skin care line to date this year: Capture Totale.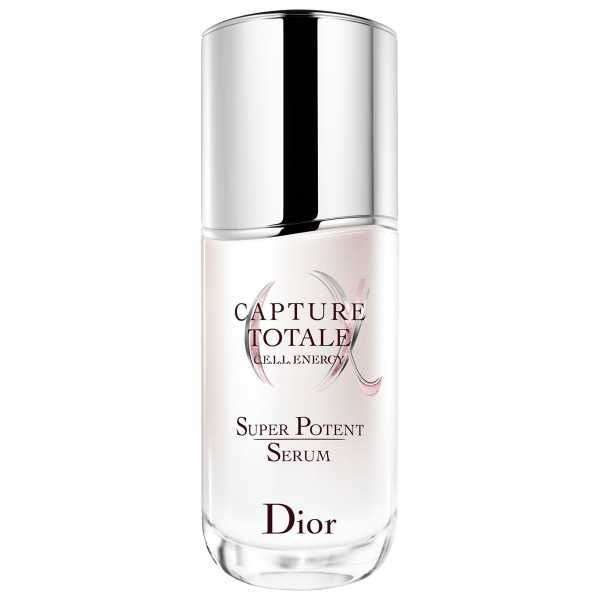 Capture Totale C.E.L.L. ENERGY – Super Potent Age-Defying Intense Serum
Dior
sephora.com
$240.00
Modeled by Gisele Bündchen and backed by a real skin care expert—celebrity facialist Joanna Czech—the new Capture Totale is light on the plastic packaging and added fragrance but heavy in actives like hyaluronic acid and something called the energizing cell complex. The line of products—all recyclable—includes a cleanser, milky toner, eye cream, and face cream, but the hero product is the new Super Potent Serum. The aforementioned complex is derived from four floral extracts, which help to stimulate your skin's "mother" cells and boost overall energy function, so your skin acts and behaves like younger skin. There's also a new delivery system to drive the actives deep into your skin, so they can actually get to work. All that's to say that applying these products just once will make your skin soft, bouncy, and glowy—and the results only get better from there.
The new Capture Totale products aren't promising to totally eradicate your fine lines and dark spots. They're not here to replace your retinol and vitamin c serums. But they will help promote overall healthy and plump skin—which is why Czech took a leap and began working with Dior.
Czech admits that an esthetician working with a luxury company like Dior is a bit odd. After all, in this age of know-it-all Internet experts, any skincare loaded with fragrances and lofty claims can often be seen as wasteful or potentially harmful, particularly if you have sensitive skin. "The science behind [the products] is what I love and believe in," says Czech of Capture Totale. "It's all about reenergizing our cells." With minimal fragrance, a focus on natural and safe ingredients, and nearly instant results, the serum has become a staple for Czech. So much so that when she ran out a few weeks ago, she asked the company to overnight her more bottles.
Czech's signature treatment is a facial massage like no other, one that works deep into muscles to lift and sculpt every inch of your face. Combined with LED light therapy and other devices like microcurrent, getting "Czeched" by the facialist is a transformative experience. You'll leave her NYC or Dallas spa wondering why you don't get your face slapped more often. That's precisely the point. Like exercise and eating healthy, facial massage needs to be part of your overall lifestyle. Her exacting technique and holistic approach to skin health is why her celebrity clients—including Carrie Mulligan, Michelle Williams, Rooney Mara, Candice Swanepoel, Lily Aldridge, Kim Kardashian, Jennifer Aniston, Mandy Moore, Christy Turlington Burns, Cate Blanchett, Kate Winslet, Uma Thurman, Kyra Sedgwick, Minnie Driver, and more—keep her magic hands booked year-round.
Source: www.harpersbazaar.com