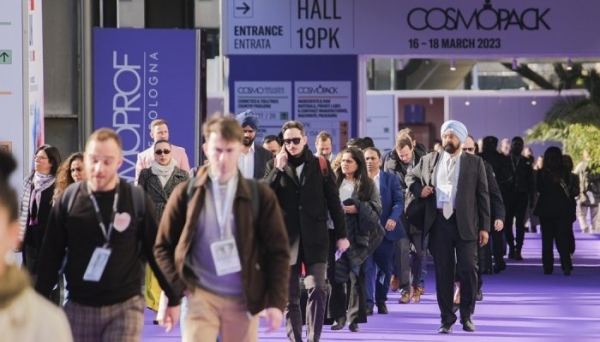 The Bologna trade show concentrates its opening dates to increase its efficiency. In 2024, all halls will open on Thursday and only the Cosmo Hair and Nail & Beauty Salon spaces will remain open on Sunday, the other exhibiting areas will close on Saturday evening. The organizers say they intend to better meet the expectations of exhibitors and visitors alike.
The 55th edition of Cosmoprof Worldwide Bologna, the giant B2B event dedicated to the global cosmetics industry, will take place from Thursday, 21 to Sunday, 24 March 2024.
A tightened up schedule
Unlike previous years, all exhibition areas will open simultaneously on Thursday, March 21. Cosmopack, the area dedicated to the supply chain, and Cosmo Perfumery & Cosmetics, which hosts the brands that are sold in retail channels, will run for three days only and will therefore close their doors on Saturday, 23 March, while the Cosmo Hair, Nail and Beauty Salon areas, which are dedicated to products sold in the professional channels (hair salons, beauty salons, spas), will run for four days and close on Sunday, 24 March.
With this new calendar, the organizers have taken into consideration the repeated requests, in particular from international exhibitors and visitors, who were less interested in attending the show on Sundays. Italian visitors who are interested in the sectors dedicated to professional channels will still be able to visit the show on this day.
"By updating the format of the show, we want to meet the new market needs," said Gianpiero Calzolari, President of BolognaFiere. "Cosmoprof Worldwide Bologna is the global reference event for the entire cosmetics industry, and it is therefore in our interest to monitor the transformations taking place both in Italy and internationally, to continue to support companies and operators from all over the world who have been following Cosmoprof for 55 years as a strategic appointment for their business."
According to Enrico Zannini, General Manager of BolognaFiere Cosmoprof, international stakeholders were not the only ones to ask for an adjustment of the opening dates. "Italian operators and professionals also asked to anticipate business meetings with suppliers and partners on Thursday and Friday," he said.
Furthermore, the organizers also consider that the concurrent opening of all exhibiting areas will facilitate the possibility to interact with the owners and buyers of beauty centres and hair salons interested in new products and private labels.
New advertising campaign
Together with the communication of the new dates, Cosmoprof Worldwide Bologna also launched their new advertising campaign for the 2024 and 2025 editions of the entire Cosmoprof network around the world.
Dubbed Unfiltered Beauty / Natural Beauty, the new image, created by Heads Collective, refers to the common use of increasingly advanced filters available on smartphones and social media. The diaphragm that separates us from reality, is represented by a coloured plexiglass plate, and photographer Giulio Rustichelli passes through the coloured filter to investigate expressions with simplicity, without hiding anything. A quest for transparency that is more than ever important!
Portfolio