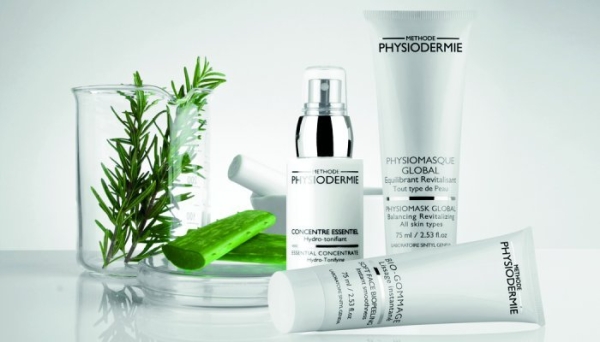 Since it was purchased by Alexandre Vacher in 2016, it has not taken long for Méthode Physiodermie, a premium brand of Laboratoire Sintyl – which also markets the Physiocoiffeur hair products – to reinvent itself and attract an increasing number of customers in France and around the world. Organic-certified skincare line, new subsidiaries, more training, sales growth in China… Alexandre Vacher, CEO of Laboratoire Sintyl, gave Premium Beauty News more details about the ingredients that helped revive the Swiss brand.
Premium Beauty News – Since Méthode Physiodermie was purchased in late 2016, you have multiplied its turnover by five, and it is now available in more than 1,000 beauty salons and spas in about 20 countries. Could you please tell us about your growth strategy?
Alexandre Vacher – Since 2016, the number of countries in which the brand is present has not increased much, as a matter of fact. There must be three or four more, but that is it. And in fact, it is not our main objective.
Méthode Physiodermie is a skincare brand with the absolute promise – since it was founded in 1974 by a biologist and naturopath, Doctor Franco Calato – of improving skin's quality and providing practical answers to skin concerns: signs of ageing, but also acne, rosacea, dermatitis… That is why the brand is only distributed in beauty salons and spas. Méthode Physiodermie consists of expert skincare products potentiated in salons thanks to a technical gesture aimed to enhance results. Plus, anyone who consults a Méthode Physiodermie practitioner gets an accurate skin diagnosis with a customized proposal.
That is why our growth strategy mainly relies on our being close to our customers, in particular by opening new subsidiaries. Our subsidiary in France accounts for 25% of our turnover. We also have two in Asia, in Singapore and China. This customer-oriented strategy also makes it easier to train our partners, and that is a priority. We have three specific trainers, only in France. We have been developing an e-learning application to keep improving our customer service and help our partners become better professionals.
Premium Beauty News – The Clinical Swiss Organics organic-certified skincare line was launched soon after you came to head the brand. What was your vision?
Alexandre Vacher – When I took over Méthode Physiodermie, I gathered the R&D service team to think in depth about consumer expectations over the next ten years. It seemed obvious to us that demand for results, but also for naturalness, would keep increasing, and that there would be no step backward.
Starting from there, we designed a full face care range combining naturalness and efficacy. We chose the Cosmos Organic certification by Ecocert Greenlife, the most rigorous standard in Europe, to convey the brand's philosophy based on research discipline and skincare of excellence. To make our green offering ever-more sophisticated, a few days ago (in early June), we launched a two-phase makeup remover containing bisabolol and an anti-ageing peptide for a "skincare touch".
Contrary to the French, and more generally to Europeans, Chinese customers are less sensitive to natural and organic claims. In Asia, brands focus their communication on results and flagship actives, because these arguments have more impact on these well-informed consumers who know perfectly well which are the latest trendy ingredients and their benefits.
Premium Beauty News – China seems to play a key role in your growth strategy. Can you tell us about it?
Alexandre Vacher – Méthode Physiodermie is a premium brand which offers efficient, carefully selected actives and a specialized, almost professional communication perfectly in line with the Chinese market's expectations.
This population has an increasingly sensitive skin, so anti-ageing, anti-acne and anti-redness products are very popular. China is a very complex market, which is why we chose to open a subsidiary in Beijing (Laboratoire Sintyl Beijing Cosmetics Co. Ltd). Right now, we have three employees working in particular on promoting Méthode Physiodermie products. In the first semester 2023, the sales achieved in China accounted for 40% of our total turnover. It is true that this country is gaining importance in our company's growth.
Premium Beauty News – How are products distributed in China?
Alexandre Vacher – The most popular concept in China – contrary to Europe, where beauty places are more intimate – is medispas. These are huge, multi-storey facilities up to 500, or even 600 square metres, with a humic area composed of a pool, a hammam, and a sauna, an area focused on technologies, an area for manual treatments, and another for retail products, but also a social club to gather with friends, etc. The Chinese population goes to medispas to get expert advice on its skin issues thanks to skin specialists, like beauticians, but also physicians.
Premium Beauty News – What about Singapore?
Alexandre Vacher – In terms of distribution network, it is more typically European, with a more traditional approach. Our local subsidiary (Laboratoire Sintyl Singapore Pte Ltd) is doing well. It helps reach consumers and promote our products, and it makes the commercial follow-up more efficient. Plus, we are also very present to train our partners. We have been considering opening new subsidiaries in other countries, but it is too early to talk about it.
Portfolio