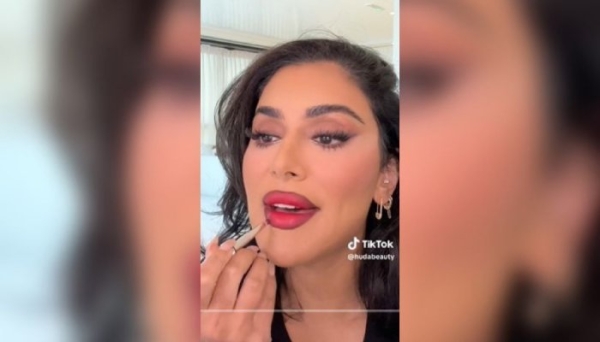 It's not a tip or a hack that's currently buzzing on TikTok, but rather a lipstick shade, dubbed 'Cherry Cola Lips' in reference to a famous sparkling drink. The shade has become the star of the summer.
Over 60 million views
The words 'Cherry Cola' are currently running wild on social media, with no fewer than 64 million views on TikTok. Through this hashtag, users can find numerous tutorials entirely dedicated to lip makeup, detailing different ways — gloss, pencils, lipsticks, or a combination of all three — to achieve the coveted shade. And that's not all, since the #CherryColaLips hashtag has racked up over 2.5 million views to date, with several beauty bosses – including makeup artist, influencer and brand owner Huda Kattan – having already tried and tested this tasty new shade.
A red that turns brown
The 'Cherry Cola' shade is essentially a bright, vibrant red that gradually turns darker red, then brown, like the colour of the fruity soda. In her video, Huda Kattan first uses a brown lip pencil, which she applies around the contour and gently blends over the edge of the lips. She then finishes with a matte red lipstick to fill in the lips, before adding a final stroke of brown pencil to accentuate the 'Cola' effect. But techniques vary from user to user, the idea being simply to recreate the viral shade as best as possible.
@hudabeauty #cherrycolalips #hudabeauty #fyp @Huda Beauty ♬ original sound – Huda Beauty
There's nothing revolutionary about using brown lip liner — as anyone already doing their makeup in the 1990s can testify. However, back then, the idea was to combine a brown contour with a transparent gloss, and not such a vibrant lipstick colour.
So, are bold colours back? The fact is that the shade hasn't just made its mark in the world of makeup. Actually, it could also become the star hair colour as we head into summer, this time dubbed #CherryCokeHair and with some 20 million views and counting on TikTok.