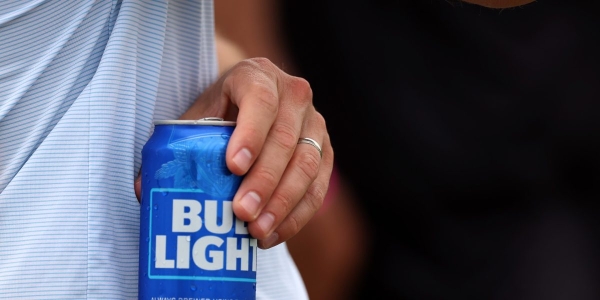 Bud Light needs to come up with a cogent strategy to win back customers in the next few months, a former executive warned, or its market share losses could become permanent.
Come September, retailers are expected to begin reallocating the limited shelf space by relying on sales data from the preceding months.
In Bud Light's case, that could mean a diminished presence going forward following the controversy over its brief partnership with a transgender influencer, according to Anson Frericks.
A president of sales and distribution at Budweiser's U.S. parent Anheuser-Busch until his departure in April 2022, he told the Daily Mail that rivals like Coors Lite and Yuengling could then remain a more prominent fixture in stores following this "reset."
"Those brands will have a better likelihood to succeed long term because they have more shelf space, they have more inventory, they have more back-stock, and they have more availability for consumers," he said.
The warning by Frericks, who cofounded his own asset management firm after more than a decade at the mega-brewer, comes after data suggesting that Mexican beer Modelo Especial could supplant Bud Light this year as America's favorite frothy brew. 
Two weeks after Dylan Mulvaney published on Instagram a post promoting Bud Light, Anheuser-Busch CEO Brendan Whitworth apologized for the controversy by claiming his company "never intended to be part of a discussion that divides people."
The clock is ticking
Immediately afterward, Budweiser published a new ad with patriotic imagery emphasizing its longstanding roots in America's heartland. But the pivot was perhaps too obvious an attempt to reconnect with conservative customers, and an impromptu boycott of the beer continued. 
Consequently, Frericks warned Anheuser-Busch has only limited time left in which to come up with a plan that can draw a line under the controversy.
"It needs to make a statement about who their customers are and who they're going to serve now, and try and regain those customers now in June and July, because by August, September, it's too late," the former sales exec said. 
Frericks had previously warned in late April about the risks companies take when sacrificing their apolitical stance in the marketplace to support environmental, social, and governance issues that may lose them more customers than they gain. 
Conservative backlash for brands
Bud Light is also not the only product in the crosshairs of conservative consumers.
Retailing chain Target also has received blowback for selling tuck swimsuits as part of Pride Month, and is believed to be a factor in its stock price hitting multiyear lows.
Michel Doukeris, CEO of Anheuser-Busch owner AB InBev, sought to appease investors last month by arguing the controversy was not due to an officially sanctioned campaign but rather just one can used in one Instagram post. 
But it's looking like that one can is proving costly to Doukeris' Bud Light.
Anheuser-Busch could not be reached by Fortune for comment.