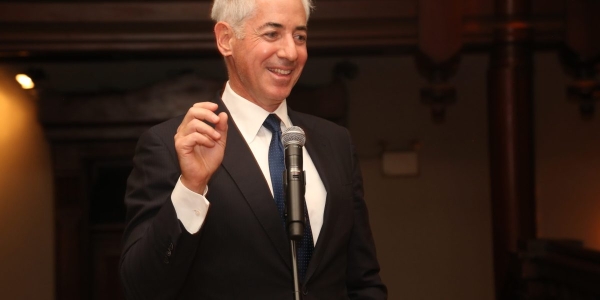 Hedge fund investor Bill Ackman waded into an ugly fight between his fellow billionaires on whether there should be a high-profile debate on the effectiveness and safety of COVID vaccines.
On Saturday evening, the founder of Pershing Square Capital Management backed a pledge from podcast host Joe Rogan to donate $100,000 to charity if Dr. Peter Hotez, a professor and critic of vaccine misinformation on Rogan's show, would debate presidential candidate and vaccine skeptic Robert Kennedy Jr. 
Ackman offered an additional $150,000, arguing that such a debate "would enable the public to better understand these issues."
"If you are truly interested in saving lives, you need to further the public's understanding of the truth about vaccines," he continued later that day, referring to Hotez. "This is a debate you cannot walk away from."
Then, on Monday evening, Ackman walked back his support for a debate between Hotez and Kennedy Jr—instead claiming the doctor wasn't a credible defender of vaccines, compared to the "extremely articulate" Kennedy, who Ackman described as an "excellent choice for an antagonist in the vaccine discussion."
It's the latest twist in a now multi-day controversy about whether it is better to confront with skepticism and, at worst, outright misinformation about COVID vaccines with moderation or open debate (even in skeptical spaces).
Billionaires fight over vaccines
The firestorm began Thursday after Rogan, host of the popular The Joe Rogan Experience podcast on Spotify, released his interview with Kennedy, currently pursuing a long-shot bid for the Democratic presidential nomination. On the show, Kennedy trotted out debunked claims against vaccines (such as the argument that vaccines cause autism), and suggested that large pharmaceutical companies were suppressing his views. 
Then on Saturday, Rogan took aim at Hotez, who serves as the dean of the National School of Tropical Medicine at Baylor College of Medicine, after the professor shared a critical article about the interview. The podcast host demanded that Hotez debate Kennedy on his show, offering $100,000 to charity as compensation.
Other (wealthy) commentators joined in. Tesla CEO and Twitter owner Elon Musk tweeted in support of Rogan, claiming that Hotez was "afraid of a public debate, because he knows he's wrong."
Mark Cuban, the star of Shark Tank and owner of new healthcare startup Cost Plus Drugs, accused Rogan and Musk on Sunday of being "disrespectful" to health care professionals.
"You are driven by self interest", Cuban tweeted. "Don't lie to yourselves and all of us and tell us you are different."
'Conventional wisdom'
Ackman revealed himself to be a fan of Kennedy soon after the candidate's interview with Rogan. "One of the most powerful and mind opening interviews that I have ever heard," he tweeted on Thursday. "I am intrigued to learn more." 
Then, in several more tweets over the weekend, the hedge fund investor explained why he wanted a debate on vaccines, pointing to his lack of faith in conventional wisdom and media consensus. 
"The experts, the government, and conventional wisdom are often wrong," Ackman tweeted on Saturday, arguing that people were wrong about "transient" inflation, how easily Ukraine would fall to a Russian invasion and, perhaps controversially, the claim that COVID-19 did not escape from a laboratory in China. (The "lab leak" hypothesis is nowhere near accepted truth, with many scientists supporting a zoonotic origin for the coronavirus. The U.S. intelligence community is divided on the question of COVID-19's origins.)
Instead, Ackman claimed that "truth can emerge when two or more articulate and intelligent individuals in an open forum discuss and debate a controversial subject."
Studies largely agree that COVID vaccines prevented millions of deaths and hospitalizations. Widespread vaccination in the U.S. prevented 18.5 million hospitalizations and 3.2 million deaths, according to a December study from the Commonwealth Fund. 
Almost 70% of the U.S. has received at least two doses of a COVID vaccine. Yet take-up of the newest COVID boosters, which target the BA.4 and BA.5 variants that dominated last year, is slow: Only 17% of the U.S. have gotten the booster, according to the Centers for Disease Control and Prevention.
Ackman, who tweeted on Saturday that he was "not an anti-vaxxer," now thinks the campaign was too aggressive.
"Many lives may have been saved with reduced negative long-term effects on the economy, the education of our children, and our citizens' mental health" had the U.S. listened to "skeptics" of either vaccination or lockdowns, Ackman wrote on Monday.