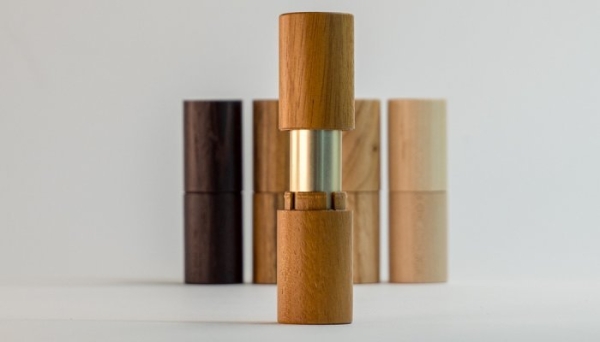 Aptar Beauty and Quadpack continue their collaboration to create a refillable lipstick in a wooden case with an improved design.
Launched one year ago, the Iconic Woodacity refillable lipstick will soon be available in 2.0 version, which will be presented at Luxe Pack Monaco, from October 2 to 4, 2023.
Designed for increased sustainability and an engaging consumer experience, bringing together the two companies' expertise in lipsticks and wooden componentry, Iconic Woodacity features Aptar's Iconic mechanism, wrapped in a custom monomaterial wooden casing from Quadpack. The new edition refines the concept with more choice in wood types and finishes and a new, patented closure system called 'Solo Snap'.
Ash or maple wood to be decorated
The Iconic Woodacity 2.0 casing can now be made of 100% ash or maple wood, sourced from European, sustainably-managed forests, with PEFC and FSC certifications. It is a canvas for brands, as they can make it their own by applying a wide array of designs and decoration techniques.
"Wood is all about emotions. Ash is a light-coloured wood with a straight grain. Maple can be very smooth and shiny. Decoration can either highlight the unique grain patterns or give the product a premium look-and-feel – in that sense, it can also cater to brands looking for sustainable packaging without wood's natural aesthetics," explained Denisa Stircea, Senior Category Lead at Quadpack.
Insert-free closure
Quadpack's wood experts have created a click closure, thanks to a new, patented interior structure that works without inserts, plastic or otherwise.
Consumers simply pull the cap off and push it back on until it clicks. According to Quadpack, the new Solo Snap system works perfectly with standard filling lines.
Iconic mechanism by Aptar
The wooden casing houses Aptar Beauty's Iconic mechanism. POM-free, glue-free and lubricant-free, it offers a smooth actuation of the bullet. Refills are easily replaced by pulling out the used mechanism and snapping in the new one.
With the mechanisms manufactured at Aptar Beauty's Chavanod facility in France and the casing made at Quadpack Wood in Catalonia, Spain, Iconic Woodacity 2.0 is entirely 'Made in Europe'.
Iconic Woodacity 2.0 is the latest addition to Quadpack's Woodacity collection, which now includes lipsticks, compacts, jars and closures for perfume bottles, lotion packs and tubes.
"We are very proud to have built a collection of Woodacity solutions for almost every packaging need over the past two years. Part of the motivation to create Woodacity was to optimise the end-of-life solution for wood as best as we could – and that is exactly what we have achieved. Woodacity is all-natural, non-toxic and looks 100% premium – it's impossible not to fall in love with it! Plus, our original caps remain the best technology available for full-wood closure systems," concluded Denisa Stircea.
Portfolio