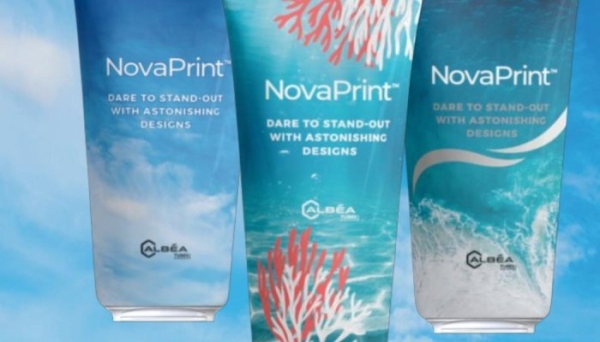 Albéa Tubes continues investing in order to transform the cosmetic tubes industry. At Luxe Pack Monaco, the beauty packaging specialist presented new decoration solutions as well as a new format for its EoTop range, with the aim to create ever more attractive and sustainable tubes.
While increasing the sustainability of packaging, through the reduction of their carbon footprint and more circular designs, remains essential, Albéa also intends to help brands to continue to differentiate themselves and offer consumers a renewed purchasing experience.
Differentiation and reduction
At this year's Luxe Pack Monaco, which was held from October 2 to 4, 2023 at the Grimaldi Forum, the tubes division of the French beauty packaging giant highlighted new decoration solutions and new solutions for reducing the weight of packaging for improved customer experience and enhanced sustainability.
Thanks to their new NovaPrint printing technology, Albéa Tubes aims to offer the possibility of multiple decoration effects to reach outstanding tube packaging. According to Albéa, by welding a PE film on an extruded tube, NovaPrint offers photographic quality resolution, with high-quality images and 360° printing, without side seam.
In addition to its ability to attract the attention of consumers, this new decoration technique also makes it possible to do without a cardboard box and also without a label: an important step towards the reduction and optimal recyclability of packaging. It also makes it possible to increase the content of tubes in post-consumer recycled materials (PCR) without compromising on their aesthetic qualities.
Along the same lines, the PrimePrint solution allows direct printing on a cylindrical extruded tube, with photo-realistic results, highly coloured and high resolution pictures, clear and delicate details and smooth gradients.
"We are convinced that decoration will play a key role in the future," explains Caroline Hughes, Marketing Manager Albéa Tubes. "Besides our NovaPrint technology, we are developing a wide roadmap of decoration options integrating several effects such as 3D as consumers are looking for new tactile and sensorial experiences. The result will be twofold: it will support brand's differentiation and, at the same time, enable the removal of secondary packaging – key to reduce waste – while ensuring the same attractivity for consumers".
EcoTop family is growing
Albéa continues to move forward with its packaging weight reduction roadmap and extends its range of EcoTop solutions with a new 35mm diameter to suit with face or hand care applications.
Until now, the EcoFusion Top tube launched in 2022 — the fusion of the head and the cap — was only available in 50 mm diameter.
Custom developments are also ongoing, all aiming at reducing the weight of the tube packaging.
"EcoTop is a forward-looking innovation in the packaging industry and the solution for the future to drastically reduce plastic", highlights Caroline Hughes.
Promoting PCR solutions
Despite macroeconomic uncertainties, Albéa Tubes considers the move towards low impact tubes is a priority. The manufacturer has invested in new capacities to manufacture light weighted tubes for the beauty market and strengthened its commitments with its suppliers of PCR materials and its proximity with recyclers to ensure the circularity of its tubes.
With the ambition to produce 100% recyclable tubes by 2025, Albéa has reached a proportion of 55% in 2022. Despite a good trend in Europe, the manufacturer considers there is a need to accelerate the market conversion to sustainable solutions by exiting from non recyclable Aluminium Barrier Laminate (ABL) tubes and by promoting PCR solutions on extruded and laminate tubes.
While the aim is to reach 10% of PCR content in tubes by 2025, the proportion was of 2,4% in 2022. According to Albéa, this is due to the reluctance of toothpaste makers (50% of the cosmetic tubes market) to make the shift toward post-consumer recycled material.
Portfolio