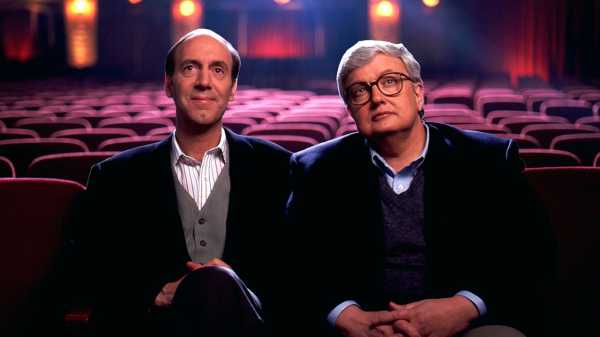 Save this storySave this storySave this storySave this story
Roger Ebert and Gene Siskel, who went on the air together for the first time in 1975, have been off the air for a long time now. Siskel died in 1999, and Ebert bowed out in 2011, two years before his death. But, for many people, they remain the very exemplars of film criticism. Fellow-critics still admire their vigorous, wide-ranging discussions while, for the public at large, their thumbs-up/thumbs-down gimmick, which they came up with in 1982, has proved indelible. The story of their rise to fame is told in enticing detail by Matt Singer in a joint biography titled—what else?—"Opposable Thumbs." For Singer, the critic at ScreenCrush and the current chairperson of the New York Film Critics Circle, the book is clearly a labor of love. He writes that his own aspiration to be a critic was sparked by their show, which he began watching obsessively as a middle schooler, in the early nineteen-nineties.
Singer's admirably fanatical research renders this obsession tangible. He seems to have absorbed every moment that the duo spent onscreen, whether on their own show or other people's. (They were Johnny Carson and David Letterman regulars for years). He has combed his heroes' writings and interviewed their colleagues, friends, family, and fellow-critics. But, more than merely gathering this material, he has thought deeply about it, and the best thing about the book is the way that it highlights some of the basic quandaries that critics confront (or avoid) daily. These fundamental conundrums of criticism involve questions about specialism, authority, personality, art, and business. And, with Siskel and Ebert, these dilemmas came into play long before the duo joined forces on television. Both Illinois natives, the two men came to their critical careers by very different paths, but they had one crucial thing in common: neither had set out to be a film critic.
Ebert, born in Urbana in 1942, was one of those precocious journalists who seem to have printer's ink in his veins. As a high-school sports reporter, he won an Associated Press prize for professional (not just student) journalists. He edited his college daily at the University of Illinois and, in 1966, having begun a doctorate at the University of Chicago, took a day job as a reporter at the Chicago Sun-Times. The next year, when the newspaper's veteran movie critic retired, he was tapped as her replacement, having written a few film-related reports. (A publicist recommended him.) In his wise and engaging autobiography, "Life Itself," he recalls that he didn't intend to stay in the job long: "My master plan was to become an op-ed columnist and then eventually, of course, a great and respected novelist." But within a decade he'd become the first film critic to win a Pulitzer Prize for criticism.
Siskel, in contrast, came to journalism more or less by happenstance. Born in Chicago, in 1946, he majored in philosophy at Yale and planned on a career in law and politics. That changed when, needing to avoid the draft, he joined the Army Reserves. He wound up as an Army journalist at a base in Indiana, and, when he got out of the service, in 1969, he took a job with the Chicago Tribune. He'd been there only eight months when the paper's movie critic took a leave. Siskel, who'd written a few pieces about the movie world, put himself forward and got the job.
Now the two men were in direct competition: doing the same job at Chicago's two great rival papers. But, as much as they often clashed, there was another key thing they shared: neither was a movie person. Not only was neither a cinema-studies major (such a thing barely existed in their day) but also neither fit the profile of the cinephile, hanging out at repertory theatres and taking sides in the debates then raging over the so-called auteur theory. They were just regular moviegoers who managed to find a journalistic application for their pleasure. Their paths to television were separate but symmetrical, each maintaining print journalism as the solid basis of his activity. In 1973, Ebert hosted a series of Ingmar Bergman films on television, which scored an Emmy nomination. Then Siskel started delivering brief movie reviews on a local station. Then, in late 1975, the Chicago public station WTTW paired them up for a joint movie-review program.
The breakthrough took a while. Though PBS broadcasts in markets such as New York and Los Angeles brought national attention, by 1981, as Singer tells it, Siskel and Ebert were getting frustrated with the over-rehearsed nature of the show. The pair, encouraged by the assistant producer Nancy De Los Santos, decided to give free rein to everything else—the discussions and arguments, the slips and flubs, the spontaneity and authenticity of their interactions. Rather than an entente between rivals, the format became gladiatorial. Critics on TV weren't new, as Singer notes; most of them would do a few minutes during news broadcasts. Siskel and Ebert were different. Individually, they remained writers first, transferring the essence of their columns to the screen, but the show as a whole was TV first and foremost, with all the showmanship of the commercial medium. Predictably, their burgeoning fame attracted a backlash. In 1990, decrying the state of film criticism in the august pages of Film Comment, Richard Corliss dismissed the show as "a sitcom . . . starring two guys who live in a movie theater and argue all the time. Oscar Ebert and Felix Siskel." Singer differs: "To a generation of up-and-coming cinephiles, it was their first taste of film school."
Singer correctly identifies the show's crucial ingredient: the two stars' clashing personalities and relentless competitiveness. As rival newspaper critics, they'd been striving to outdo each other for the best part of a decade. Now they were in the same room. In his memoir, Ebert writes:
In the television biz, they talk about "chemistry." Not a thought was given to our chemistry. We just had it, because from the day the Chicago Tribune made Gene its film critic, we were professional enemies. We never had a single meaningful conversation before we started to work on our TV program.
Ebert's expansive, jovial character immediately comes across in this memoir and in other published portraits. Siskel remains more of an enigma, because he died young and also because he was a far more private individual, rarely speaking of his personal life. The portrait of Siskel that emerges in Singer's telling is fascinating. A former Yale roommate declared him "the most competitive person I've ever run across—more so than Michael Jordan or Bill and Hillary Clinton." Ebert said so, too: "Gene was the most competitive man I ever met." Ebert may have been intensely conscious of a rivalry with Siskel, but Siskel's competitive ferocity and confrontational chutzpah were on another level. When asked by his first boss at the Tribune what his ultimate goal was, Siskel answered, "Your job." (When a colleague expressed shock, Siskel replied, "Candor. It is powerful. It knocks people off their feet. They are not used to it. Try it some day. If you've got the guts.")
In print, Ebert and Siskel competed for scoops and for celebrity interviews, a rivalry that Siskel carried to absurd extremes. He would stop at nothing to find out who was on Ebert's schedule—once, he posed as an assistant cancelling an Ebert interview—all of which drove Ebert to cover his tracks with complicated ruses of his own. Siskel boasted, "I have the ability to look this guy straight in the eye and lie to him and he can't tell." Siskel's biggest win involved nothing less than the duo's name: of course, both men wanted their name to come first, but Siskel, with a blend of aesthetic acuity and brazen self-interest, assured his partner that "Siskel and Ebert" sounded better.
Just as André Malraux, in a celebrated piece of film criticism from 1939, reminded readers smitten with the art of movies that "Moreover, the cinema is a business," so it's worth emphasizing that criticism, as earnestly devoted to the cult of art as it may be, is also journalism. Ebert and Siskel were hardly the last critics to be also active movie-industry reporters, but they're among the last major ones to come up as generalists. Exuding the worldly rough-and-tumble of the journalistic profession, they bucked the stereotype of film critics as—to quote Letterman's on-air characterization—"kind of goofy, too esoteric, too intellectual." Corliss wasn't totally wrong to compare their show to a sitcom, but "The Odd Couple" is a red herring: it was more like "The Mary Tyler Moore Show," an inside-TV story whose comic spontaneity naturally evoked the tangle of backstage life. More than that, though, "Siskel and Ebert" wasn't a TV show so much as a movie. Siskel and Ebert were living incarnations of "The Front Page" dragged into the cathode-tube era, bringing classic-movie values to the television talk show. They may not have known as much about movies as some more fanatically cinephile critics did, but they belonged to the movies. Even if they weren't movie people, they were movie characters.
Criticism is a fraught profession because it's parasitical. It depends on the work of artists, without which criticism couldn't exist. A critic who acknowledges and accepts the fact of this dependence is trying to salvage the dignity of the activity; critics who don't are just trying to salvage their own dignity. That's one reason that I'm wary of critics talking about criticism: they so often discuss the enterprise in terms that define the surpassing merit of their own efforts. And even the most earnest self-deprecation can contain the seeds of vanity. Still, all work is interesting to contemplate—a philosopher friend of mine used to say, "It's a miracle that anyone does anything"—and criticism has the contemplation built in. Because critics are in the habit of discussing the way that others work, it's just a turn of the screw for them to scrutinize their own practices.
As Singer's book documents, Siskel and Ebert's frequent riffs about their show amount to a rough-and-ready touchstone—even a questionnaire—for critics of all stripes to ponder. Take, for example, the so-called Gene Siskel Test, glossed by Singer as "Is this film more interesting than a documentary of the same actors having lunch?" (I'd say it depends on who directed the documentary.) Provocative on its own terms, the test becomes even more so when folded back on itself: If Siskel and Ebert were just having lunch instead of discussing movies, would the show be more interesting or less? Perhaps, too, the imagined lunch documentary exemplifies yet another dimension to movie reviewing. Seen this way, a critic's job is to imagine not just the actors'-lunch documentary but also one about the director thinking through the project, and what it must have felt like to make the movie, and to have had the urge to do so in the first place. Siskel's test, far from having any practical application, is a vivid thought-experiment to shift a viewer's emphasis toward the real lives of a movie's creators and the inner lives that the finished work reflects.
The peculiarity of the critical condition, its combination of imaginative sympathy and gimlet-eyed judgment, of advocacy and exploration, comes across in a diptych of Siskel and Ebert quips reported by Singer:
In a 1996 interview, Siskel said that he told readers that by going to movies they "are spending something more valuable than money—your life," and if a movie didn't work after an hour they should "get up and leave." Of the crummy 1990 thriller Lisa, Ebert mused, "If the two hours you spend in front of the screen are not as interesting as two hours you could spend outside the theater, why spend your money?"
So it depends on how interesting you find your life. I recall discussing superhero movies with my older daughter as the genre was rising to prominence, wondering why audiences go for them. "They don't have enough drama in their lives," she said. Sure, one could say the same about other genres (maybe any genre); the real value of this test is to acknowledge the fundamentally personal aspect of a viewer's responses. The great contribution of Siskel and Ebert, disagree with them as I might about any individual film, was to embody, however histrionically, the personality, the character, and the humanity that's an inescapable part of the critic's activity. Singer records Ebert giving voice to this notion in a TV interview:
"When you disagree on a movie," Ebert said, "you're not disagreeing on the movie. You're disagreeing on who you are. If I don't like a movie and he does, then I'm not saying that the movie is flawed, I'm saying that he's flawed."
There's an aspect of criticism that inherently aims, however ironically, to repair the flaws of others—to improve the world through aesthetic judgment. I feel that just about any movie that sparks the energy to write about it in detail is worth seeing—but, after I'd written a negative review, someone asked me whether I was suggesting that they not see the movie, and I responded, "No, I'm suggesting that you not enjoy it." The flipside of this is that movie critics also get to suggest enjoyment. Sharing enthusiasm is the far more gratifying (and, happily, more frequent) part of the job.
And there are many ways to share it. Plenty of criticism is neither written nor spoken to camera. Indeed, seen from a certain perspective, everything is criticism—the insightful pairing in a repertory cinema's program, photographs taken on a movie set, essay-films about other films, profiles, and interviews. It's in this domain that Ebert's legacy—Siskel died too young for a second act—goes beyond the show and the thumbs. Though he didn't start as a movie person, he became one, with fervor. In 1999, he and his wife, Chaz Ebert, launched a film festival, now known as Ebertfest, at his alma mater, the University of Illinois; it's scheduled to celebrate its twenty-fifth anniversary next year. Even more vitally, he launched, in 2002, a Web site that both houses his own archive of work and commissions new pieces from writers. Unlike, say, Pauline Kael, who extended her influence via a society of acolytes ("Paulettes"), Ebert opened his pages to a wide range of young critics who may not have shared his views but whose work he admired. It has been a crucial showcase for the writing of several generations of critics and has helped make American film criticism today better than it has ever been. It may be his greatest act of criticism—and the apotheosis of the best of what he and Siskel were getting at with their show. ♦
Sourse: newyorker.com