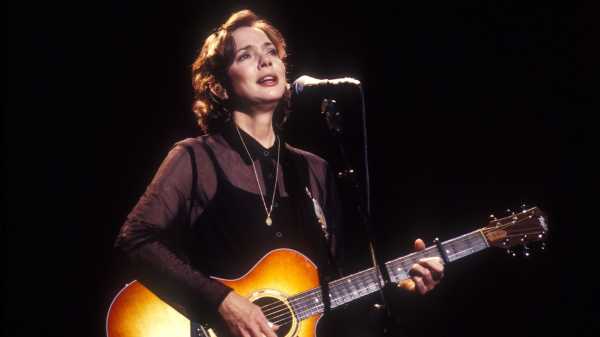 Save this storySave this storySave this storySave this story
The Texas-born singer-songwriter Nanci Griffith's voice is an "acquired taste," as one critic put it after Griffith's death two years ago, at the age of sixty-eight. To me, Griffith's idiosyncratic sound—coquettishly girlish, aggressively dulcet, almost lamblike in its high, warbly register—is as comforting as a home-cooked meal, but that is likely because I acquired a taste for Griffith's singing before I knew that it was a niche pleasure. My mother played me Nanci Griffith records from the time I was born; Griffith was and still is her favorite singer, and so by inheritance she became one of mine. Some of my earliest auditory memories are of listening to Griffith's records on road trips—an experience I have since come to find is quite common among older millennials who grew up in the South or in the West. Griffith's songs—mostly tender, romantic ditties about drive-in movies and dime-store novels—were broadly appealing but seemed to have a special hold on a certain kind of suburban Boomer mom in the nineteen-eighties and nineties who took solace in Griffith's high-femme cooing about loneliness, long drives, and lost love. When I spoke recently to Sarah Jarosz, a thirty-two-year-old singer-songwriter who appears on a new tribute record, "More Than a Whisper: Celebrating The Music of Nanci Griffith," which was released on vinyl by Rounder Records, on October 13th, she told me that she, too, had come to Griffith's music during car trips with her parents. "It was before I could even really comprehend what the lyrics meant," Jarosz said. "But the music was still coming through to me."
The tribute album was originally conceived before Griffith's death, by the former Rounder Records president John P. Strohm. It now serves as a kind of musical memorial. Jarosz sings the first song on "More Than a Whisper": a gentle folk cover of "You Can't Go Home Again," a ballad off Griffith's second album, from 1982, "Poet in My Window." Jarosz grew up in Wimberley, Texas, not far from Griffith's home town of Austin, and told me that, when selecting what song to cover from Griffith's deep catalogue of more than twenty records, she chose the track because of her parents' affinity for it. Griffith named the song after a posthumous 1940 novel by Thomas Wolfe, one of her favorite writers, whom she regularly thanked in her liner notes. Knowing this, Jarosz's parents once brought a copy of the novel with them to a Nanci Griffith concert at the Cactus Cafe in Austin and implored the singer to sign it. Griffith inscribed it, "To Home Again, Nanci." The book became a kind of family heirloom.
One irony of this inscription—and of the nostalgic sense of place that Griffith's records capture—is that Griffith very rarely felt at home, either in Texas or in the music industry. Her longtime producer and collaborator, Jim Rooney, told me, on a recent phone call, "I think she felt chronically underappreciated." When Griffith died on August 13, 2021, she was leading a reclusive life in Nashville, Tennessee. She had not recorded an album in more than nine years, and had not played a show in more than seven. Her management explained only that she had died of "natural causes," and that Griffith herself had requested that no formal statement be issued until a week after her death. A week came and went, and no further statement ever appeared. Fans were left speculating. She had battled cancer twice, and had, by her own admission, struggled for years with a crippling depression that had sometimes led to, as she once told a reporter, "drinking, popping every kind of pill, doing anything that would bring me down off that wall." She'd spent her later life cultivating a fiercely guarded privacy and nursing a sense of alienation. "She had a very lonely streak in her," Rooney said. "And it was not because other people didn't love her work." He added, "That was the hardest thing for me to deal with in her later years–how that message didn't seem to come through to her."
Rooney produced three of the tracks that appear on "More Than a Whisper," but he also found himself taking on a much larger-scale Griffith project shortly after her death. To his surprise, Griffith left him the masters for her first three records, along with the manuscript for an unpublished novel, "Two of a Kind Heart," about a girl from Texas who leaves the state in search of adventure. In August, he self-published the book and, through Craft Records, released a beautiful new box-set reissue of Griffith's first four albums: "There's a Light Beyond These Woods" (1978), "Poet in My Window" (1982), "Once in a Very Blue Moon" (1985), and "The Last of the True Believers" (1986). In addition to overseeing a faithful remaster of the audio, Rooney, who originally produced "Blue Moon" and "True Believers," put together a wide-ranging oral history of Griffith's early years to go along with the collection. Through a series of interviews, a young, optimistic, ambitious, collaborative, and gregarious Griffith emerges—though her dogged solitariness is also apparent from the beginning. Joy Lewallen, a woman who befriended Griffith shortly after the singer relocated from Austin to Houston in the late nineteen-seventies, with her husband at the time, the singer-songwriter Eric Taylor, remembered that Griffith would often sit for hours at a time at a table at Anderson Fair, a restaurant that became a central hub of the Houston folk scene, frequented by the likes of Townes Van Zandt and Lucinda Williams. "Nanci would be over in a corner, eating a plate of spaghetti and drinking a Shiner or a Lone Star, working on a song," Lewallen recalled.
Rooney called the reissued box set "Working in Corners," which is also the title of a song off Griffith's second album, released when Griffith was twenty-eight years old. He told me that he meant the title to be hopeful, a nod to the work ethic of a burgeoning artist. But he also said that, like Griffith's tune of the same name, it was tinged with melancholy. The song, perhaps my favorite she ever recorded, is a beautifully pared-down acoustic lament—just Griffith, and her guitar, and a voice that wobbles between ethereal sweetness and guttural strength. Griffith sings about being a working musician travelling alone, with glasses of whiskey and strangers as her only companions. It is the kind of misty-eyed number a musician plays at the very end of the night when the stragglers left at the bar are calling out for one more song. For me, it almost always elicits a good cry. My favorite verse is the last, in which Griffith sings, "These city streets at five in the mornin' / I would've stopped to phone you / But I'm almost home."
On paper, Griffith accomplished things that would have seemed hopelessly far-fetched when she first started singing in Austin coffeehouses at the age of twelve. She recorded her first album, on the indie label B. F. Deal, at the age of twenty-four, and signed with the major Nashville label MCA less than a decade later. She went on to win the Grammy for Best Contemporary Folk Album in 1994 for her covers record, "Other Voices, Other Rooms." She recorded or performed songs with Emmylou Harris, John Prine, Don McLean, Jimmy Buffett, Arlo Guthrie, and even one of her childhood idols, the folksinger Odetta. Still, Griffith often felt ill at ease with her position within the music industry. She said to one reporter that an MCA executive told her that "I would never be on radio because my voice hurt people's ears." Though she was a bona-fide star in Ireland, where her 1987 version of Julie Gold's anthem "From a Distance" was a Top Ten hit, she sometimes expressed feeling overshadowed by other artists in the American music scene. Bette Midler ultimately made "From a Distance" a smash hit in the U.S. Griffith allowed the up-and-coming country star Kathy Mattea to cover her song "Love at the Five and Dime." The two versions came out in the same year; Griffith's original did not chart, whereas Mattea's went to No. 3. Griffith could be prickly with journalists. In 1998, she wrote a fuming open letter to several Texan newspapers, lambasting their critics for the general disdain she felt the Texas press had for her work. "I carry with me always the pride and the knowledge that great things have come from my native soil—very few ever return there," she wrote in the letter, which was printed in both the Houston Chronicle and the Austin Chronicle. "Texas is, after all, the only place on earth that actually eats its young." Griffith compared herself in the letter to the writer Katherine Anne Porter, who was born in Indian Creek, Texas, but spent most of her life bouncing among bohemian enclaves in places like Greenwich Village and Mexico and Europe. "She too," Griffith wrote of Porter, "had the wisdom to get the hell out."
Part of what Griffith experienced was a problem of timing. Her offbeat, self-consciously artsy aesthetic—more Stevie Nicks than Tammy Wynette—could perhaps have made Griffith a viable pop star, but she moved to Nashville during a time that the musician Steve Earle has dubbed the "great credibility scare." The era of the "urban cowboy" that had brought Willie Nelson and Merle Haggard to fame was over, and many of country's major stars—Kenny Rogers, Linda Ronstadt, and Alabama—were crossing over into the mainstream. Nashville executives, loathe to lose more artists to pop radio, rushed to sign a new class of grittier, harder-edged artists such as Earle, Lyle Lovett, k. d. lang, and Ricky Skaggs. Griffith was a gregarious member of the country-folk scene that forged many of these artists—she invited a young Lyle Lovett to perform onstage at Anderson Fair, after he interviewed her for his college newspaper—but her tenderhearted songs made her seem out of step with her harder-edged peers. She often posed for her album covers wearing floral sack dresses and bobby socks, either cradling or sitting next to one of her favorite books (Larry McMurtry's "Lonesome Dove," Eudora Welty's "Delta Wedding"). She dedicated her albums to authors and artists with the zeal of a college freshman, thanking Carson McCullers and Truman Capote in her liner notes. On more than one of her albums, she tilts her giant doe eyes upward, as if she were trying not to cry. At MCA, she started out recording with the country department, but ultimately switched over to the pop division before exiting after five years. Both her record label and the critical establishment seemed unsure where to place her music. In a long piece for Texas Monthly, Michael Hall wrote that some country music gatekeepers considered her a "greeting-card folkie" and a "faux naïf."
Griffith's sense of estrangement proved a generative subject for her art. After she and Taylor divorced in 1982, she never married again, did not have children, and, in her later years, for the most part, chose to live alone. In one of her most famous songs, "Late Night Grande Hotel," off her 1991 album of the same title, Griffith sang about her purposeful loneliness with an almost swooning sense of attachment:
And maybe you were thinkin'
That you thought you knew me well
But no one ever knows the heart of anyone else
I feel like Garbo in this late-night grande hotel
Cause living alone is all I've ever done well.
Despite her air of cutesy innocence, Griffith wrote lyrics that suggest a depth of self-awareness. In one song, she sings, "You would never hold me / I don't like to be held." Another goes, "The telephone is ringin' in the middle of the night / And I pull the bed clothes higher / Will it stop calling out if I turn on the light? / I'm afraid of these shadows here / 'Cuz my past is truly frightening." Her breezy, gushy style could give the sadness of her lyrics a sneaky potency. Her catchiest song, "Listen to the Radio," is all about a woman who drives away from her domestic life without looking back, set to a rollicking honky-tonk bass line. "When you can't find a friend," she sings in the cheerful chorus, "you've still got the radio."
In his 1999 article, Michael Hall suggested that her critics, citing her diaristic writing style, "see a phony in a genre beholden to authenticity." What I see is an artist who was attempting to chronicle the inner lives of imaginative girls. The fact that she sang about burgeoning friendships and the magic of blue moons and getting lost in dime-store novels does not strike me not as phony but as bracingly ahead of its time. Griffith's lyrics might be understood as a precursor for Taylor Swift's diaristic songwriting. Swift's "I'm Only Me When I'm With You," from her début 2009 album, in which she sings about lying underneath the stars with a close friend, has an antecedent in "There's a Light Beyond These Woods (Mary Margaret)," a haunting, autobiographical song off of Griffith's début record. On it, Griffith sings about her childhood best friend, with whom she grew up in Austin, fantasizing about becoming musicians and getting out of town. "Let's go to New York City, Margaret!" she sings. "We'll hide out in the subways / And drink the poets' wine." Then Margaret settles down with a husband and a family and Griffith must leave her behind:
And what about the light that glowed beyond
Our woods when we were ten?
You were the rambler then.
The fantasies we planned, well, Maggie,
I'm living them now.
Sarah Jarosz told me that she almost considered picking "There's a Light Beyond These Woods (Mary Margaret)" for her contribution to the tribute album. "That song just rips my heart out," she said. What tipped her toward "You Can't Go Home Again," in addition to her prized book inscription, is that its chorus—"This ole town never did really care that much for me / I don't know why I always come here in my dreams"—echoed Jarosz's own conflicted feelings about moving from Texas to Nashville, and about being a woman trying to chart her own course through the industry. "Nanci is a great example of an artist who just couldn't be described, and couldn't be pigeonholed, and could be multiple things at once," she said.
Between the reissued box set and the tribute album—which features both Griffith's peers, such as Lyle Lovett, Iris DeMent, and Emmylou Harris along with younger artists in the folk space, including Aaron Lee Tasjan and Molly Tuttle—we are in the midst of a Griffith renaissance. She did not live to see it, but she did get to hear one of the tribute songs before she died. In December, 2019, Jim Rooney went over to her house to play her a cover of "Love at the Five and Dime" that he had produced as a duet between John Prine and the rising Kentucky singer Kelsey Waldon. He visited Prine the same day, to play him the recording. It was the last time Rooney saw either artist. But he was heartened by the fact that Griffith, who could be a tough audience, seemed to like the new take on her old song. He told me that, as Prine and Waldon crooned the chorus, "Dance a little closer to me, dance a little closer now / Dance a little closer tonight," a smile appeared across Griffith's face. "It seemed to me that Kelsey reminded her of herself," Rooney said, "when she was young." ♦
Sourse: newyorker.com