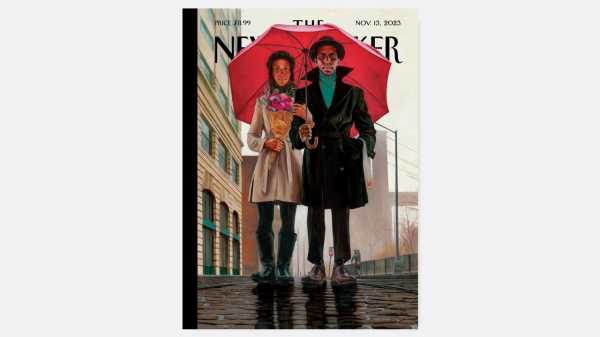 Save this storySave this storySave this storySave this story
As the cold days descend upon us, the rhythms of the city change. People unpack their winter gear; outdoor spaces empty. For the cover of the November 13, 2023, issue, Kadir Nelson paints the rain washing over New York as a couple huddles under an umbrella. I talked to the artist, who lives in California, about how the weather inspires him and affects his time at the easel.
This scene shows an area near the Brooklyn Bridge in Dumbo. Did you hang out there when you lived in New York?
On my first trip to New York as a young adult, I visited the Brooklyn Heights Promenade and was blown away by the views of the river, the Manhattan skyline, and the bridges. I'm always humbled by the scale of the bridges and the buildings. Down by the river's edge in Brooklyn is probably my favorite place in the city.
The city is often a source of inspiration for you. Do you think of the people in your images as narratively linked?
I can tell you for sure that New Yorkers share a real connection by virtue of living in such close quarters and being part of the unique, robust energy of the big city. There's a sense of pride that New Yorkers from every borough have that I haven't found anywhere else at that scale.
You live in sunny California. Do you miss the seasons on the East Coast?
I do miss the fall and spring colors, although this year Southern California got a taste of all four seasons with all of the abnormal weather—we even got snow last year.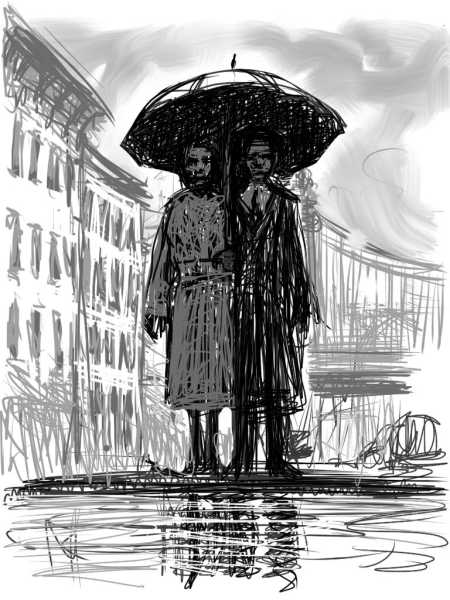 Does the weather affect your creativity?
Absolutely. Given all of the rain we had this winter in Southern California, it reminded me of this sketch I made—the source of inspiration for this cover—almost a decade ago. For all these years, I had looked forward to painting it. This year, thanks to each storm that passed over us, I finally found the time to do so.
For more covers about rain in the city, see below:
"April 8, 1967," by William Steig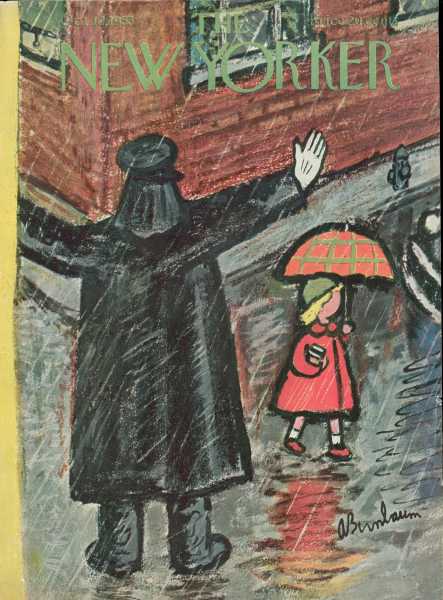 "October 10, 1953," by Abe Birnbaum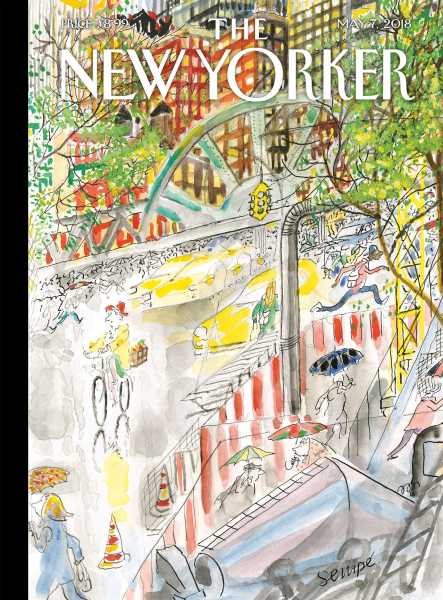 "Biking in the Rain," by J.J. Sempé
Find covers, cartoons, and more at the Condé Nast Store.
Sourse: newyorker.com