Jordan Turpin would argue that Justin Bieber saved her life. The young woman, who is now 22, grew up in the most unusually cruel and isolated of environments—effectively what people mean when they hyperbolize that someone is "living under a rock"—and still felt the impact of Bieber's world-dominating stardom. It's the reason she was able to escape her circumstances, she says. Jordan, along with her 12 siblings, spent nearly all of her days sealed inside a home in Perris, California, that would later be described by tabloids and talk shows as a "House of Horrors." There, Jordan's parents, David and Louise Turpin, often shackled their children to their beds, starved and beat them, and only allowed them one bath or shower a year. The outside world was only a fantasy to the Turpin children, who lived with the blinds closed during the day.
By the time Jordan made her break five years ago, escaping from the house at age 17, she was so untrained that she ran down the middle of the street because she didn't know what a sidewalk was. She perplexed the 911 dispatchers on the other end of the line with how naïve she was to the basics of modern life. "Does anybody at the house take any kind of medication?" the respondent asked her. "Oh, I don't know what medication is," Jordan said. Later, when a police officer arrived on the scene, Jordan apologized profusely. "I'm sorry if I talk too much.… I've never talked to anybody out there…so this is very hard for me to talk," she told him.
For someone who was unaware of the most rudimentary aspects of civilization just a few years ago, Jordan has played an uncanny game of reality catch-up. Today she is not just navigating the difference between sidewalk and road, she's learning how to become a public figure and a burgeoning social media star. She has a caseworker, but also a team of Hollywood insiders helping her to manage this unique type of fame. She attends charity events for children abused within the foster care system one week, and walks the red carpet at movie premieres the next. In private, Jordan processes the trauma of her upbringing by writing raw and exhaustive journal entries, but in public she pens sunny TikTok captions to her nearly one million followers ("Hope everyone has an amazing day!" she likes to say). She has aspirations to become a motivational speaker. And she's been writing and singing songs since she was in captivity, so there might be a career in pop music out there for her, too.
It was music, after all, that enabled her escape from the house. Bits and pieces of pop culture and media managed to slip in through the cracks of the fortress the Turpin parents had built over the course of Jordan's captivity, which encompassed her entire childhood and most of her adolescence. There was a Garth Brooks CD lying around that the small children would listen to on repeat while the parents went missing for extended periods. (The Turpin parents had struck so much fear into their children that none dared try to escape while they were away.) There was also a stray magazine in the home, which the siblings would browse with curiosity and try to parse reality from fiction. "There was a story about kids who were trapped. That really threw us off, because we were like, 'Is this a movie? Is it real?'" Jordan remembers. "There were these small things that we put together."
And then there was Justin Bieber. The Turpin children occasionally had access to an old smartphone that their parents had given the oldest son. When Jordan discovered Bieber's music online during one of her clandestine sessions on the phone, she had an epiphany. "I started realizing there's a different world out there," she would later tell Diane Sawyer on an episode of 20/20. Shortly thereafter, she began plotting an escape from the home that would take a full two years to execute. "I don't know where we would be if we didn't watch Justin Bieber," she said.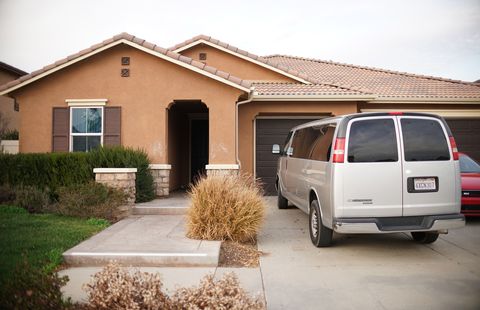 The house in Perris, California, where Jordan and her siblings were held captive.Sandy Huffaker/Getty Images
Four years after Jordan made her escape, the faraway fantasies of the pop music world were transforming into reality. This past March, at the behest of Bieber's team, she and her siblings received the royal treatment at one of his concerts in Los Angeles. After the 20/20 episode aired, Justin's wife Hailey had messaged the team about wanting to help the Turpin children. Eventually, after a call from Diane Sawyer herself, a concert outing for all 13 children was arranged. They were taken in a bus to the venue and hosted in a suite donated by CAA. Hailey Bieber and Scooter Braun, Justin's longtime manager, dropped by to meet the family. "Hailey had followed Jordan's story really closely," says Shauna Nep, the vice president of philanthropy and executive director of the Braun Foundation at SB Projects, which works with Bieber's group. "I think Jordan and Hailey hugged for about five minutes."
A few weeks later, in a meeting brokered by Jordan's ever-expanding professional entertainment team, she would record a TikTok dance video with one of the platform's reigning queens, Charli D'Amelio. "Hey I had so much fun with you today thank you @charlidamelio," she captioned the TikTok post, which now has 250,000 likes. Earlier this past spring, she had the opportunity to meet Garth Brooks at one of his shows. "We literally knew all the lyrics…. I used to say, 'I wish Garth Brooks was my dad,'" Jordan says. "It didn't feel real to me."
For Jordan, who spent most of her existence as a literal prisoner of her own parents' twisted impulses, life is now a series of increasingly surreal scenarios. This view, for one. We are sitting together at a restaurant in Malibu that spills out onto a pristine, picture-book beach, and the water is so close that she can take just a few steps and dip her toe in. Jordan has a mischievous sense of humor, and upon her arrival, she announces—with an exaggerated wink that indicates how preposterous the statement is—that she "totally drove here. Because I'm in my Lamborghini." In reality, she doesn't have her driver's license yet and took an Uber from the apartment she rents two hours inland. It's her first time living alone, and she likes to keep her space rigorously organized—a dramatic departure from the crammed, filthy den she was raised in. "And I'm so clean, too," she explains excitedly. "I'm so freakin' organized."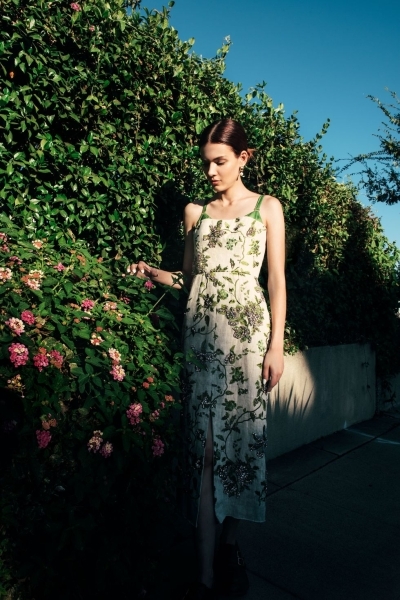 Dress, $4,995, brogues, $920, Erdem. Earrings, Agmes, $280.LINDSEY BYRNES
Now that she's doing photo shoots of her own, she's gained a certain savvy when it comes to the social media pages of celebrities. She's started to notice, for example, that nail polish can be a dead giveaway for photos taken on the same day, even when an influencer is posting different outfits on different days. "You know, I follow Hailey [Bieber]. And she'll post…and it looks like the pictures were taken at different times," she says, delighted by the act of digital sleuthing. "But I know how it works now." Jordan is not just learning about the entertainment industry through observation, and she's not a charity case for celebrities. She's forging a path to become one of them herself. She is in the midst of an intensive transition that is only possible in the current climate of unwieldy digital fame, an era during which a small child can become a household name because of the funny way he pronounces the word corn.
The entertainment industry, too, is eagerly building the infrastructure necessary to service unusual clients, as talent agencies expand to include increasingly esoteric departments of influencer rosters. Just a few months prior to our meeting, Jordan signed with a top modeling agency, as well as the major Hollywood publicity and communications firm Sunshine Sachs Morgan & Lylis, and the all-purpose entertainment behemoth WME. She now dials into regular Zoom calls with her team to discuss new opportunities and strategize about the optimal way to share her story and gain visibility. She has a glam team, too.
After her initial meeting with Jordan, her publicist's wheels started turning: "My first thought was, How do we set her up for a career in the industry, and maybe not in the typical way?"
It might seem odd, or even unsettling, that Jordan is reaching toward the extraordinary before establishing normalcy. Her story fits into the popular narrative of the photogenic white woman who's suffered public trauma and received outsize public attention—not to mention book deals, speaking engagements, and donations—as a result. But Jordan has also been exceptionally online in a generation known for being online. In lieu of social interactions with the outside world, she spent most of her adolescence learning about the world through music videos, TikTok, and Instagram. These places became like homes to her in the absence of a real one—and in some ways, they are the most natural place for her to build a life now. "If you want to lighten up my mood, TikTok can do it," Jordan says.
Music videos, TikTok, Instagram: These places became like homes to Jordan in the absence of a real one."
"She got it very quickly," her publicist says. "That's the thing about Jordan. Even though there are certain parts of society [the Turpin siblings are] all starting to navigate…they're all very aware of the world. Jordan is really smart. She's very aware of herself, which is not something that even [a lot of ] people who haven't been through this type of tragedy can say." All the work she's doing now is building toward a career focused on outreach. Still, she talks about her public persona with an air of healthy trepidation. "Right now, I kind of need a break from my past." She's working on music, but she says, almost as if to caution herself, "I just want to start slowly."
When we first meet, Jordan is understandably skittish. She is relentlessly polite, constantly thanking people and apologizing for any missteps she might have made. It's an attribute likely ingrained in her by years of living under the tyrannical rule of the parents she still refers to in conversation as "Mother" and "Father." When the waiter arrives at our table, she asks him a straightforward question that quickly turns complex. It's a microcosm of her life, which at times resembles that of a baby calf making its first steps out into the world.
"Do you have Alfredo?" she asks.
"We have pasta, with the white wine sauce," he says.
"Is that the only pasta you have?" she asks.
"We have the linguine with the red marinara sauce, and Bolognese," he tells her, which prompts one of her agents to interject and guide her along the ordering process. "You don't like the red sauce very much," she says. "This is what I would do: I would do the pasta and get the sauce on the side. And then have them put a lot of Parmesan when they come."
"I don't like Parmesan cheese," Jordan says sheepishly. "I don't like the shredded kind."
"What does the wine sauce taste like?" her agent pipes up.
"It's cheese and white wine," he says.
"Will I get drunk?" Jordan asks. The group, Jordan included, erupts in laughter.
"No, you won't," he assures her. She settles on the pasta, in a kids' portion, with the white wine sauce on the side—a hopelessly insufficient imitation of Alfredo. "It's so weird when I order. It's always so complicated," Jordan says, sighing. "It's okay," her agent assures her. "Everybody in California has complicated orders."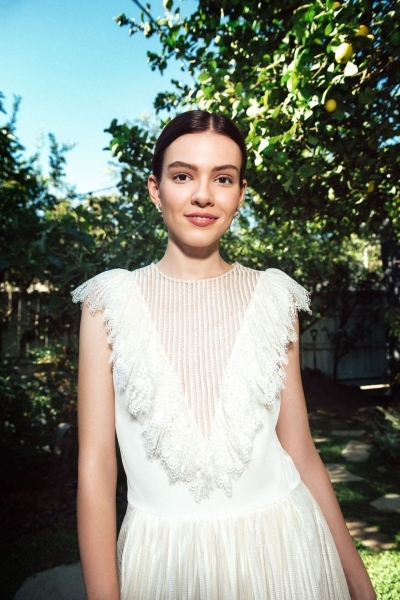 Dress, Akris. Hoop earrings, Mejuri, $58.LINDSEY BYRNES
The bodily rhythms of her malnourished childhood are still in play, and when the food arrives, Jordan struggles to feed herself enough. "My stomach's growling at me," she says. "It's not happy with me."