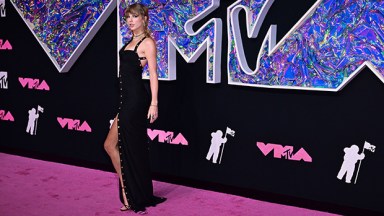 Image Credit: Anthony Harvey/Shutterstock
Taylor Swift made a regal entrance at the 2023 MTV Video Music Awards in New Jersey! The "Fearless" hitmaker, 33, arrived on the red carpet wearing an eye-catching black gown with an asymmetrical plunging neckline, gold details, and a thigh-high slit. She finished the look with chic layered necklaces and a pair of black strappy stilettos.
Taylor's appearance at the big show comes amid her blockbuster Eras World tour, and 14 years after she was infamously interrupted by rapper Kanye West for nabbing Female Video of the Year at the 2009 VMAs over Beyonce, Ye's pick for the honor. Queen Bey did go on to win Video of the Year later in the evening, bringing Taylor onstage to claim her moment back after the incident.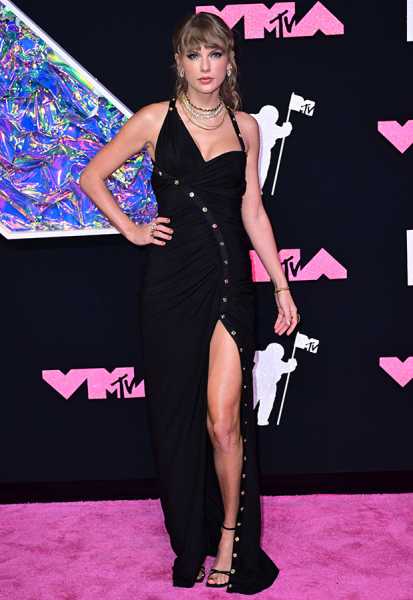 Taylor Swift arrives at the MTV VMAs in New Jersey on Sept 12, 2023. (Anthony Harvey/Shutterstock)
In any case, Taylor always looks amazing on the red carpet, and this year's stunning look was no exception. In a 2014 interview, however, the pop phenom admitted she doesn't actually dress for her fans — she dresses for her friends. "When I'm getting dressed, it's always based on what my friends will think," she said at the time, per Glamour. "They are my number one priority, and the opinions of girls are more important to me at this point in my life."
She also, unsurprisingly, keeps it real when it comes to comfort and steering clear of over-the-top fashion fads. "I think that as much as you should be creative and experiment, there are certain things I know are fads, and so I try to steer clear of most of the obvious ones," she explained. "I play the tape of my life forward and don't wear the things that my kids or grandkids will make fun of me for wearing, [like] 'Wow, cool, Mom, cool cowboy boots that you were wearing constantly in 2006!'"
Most importantly, the blonde beauty finds it very important to feel natural and comfortable in any look — onstage, on the red carpet, or stepping out with pals. "For me, it's important to be comfortable in what I'm wearing," she divulged. "Being comfortable means that no one's going to be able to pull a fast one and take a picture of me that they'll deem to be embarrassing. I don't want to wear something so short that I'm scared there will be a wardrobe malfunction."
Sourse: hollywoodlife.com