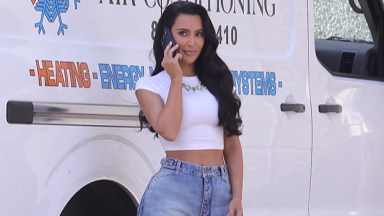 Image Credit: Shutterstock
If there's one thing for sure about Kim Kardashian, it is that she's always showing off her fabulous figure in some sort of sexy outfit and that's exactly what she did in her latest Instagram post. The 42-year-old rocked a super tiny black crop top that barely covered up her chest and styled it with a pair of high-waisted pants.
In the photos, Kim wore a skintight black long-sleeve crop top that ended just below her chest and was entirely see-through. She styled the top with a pair of high-waisted loose black sweatpants, both from her Skims brand. Kim's tiny waist and six-pack abs were on full display in this look and she accessorized with a pair of skinny black sunglasses and a pair of black pointed-toe leather boots.
View this post on Instagram
Kim has been on a roll with her sexy outfits lately and aside from this look, she recently posted photos of herself sitting on the floor of her closet while wearing a plunging pink bra and matching underwear. In the photos, Kim wore a Skims set featuring a plunging scoop neck bralette that put her ample cleavage on full display as it poured out of the top. The bralette had a thick white elastic band beneath her chest and she styled the top with the matching high-rise bottoms. The bottoms were more like boy shorts and they showed off her incredibly tiny waist and rock-hard abs.
Another one of our favorite recent outfits from Kim was at her sister Kourtney Kardashian's baby shower. For the party, Kim wore a fitted Chanel 1995 Yellow Cropped Short Sleeve Jacket sweater with black buttons down the front and two pockets on her chest. She styled the knit top with a high-waisted, fitted black leather Frame Le High N Tight Leather Miniskirt that put her toned legs on full display. Kim topped her look off with a pair of sky-high black platform peep-toe Balenciaga Camden Sandals, and a half-up half-down hairstyle.
View Related Gallery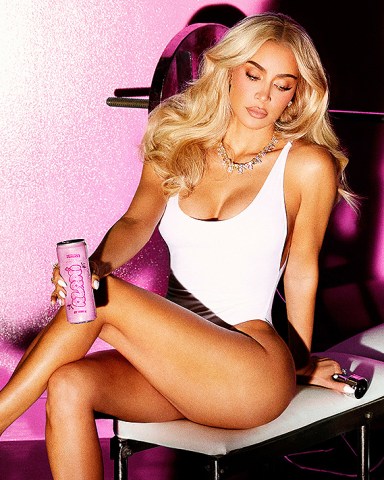 Kim Kardashian channeled Barbie in promo shots for her July 2023 partnership with Alanni Nu, a nutrition company. She rocked a high-leg white swimsuit and pumps, and diamonds dazzled around her neck and ankle.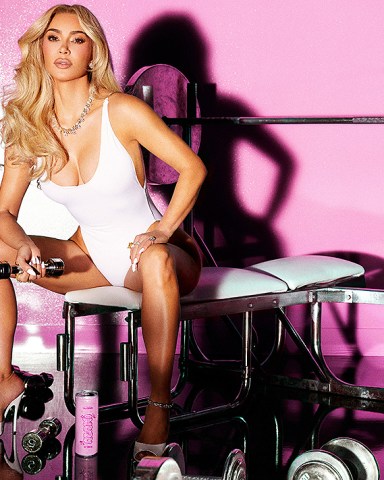 Alani Nu Partners With Kim Kardashian to Release Alani by Kim K. Alani Nu, the renowned better-for-you health and wellness brand founded by entrepreneur and influencer Katy Hearn, announced a groundbreaking partnership with the multi-talented entrepreneur and celebrity, Kim Kardashian. The collaboration, "Alani by Kim K", features an exclusive, limited-edition energy drink called "Kimade," which offers a refreshing twist on a classic flavor, Strawberry Lemonade., With Kim Kardashian's creative input coupled with Alani Nu's continued growing success in the health and wellness industry, Kimade was created to offer a new seasonal energy drink flavor in the brand's marquee product line featuring a minimalistic can design. , , "We are thrilled to collaborate with Kim, who is such an amazing female powerhouse and entrepreneur," said Founder, Katy Hearn. "Kim's dedication to both her family and creating innovative brands perfectly align with our brand values, making this partnership such a natural fit. We are so excited for everyone to try this flavor, which we know is going to be one of our best yet!", , Each 12 oz. can of Kimade Energy Drinks contain 200mg of caffeine, zero sugar, B Vitamins, Biotin and only 10 calories. This delightfully refreshing beverage is also vegan and gluten-free. Known for delivering flavor packed products, Kimade was crafted to offer a punch of sweet strawberries with a blend of tart, freshly squeezed lemonade., , The highly anticipated Alani by Kim K collaboration will launch on Monday, July 17 at 12 PM ET with Kimade. The beverage will initially be sold exclusively on AlaniNu.com for $29.99 per 12 pack along with limited-edition Alani by Kim K merchandise. Kimade Energy Drinks will also be rolling into national retailers including Walmart, Target, Kroger Family Stores, GNC and The Vitamin Shoppe as well as international retailers later this Summer., , For more information, please visit www.alaninu.com and stay up to date on additional brand n
Sourse: hollywoodlife.com