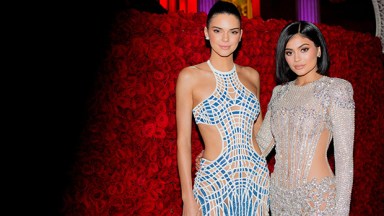 Image Credit: Kevin Tachman/Shutterstock
Kendall Jenner and Kylie Jenner teamed up to be Sugar and Spice from Batman Forever for Halloween. The famous sisters showed off their sexy costumes on both Instagram and TikTok, where they reenacted a scene from Kendall's favorite movie, Mean Girls. Kendall, 27, went as Sugar, played by Drew Barrymore in the 1995 superhero movie. She wore a white lace corset bodysuit with matching stockings, a white bathrobe, and a white wig. Kylie, 26, transformed into Debi Mazar's Spice by wearing a black leather corset with silver skulls on it, plus a pair of black gloves, a spiked choker necklace, and a black and red streaked wig.
The gorgeous siblings posed next to each other in their costumes in two photos that Kylie shared to Instagram on October 30. Their contrasting black-and-white looks made for an epic and festive photoshoot. "sugar & spice," Kylie captioned her post.
Kendall and Kylie also showed off their costumes in a TikTok with audio from a scene in Mean Girls. Kylie walks on screen as Kendall asks her, "Why are you dressed so scary?" Kylie responds with Lindsay Lohan's line from the movie: "It's Halloween!"
@kyliejenner

sugar & spice

♬ original sound – Julian Burzynski
This is the first Halloween costume that we've seen from Kylie so far this year, while Kendall debuted her Marilyn Monroe costume over the weekend when she threw a star-studded party in Los Angeles. Kendall transformed into Marilyn with bleach blonde hair and a black turtleneck and she even impersonated some of the late star's mannerisms in the photos and videos of her costume. Kendall seemed to be making a nod to sister Kim Kardashian, who wore Marilyn's iconic "Happy Birthday, Mr. President" dress to the 2022 Met Gala.
The Kardashian-Jenner sisters are all notorious for slaying Halloween every year. Kim and 10-year-old daughter North West dressed as Cher and Dionne from Clueless this year. Kourtney Kardashian and husband Travis Barker wore Beetlejuice costumes; Kourtney went as Lydia Deetz in her iconic red wedding gown, while Travis went as Beetlejuice in his red tuxedo. Kourtney's first costume was recreating Kim's pregnant Met Gala ensemble from 2013.
Khloe Kardashian and Kris Jenner have yet to debut their 2023 Halloween costumes. Both stars have slayed spooky and fabulous looks in the past, and we're betting this year will be no exception.
Sourse: hollywoodlife.com