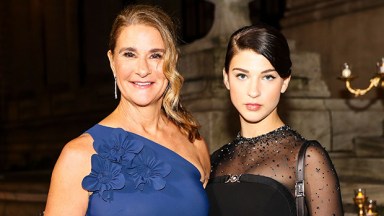 Image Credit: Neil Rasmus/bfa.com/Shutterstock
Bill Gates' youngest daughter Phoebe Gates, 21, looked chic in a black and sheer gown at George Clooney's Albie Awards on Thursday! In photos you can see here, the Stanford student stood alongside mom Melinda French Gates, 59, wearing an old Hollywood glam black column gown with a sheer overlay and sleeves. At the neckline, intricate beads glittered. Phoebe finished the floor-length formal look with a pair of black heels and a sideswept updo. Her mom wore a gorgeous blue one-shoulder gown with floral details at the shoulder. She styled her blonde hair in an updo as well, a curly tendril hanging down on the side of her face. Phoebe and the mom of three were radiant as they snuggled up for photographers at the big event, held in New York City on Thursday evening.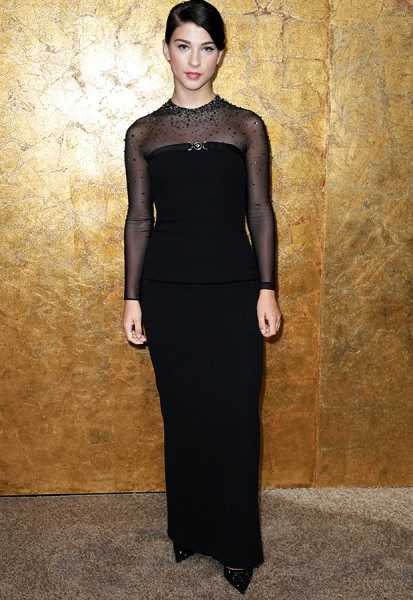 Phoebe Gates attends the Albie Awards in NYC on September 28, 2023. (John Nacion/Shutterstock)
Phoebe, it turns out, is outspoken. That may be in large part because of Melinda's activism. And despite their glam appearances, Melinda and Phoebe seem to be down-to-earth. In a 2019 interview with John Legend, Melinda shared how she keeps her kids "grounded" amid almost unthinkable privilege.
"You start really young," she said in 2019, per Town & Country. "You have to do it in very light ways when they're young…like, when you're driving down the street, point out things that are different when you go through different neighborhoods. Get the kids questioning why somebody would be homeless in a city like ours when we have a nice house. And then take them out in the community, take them out in neighborhoods that don't look like where they're growing up, and have them be in connection with people in those neighborhoods."
She continued, recalling a time she helped her kids with a charity project. "I remember taking both of our older kids, when they were young, out in Seattle," she shared. "It was Christmastime, and their school was hosting this event to make boxes for the homeless, so that when they come into a shelter they get a box of toiletries. We were helping: We folded the boxes, and we put a piece of soap in there, we put a razor in and a washcloth, and I was feeling good about it. Then, as we were walking out of the community center where we made these boxes, I'm holding my two kids' hands, and I said, "Isn't that great—we made these boxes for the homeless." And one of my kids said, 'But Mommy, don't they need homes?'"
Sourse: hollywoodlife.com