Image Credit: Allyson Riggs/Netflix
Taylor Tomlinson is the latest comedian to be hosting a late-night show! The comedian, 29, was announced as the new host of CBS' After Midnight on Wednesday, November 1. Stephen Colbert revealed that Taylor would begin hosting the new job in 2024 on The Late Show. After hilariously announcing her as the host, Stephen asked what she was most excited about for taking over. "Just having a job. I've never had a real job," she admitted. She said that doing standup for years has kept her from having a "real job." Stephen also showed a screenshot of when he told Taylor that she got the job, and she looked over the moon.
Before Taylor becomes a late-night host, get to know more about her here!
Taylor Is a Comedian with 2 Netflix Specials
Taylor has been doing standup comedy since she was 16, and she's had huge success as a comic. She has been a part of shows like Last Comic Standing, and she's performed on various late-night shows through the years. She first appeared on Netflix in 2018 with a short set as part of The Comedy Line-Up, but she debuted her first special Quarter-Life Crisis in March 2020. She released her second special Look At You in March 2022, and she's currently on the road for the "Have It All" tour.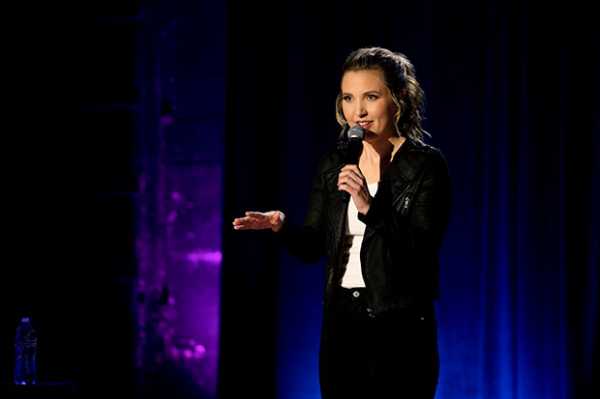 Taylor has released two specials on Netflix. (Allyson Riggs/Netflix)
She's Previously Hosted 2 Podcasts
While being a late-night host may be her first "real job," Taylor does have some experience hosting. She previously co-hosted the still ongoing podcast Self-Helpless with fellow comics Kelsey Cook and Delanie Fischer. She also briefly had her own show Sad in the City from 2021 to 2022.
She's Spoken About Her Mental Health in Her Comedy
While Taylor speaks about a wide array of subjects throughout her comedy, she's also been very open about her mental health and getting treatment for it. Some of her jokes have touched on topics such as childhood trauma, therapy, losing a parent, and more.
Taylor opened up about getting started in therapy ahead of recording Quarter Life Crisis in a 2020 interview with Newsweek. "I spent so much time in therapy last year. I got on antidepressants and anxiety medication, and I was in couples therapy for a little bit and seeing my own therapist and found a psychiatrist I liked. There was a lot of mental health work going on last year right before, and during, preparing for this special," she said.
She Dated Sam Morril From 2020 to 2022
Taylor mentioned being briefly engaged and calling it off in her special Quarter-Life Crisis. She also had a relationship with fellow comedian Sam Morril from 2020 to 2022. She went public with the Same Time Tomorrow comic in March 2020, as the two were quarantined together amid the COVID-19 pandemic. The two of them filmed a hilarious series of sketches spoofing their situation. They posted a bunch of short social media videos titled "New Couple Gets Quarantined." They also briefly co-hosted the movie podcast This Is Important To Me, where they each showed each other their favorite films.
Unfortunately, after two years the pair ended up breaking up, with each of them making references to being single in interviews and podcast appearances in 2022.
She's a Swiftie
From one Taylor to another! The comedian has also not shied away from showing off her love for none other than Taylor Swift. In one of her jokes from Look At You about reading the Bible (specifically the Old Testament), she jokes that it's her "favorite Taylor Swift" album, and sings a snippet of "Look What You Made Me Do." She quipped that her fandom should be no surprise. "I'm a 20-something white woman. Obviously, I'm gonna compare T. Swift to the Lord," she said.
On social media, Taylor has also posted tons of videos showing how much a Swiftie she is. She posted clips of some of her jokes, comparing them to each of Swift's eras. She also posted a hilarious clip about how incredible it was to take out her earplugs for "You Belong With Me" at "The Eras Tour."
Sourse: hollywoodlife.com