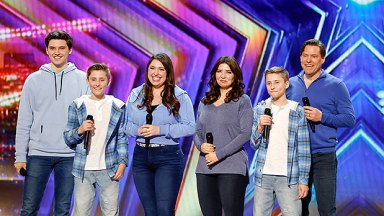 View gallery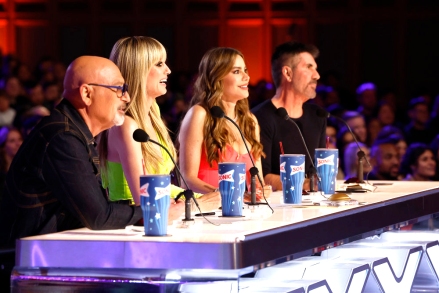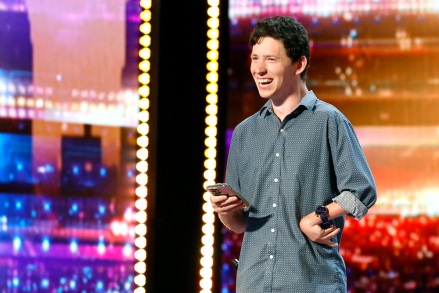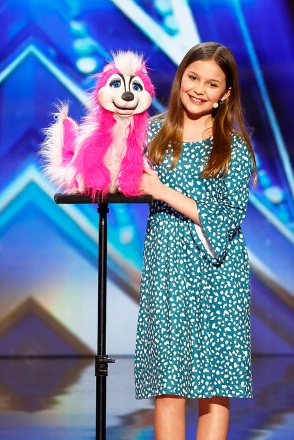 Image Credit: NBC
Sharpe Family Singers are auditioning for AGT season 18.
Sharpe Family Singers sing covers of hit songs.
Ron and Barbra Sharpe lead Sharpe Family Singers.
America's Got Talent is about to welcome one of America's most talented families to the stage. The Sharpe Family Singers will be performing for the judges in hopes of moving on in the competition and winning that coveted Las Vegas show.
So, who are the Sharpe Family Singers? This family makes incredible music together. HollywoodLife has everything you need to know about this singing family.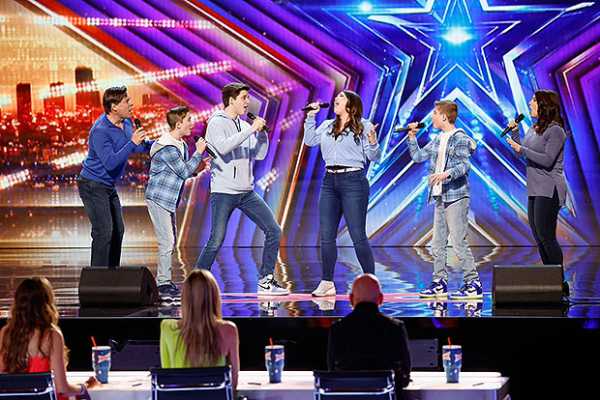 The Sharpe Family Singers performing on 'AGT.' (NBC)
The Sharpe Family Singers group consists of 6 family members.
Ron and Barbra Sharpe are at the head of Sharpe Family Singers. The rest of the group consists of their children: daughter Samantha, son Logan, and twins Aidan and Connor.
Sharpe Family Singers are social media sensations.
The Sharpe Family Singers are TikTok famous! The family has over 8.5 million followers, and their videos have garnered over 185 million likes! They have over 1.6 million YouTube subscribers.
Sharpe Family Singers rose to fame in 2020.
Sharpe Family Singers had already been performing together when they started their TikTok account in February 2020. They quickly became popular among viewers. "We already had our family singing group and knew a lot of songs," Ron and Barbra told All Access Music. "TikTok was all our older kids, Logan and Samantha's idea! The rest of us were just going along for the ride! As parents, we just liked the fact that our kids would want to be seen online with us! That was enough for mom and dad to join in on the fun!" And the rest is history!
The family has released a Christmas album.
The Sharpe Family Singers dropped their first album, the holiday-themed A Sharpe Family Christmas, 2021. The album consists of 12 songs.
They recently released their Little Mermaid Medley.
The Sharpe Family Singers frequently post covers of hit songs and medleys on their YouTube channels and other social media platforms. Their most recent release is a medley centered around The Little Mermaid. The family got all dressed up as your favorite Little Mermaid characters and sang hits like "Part of Your World" and more.
Click to Subscribe to Get Our Free HollywoodLife Daily Newsletter to get the hottest celeb news.
View Related Gallery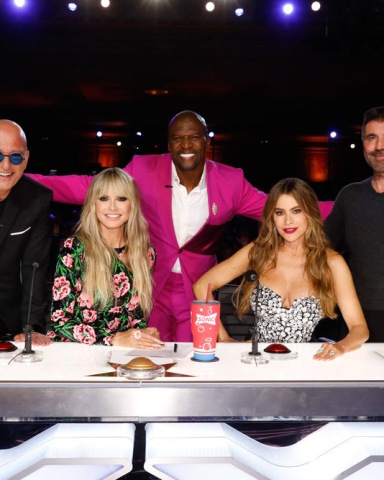 AMERICA'S GOT TALENT — "Auditions" — Pictured: (l-r) Howie Mandel, Heidi Klum, Terry Crews, Sofia Vergara, Simon Cowell — (Photo by: Trae Patton/NBC)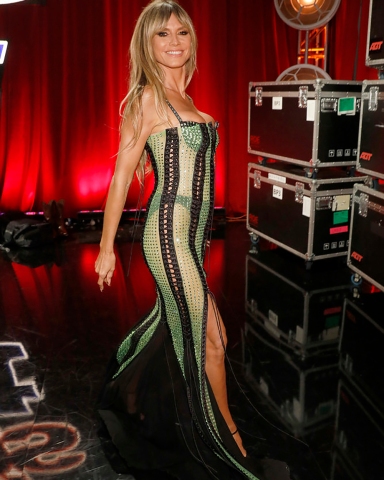 AMERICA'S GOT TALENT — "Finale Results" Episode 1720 — Pictured: Heidi Klum — (Photo by: Trae Patton/NBC)
Sourse: hollywoodlife.com