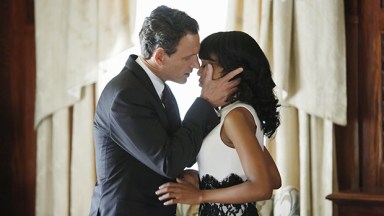 Image Credit: Shondaland/Abc Studios/Kobal/Shutterstock
For Gladiators, Olivia and Fitz's relationship was their Roman Empire. Kerry Washington and Tony Goldwyn reunited in Washington D.C. in honor of Kerry, 46, releasing her memoir, Thicker Than Water. Kerry shared a TikTok on September 27 that featured her and Tony, 53, recreating Olivia and Fitz's "hi" moment. "Hi D.C. #Olitz is ready for you," she captioned the video.
Kerry knocked on Tony's dressing room door, and he quickly answered as Olitz's song "The Light" by The Album Leaf played in the background. Kerry and Tony gazed into each other's eyes with smiles on their faces before hugging each other. Our Scandal-loving hearts are swooning.
@thekerrywashington

Hi D.C 👋🏾 #Olitz is ready for you

♬ The Light – The Album Leaf
Every Scandal fan knows what "hi" means to Olitz. It means everything. Throughout the course of the show's 7-season run, Olivia and Fitz would always find their way back to each other, and it all started with a "hi."
Of course, their Scandal co-star and the other half of the love triangle, Scott Foley, just had to respond, "…I don't get it," the 51-year-old commented on Kerry's Instagram post.
Kerry and Tony are coming together in the nation's capital, a.k.a. Olitz's old stomping grounds, to discuss her recently released memoir. In her book, Kerry opened up about her secret abortion, her struggle with an eating disorder, and how she discovered that her dad is not her biological father.
Scandal aired from 2012 to 2018 on ABC and became a cultural phenomenon. Kerry played the ferocious and very stylish political fixer, Olivia Pope. Tony starred as President Fitzgerald Grant, who was hopelessly in love with Olivia.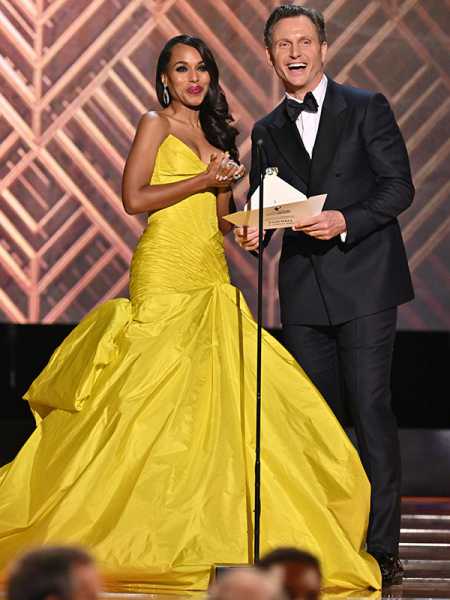 Kerry Washington and Tony Goldwyn at the 2022 SAG Awards. (Rob Latour/Shutterstock for SAG Awards)
Despite the show ending over 5 years ago, the cast has remained incredibly close. Back in 2020, Kerry was asked about a potential Scandal reboot down the road. During her appearance on Stars in the House, Kerry said a Scandal reboot was "hard to imagine," but "it would be very hard to say no to the opportunity to work with these people again." Shonda Rhimes, give the people what they want!
Sourse: hollywoodlife.com