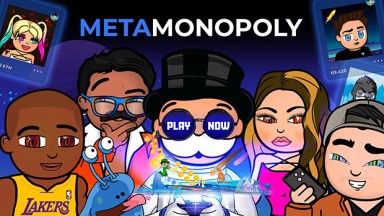 Image Credit: Meta Monopoly
If you purchase an independently reviewed product or service through a link on our website, we may receive an affiliate commission. Learn more about our policies and reviews.
Meta Monopoly, a Web3 company, is set to be the Apple of the NFT world. A close look at the project and its exclusive features instantly draws a similarity between the tech giant and the emerging Web3 company. Apple's commitment to revolutionize design and functionality in the tech space has been replicated by Meta Monopoly in the NFT industry. Let's delve deeper into this incredible Web3 NFT project that has already secured its spot among OpenSea's top 10 collections.
Born out of a passion for creativity, Meta Monopoly has accomplished several milestones within a short time in the NFT space. The founders of this Web3 company wanted to channel their profound love for design, cartoons, animations, and video games to create a project that would close the gap between Web3 and animation. The vision was to provide real utility with NFTs, something exclusive at the time. It became a reality with Meta Monopoly, an NFT project that turns every character into an animated video, breathing life into them. Each character on Meta Monopoly has a distinct personality that people can relate to.
One striking similarity between Apple and Meta Monopoly is the team. While Apple was fueled by some innovative minds, Meta Monopoly's core team has an ex-cartoon animator from a major Hollywood studio. This additional layer of expertise has taken the level of its animations beyond any competition in the NFT space—no wonder this project's journey has been highlighted by some remarkable achievements. In just 12 months, Meta Monopoly generated a staggering 1,900 ETH in volume on OpenSea, solidifying its space in the NFT industry.
Meta Monopoly's animations have taken TikTok by storm, amassing over 1 million likes to be in the spotlight of social media users globally. The project has an extensive social media presence reflected through its verified X and Telegram handles. The biggest achievement for the project has been the meteoric rise of its floor value, which scaled by a whopping 300 times in just a year. This showcases the quality and uniqueness this project has offered the NFT industry.
While many projects strive to find visibility in the over-saturated NFT space, Meta Monopoly has grabbed the limelight with its unparalleled ability to create viral content. With a gold checkmark on X, the project is now a recognized name in the Web3 world. Its artistry has even been featured on OpenSea's homepage, the premier NFT marketplace. Besides this, the Web3 company has earned $3.6 million volume on OpenSea, resulting in them being counted among the top 10 collections.
One of Meta Monopoly's most ambitious milestones was developing a complete animated cartoon series featuring their beloved characters. This was not only a ground-breaking move in the entertainment world but also a symbol of its long-term vision in the Web3 realm. Quality has always been more than just art and design for Meta Monopoly, which became the foundation of the immersive experiences it offers. This dedication to excellence has brought significant funding and support to the project from big players in the industry. This financial support has further propelled its high-quality art, design, and animation to ensure every NFT is a masterpiece.
Meta Monopoly's remarkable collection has garnered positive attention from A-list celebrities such as Tom Brady, Chuck Norris, Jackie Chan, Steph Curry, and Johnny Depp. These endorsements are noteworthy achievements for any NFT project. The project has successfully created an emotional connection through animated characters, which is like achieving a gold standard in the world of NFT. As Meta Monopoly continues to grow with innovation and creativity, it will emerge as a true 'Apple' in the world of NFTs.
Sourse: hollywoodlife.com