Humanrace, Williams's product brand, is launching two new body cleansers.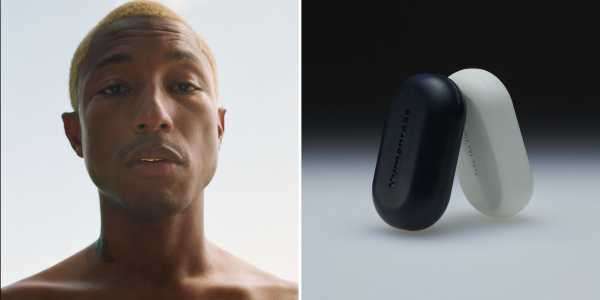 Humanrace
Pharrell Williams's Humanrace is different from other celebrity skincare brands in that it's not a skincare brand at all, but rather a product company with releases in the beauty, home, and footwear spaces. The company's first three beauty products—a cleanser, exfoliator, and cream designed in collaboration with dermatologist Elena Jones—dropped to much fanfare last year. Sustainable, clean, and simply effective, the Humanrace routine is designed for, well, all humans.
Though more new skincare is on the way soon, Williams is first expanding Humanrace to your shower with two new body cleansing bars, out November 22. The Energy Channeling Charcoal Body Bar and Reenergizing Whiteclay Body Bar are soap free and packed with skin-loving ingredients like rice powder, kaolin clay, and snow mushroom extract to help you retain moisture and restore your skin barrier. There's also the new Ceramic Body Bar Dish, which was handcrafted in Arita, Japan, and designed to elegantly store the bars.
BAZAAR.com catches up with Williams exclusively to chat all about his showering routine, his thoughts on looking "good" for his age, and why these new cleansing bars are so essential.
Why did you decide to launch bodycare instead of expanding into more skincare categories?
Well, we're actually doing both. But at a certain point, it was just like, 'Okay, I have this charcoal bar that I use now, and it's so crazy because it exfoliates and leaves your body softer than the way it found it.' We just needed to share it. We spent so much time in the last year telling people how three minutes is all it really takes—you don't really need much more than that to give some sort of exclusive attention to your face. Your face helps you to communicate—that's how you interact with most people, right? Most people interact with their faces, you have a conversation with someone, your face actually gives more context to it. And so, I felt like that message is out there, and it's going super strong. But then, there's the rest of your body. We wanted to give you two body bars that did two different things, while not doing what soap does at all. Soap strips all the nutrients and the natural oils that your body produces and the nutrients that you need.
What makes these bar cleansers better than traditional bar soap?
There are two. The Reenergizing Whiteclay Bar, which is kaolin clay paired with snow mushroom extract, it helps you to cleanse but keep what you need, like all the natural oils, in your body. Then there's the Energy Channeling Charcoal Bars. They have rice in it, so that helps you naturally exfoliate. But at the same time, charcoal itself pulls out 1,000 percent of anything its size, so that's why people ingest it. They tell you to ingest charcoal if you've been poisoned with something, or you need something desperately out of your system. If you notice, charcoal is very popular in pop culture now, period. Like, there's even charcoal lemonade and charcoal toothpaste. I am super obsessed with it.
We actually started the charcoal process in the very beginning of our skincare exploration, it just took a minute to really get it to that place it needed to be. Because, you know, at Humanrace with every category we stepped into, we try to make it better than we found it—one product at a time. And literally from the ingredients, to the recipe, to the packaging, to the consistency of the formula and of the bar itself, we really drilled down on those things. It's important to get it right.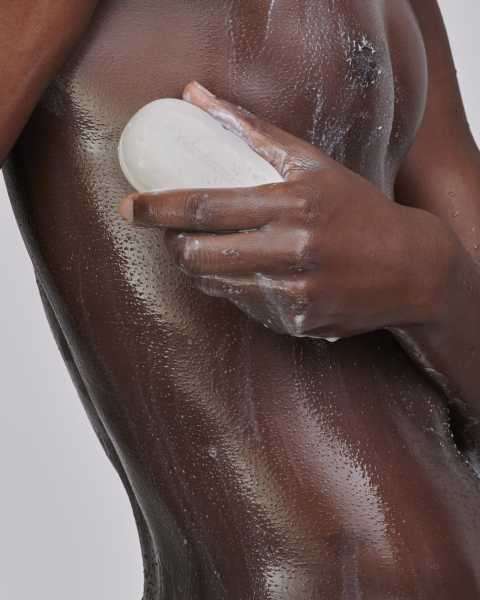 Humanrace
What song do you find yourself singing in the shower?
Oh, man, I actually write in the shower. So a lot of times just stuff that really doesn't exist. You know, it's stuff that I'm inspired by. It just sort of turns into stuff. So I do a lot of writing.
Do you have to then leave the shower and immediately go write it all down?
Usually I just record it into a Dictaphone.
When you launched this brand, there was so much chatter about your skin and your age. Do you ever get in your head about looking good for your age? Or are you bothered at all by the discussion around looking so young?
Well, I always feel awkward, because there's nothing I can really do about it. And, you know, I'm 48. So it's like, I'm not in control of that. The only thing I can do is be in control of the sustenance of my regimen and the maintenance: spiritual maintenance, mental maintenance, physical maintenance. But that's not changing anything, you know? That's only just maintaining what you have. It's giving your body, your mind, and your spirit the best ingredients to keep the odds in your favor.
This content is imported from Instagram. You may be able to find the same content in another format, or you may be able to find more information, at their web site.
Source: www.harpersbazaar.com