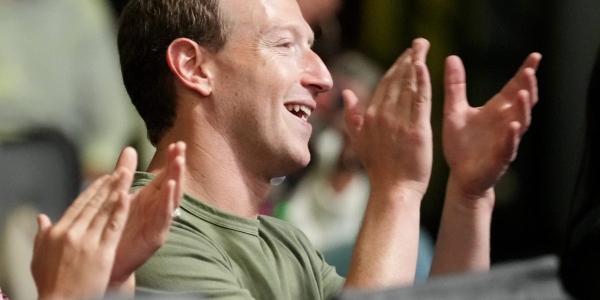 Mark Zuckerberg is giving credit where credit is due. The Meta CEO believes that Elon Musk, by firing hordes of middle managers at Twitter after his $44 billion takeover last October, kicked off a trend that's been "good for the industry." 
After assuming control, Musk laid off thousands of employees, reducing headcount from about 7,500 to less than 2,000 by February of this year, according to TechCrunch.
Zuckerberg delivered the comments on the Lex Fridman Podcast on Thursday. The way he sees it—and laid-off Twitter employees would surely beg to differ—Musk was right in trying to make the company "more technical" and decrease the distance between engineers and himself, with "fewer layers of management." 
"His actions led me and I think a lot of other folks in the industry to think about, 'Hey, are we kind of doing this as much as we should?'" he said. "Could we make our companies better by pushing on some of the same principles?…My sense is that there were a lot of other people who thought that those were good changes, but who may have been a little shy about doing them." 
It was something Musk "was quite ahead of a bunch of the other companies on," he added.
Meta, which owns Facebook and Instagram, announced in March that it would lay off 10,000 employees—adding to the 11,000 job cuts it started last November—and would also freeze hiring on 5,000 more positions. In a blog post, Zuckerberg said he would "make our organization flatter by removing multiple layers of management," part of a "year of efficiency."
While Meta employees have described "shattered" morale, Wall Street has responded positively, with Meta shares up about 112% year to date.
Other big tech companies have also shed workers this year, among them Salesforce, Microsoft, and Amazon. Tech layoffs in 2023 are the highest they've been since the dotcom bubble burst 22 years ago, according to a report released earlier this month by recruiting firm Challenger, Gray & Christmas.
Part of the problem was that many tech companies had simply over-hired in recent years, both because the pandemic increased demand for their products and services and because it was a period of easy money given Fed-induced low interest rates.
Stewart Butterfield, former CEO of Slack, recently described a dynamic within tech companies behind much of the over-hiring. He noted on Bloomberg's Odd Lots podcast in late May that when there's no real constraint on hiring, "you hire someone, and the first thing that person wants to do is hire other people." The reason is that "the more people who report to you, the higher your prestige, the more your power in the organization…So every budgeting process is, 'I really want to hire,' and that to me is the root of all the excess."
Zuckerberg said it was "very hard to know" from the outside whether Musk fired too many or not enough workers at Twitter, but said the trend he helped kick-start "hopefully can be good for the industry and make all these companies more productive over time."  
In May, Musk admitted that not all the employees he fired were superfluous. "Desperate times call for desperate measures," he told CNBC. "There's no question that some of the people who were let go probably shouldn't have been let go."
He told the BBC in April that Twitter "was going to go bankrupt if we did not cut costs immediately. This is not a caring-uncaring situation: If the whole ship sinks, then nobody's got a job." Musk took on billions in debt to finance his takeover, making the situation even more pressing. 
At Meta, Zuckerberg did not face the same kind of financial urgency. 
"It's a kind of strategy decision and sometimes financially required, but not fully in our case," he said. "A lot of it was more culturally and strategically driven by this push where I wanted us to become a stronger technology company."
He explained that he wanted to "empower engineers more, the people who are building things, the technical teams," and part of that was making sure those employees are "not the leaf nodes of the organization. I don't want, like, eight levels of management and then the people actually doing the work."
He added, "I think over time companies just build up very large support functions that are not doing the kind of core technical work, and those functions are very important, but I think having them in the right proportion is important."