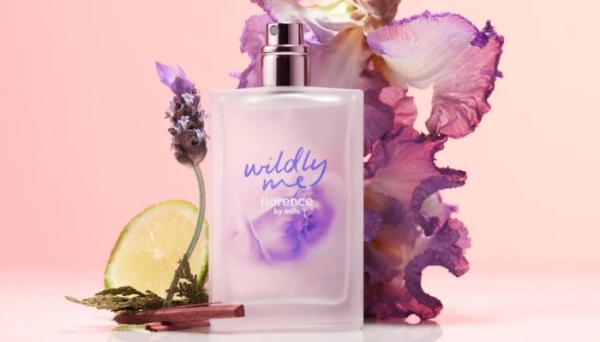 The clean and vegan beauty brand created by actress Millie Bobby Brown is making its first foray into the fragrance category with the launch of Wildly Me, a light, floral fragrance with earthy base notes created by Givaudan.
Florence by Mills describes their first-ever fragrance launch as being inspired by a botanical garden "where bergamot and soothing sage intertwine with purple iris, blooming wisteria, violet flowers, and fresh lavender." The fragrance was created in collaboration with Givaudan and combines periwinkle floral notes with sandalwood and upcycled cedarwood base scents. Within Givaudan's palette, the brand made a selection of Orpur classified ingredients, a label awarded by the fragrance house to its finest qualities of natural raw materials.
Gen Z in the focus
With this debut fragrance offering a frosted glass bottle and a pricing ranging that will range from USD24 to USD 65, depending on sizing, the brand continues innovate in the Gen Z beauty space, its core demographic target.
Florence by Mills ranks among the most Googled celebrity brands, in addition to being one of the most followed beauty accounts on social media.
"I launched florence by mills beauty in 2019 due to the lack of clean, high-quality products available for myself and my friends," said Millie Bobby Brown. "As the brand has evolved with me, I really wanted to find a fragrance that represented my journey to adulthood. Over two years in the making, Wildly Me tells my story of what it means to choose your own path, and being unapologetically, wildly yourself. I'm thrilled to finally be able to share this part of my passion project with the flo family."
In a close segment, Luxe Brands recently announced the launch of Cloud Pink, the latest addition to their Ariana Grande fragrance collection.
View online : www.florencebymills.com
Portfolio