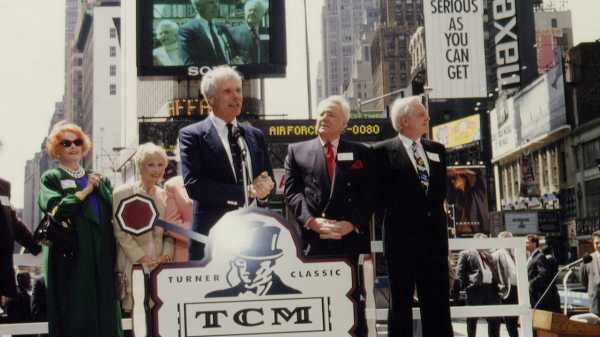 Save this storySave this storySave this storySave this story
The gutting of Turner Classic Movies by its parent company, Warner Bros. Discovery, is a grim omen for the future of the channel. Much of its leadership team was pushed out, including its respected lead programmer, Charlie Tabesh, who'd been there more than twenty-five years. The C.E.O. of Warner Bros. Discovery, David Zaslav, has said that he's a viewer and fan of the channel, and the company offered assurances that the channel's offerings will remain largely unchanged. (The layoffs are part of an over-all cost cutting at the parent company, and affected other channels, too.) A trio of movie directors who care deeply about TCM—Martin Scorsese, Steven Spielberg, and Paul Thomas Anderson—talked with Zaslav to seek assurances that the channel will be maintained in its current form: a round-the-clock cinematheque centered on Hollywood movies from the nineteen-thirties to the eighties, along with silent films, international and independent films, and documentaries about the art and history of movies. The danger that TCM faces spotlights an enduring crisis in the field that the channel covers: the history of cinema.
Turner Classic Movies was a gonzo creation of the dealmaker Ted Turner. In 1986, Turner purchased M-G-M in its entirety and then sold most of its assets (such as its production facilities) but kept its back catalogue of films, touchingly called its library. Turner launched TCM in 1994—oddly enough, as a mass-market competitor to the premium channel AMC (American Movie Classics). When TCM went live, it became my personal home theatre, and I filled many VHS tapes with its offerings. Whether under Turner, or under Time Warner (which took it over in 1996, and also brought the Warner Bros. catalogue to the channel), or under its recent A.T. & T. ownership, TCM seemed safe. Now, in the wake of Zaslav's caprice, it's all too clear that TCM can vanish at the decree of a single executive.
Yes, channels come and go, or change: AMC is now the basic-cable home of "Fear the Walking Dead" and not greatly lamented. But what makes TCM different, and what makes its potential shuttering a grave menace to culture at large, is that TCM (or, rather, its parent company) owns many of the movies that it shows. (It pays to license others.) Consider, by comparison, the short-lived, aggressively art-house channel Uptown, which I watched in the nineteen-eighties. (The channel was available to residents of northern Manhattan.) When Uptown was shuttered, films that it licensed for broadcast remained available to other channels. In that regard, Uptown was like a repertory cinema, which rents prints or copies of films and competes with other repertory houses in quality of programming. It's sad when one closes, but, when that happens, others can open and show the same films if they so choose. On the other hand, if TCM went off the air, no other broadcast outlet would necessarily have access to its library. The channel that Turner put together holds an astounding degree of control over a crucial part of the American artistic and cultural heritage. What makes TCM indispensable is its library, and what brings the library to life—what makes it an ongoing vital experience rather than just a vault—is its programming.
Imagine a literary world without public libraries, without a New York Public Library or a Library of Congress as all-embracing book collections, in which the sole arbiters of what's kept and what's pulped are the publishers themselves—or the conglomerates that take them over. Finding a book unprofitable, publishers wouldn't deem it worth the storage space, and all copies would likely be gone in a slurry. That's the essential pathos of the history of cinema. There's no central source where all prints are deposited. (Henri Langlois, the co-founder of the Cinémathèque Française, rescued films that were slated to be melted down for their chemicals.) Many rights holders, seeing no future for a movie once it had shown in theatres, undervalued them (and therefore tossed them). Now some companies overvalue movies (and therefore hoard them—as Disney, having bought the Twentieth Century Fox library, is reportedly doing.) So much of the culture of movies, including at the highest artistic levels, depends on the commercial vagaries of access. For instance, such absolute classics as Alfred Hitchcock's "Vertigo" and "Rear Window," and Howard Hawks's "Scarface," were long unavailable for distribution in the U.S. for many years.
TCM fulfills the role of Langlois's dual fervor for collection and creative exhibition, a combination that provided the raw material of cinephilic passion and aesthetic education that nourished the young enthusiasts who eventually formed the French New Wave. That's why TCM should become a not-for-profit streaming service—call it Turner Cinema Museum or Turner CinéMathèque. This is what the Academy Museum of Motion Pictures should have been: not a physical space for the display of artifacts but a permanent free or low-cost TCM-like Web site, programmed with the discerning enthusiasm that has been the channel's glory until now. Just as an art museum shows art, the Academy museum should show movies—not with the local reach of a movie theatre but as a nationwide or global platform for viewing curated classics, a permanent public treasure. It jars me to think that the physical Academy museum cost nearly half a billion dollars; maybe Warner Bros. Discovery, by donating TCM and its library to the Academy (or to another deep-pocketed not-for-profit institution out of the reach of commercial considerations), could win more good will than any promised, tenuous, and grudging stewardship could generate. The great legacy of the American cinema—and its future generations of artistic innovators—depend on it. ♦
Sourse: newyorker.com