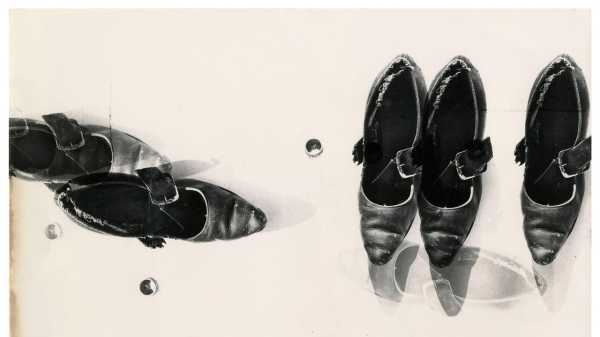 Save this storySave this storySave this storySave this story
Even before Jay DeFeo's death, at the age of sixty, in 1989, her reputation as an artist rested almost entirely on a single work, a massive painting called "The Rose." Built up, layer by layer, between 1958 and 1966, mostly in DeFeo's San Francisco studio, the finished piece is eleven feet tall, weighs about two thousand pounds, and still looks like a work in progress—or an ancient artifact, rescued from oblivion. Now held in the collection of the Whitney, where it's on view in the museum's seventh-floor galleries, "The Rose" has the presence of a religious relic, but its pattern of deep, radiating grooves anticipates a sci-fi future: that thrilling moment in "Star Wars" when we're sucked helplessly into hyperspace.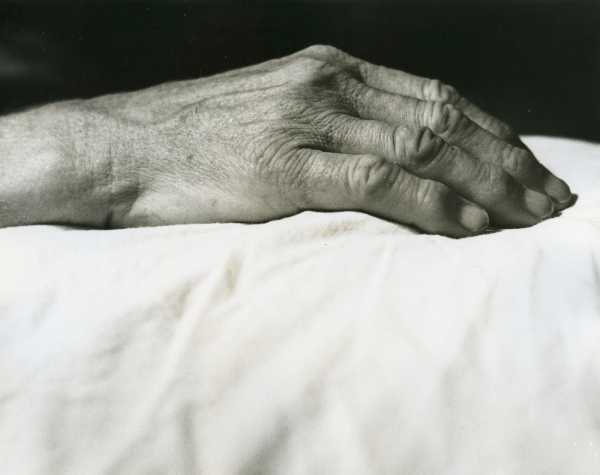 "Untitled," 1973.
In 1959, DeFeo was chosen—along with Jasper Johns, Ellsworth Kelly, Louise Nevelson, Robert Rauschenberg, and Frank Stella—for a survey show at the Museum of Modern Art called "Sixteen Americans." But for a time after "The Rose" was lowered out the window of her Fillmore Street studio, in 1965—an event recorded in a lovely, luminous short film by her friend and fellow Bay Area avant-gardist Bruce Conner—it left a vacuum that brought DeFeo's work almost to a standstill. She found a way forward in 1970, when she used a Nikon and a Yashica and began teaching herself how to use them. Instead of taking a photography class, she researched and picked up tips from students at the San Francisco Art Institute, where she taught, and learned from her mistakes. A show of the photographs of Man Ray, who invited accidents and exploited the distortions of the darkroom, inspired her to be "more comfortable with my approach," she wrote to a friend at the time. "I have neither the temperament—nor the facilities—for a hard-core technical path to perfection," she added, and proceeded to make the best of it for five busy and remarkable years.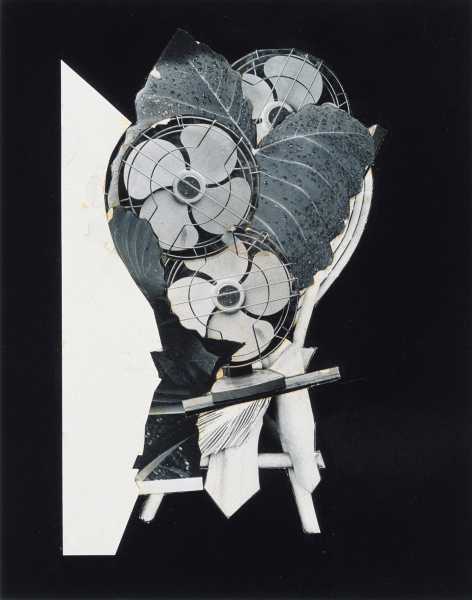 "Untitled (for B.C.)," 1973.
The work from those years has been little seen and largely unappreciated until now, with the release of an excellent book, "Jay DeFeo Photographic Work," from Delmonico/D.A.P., and a jewel-box exhibition at Paula Cooper Gallery. Both are revelatory. Seeing DeFeo's photographs is like rediscovering a forgotten Surrealist—an intimate of Ray, Dora Maar, Max Ernst, and Raoul Ubac who had fallen off the art-world radar. But DeFeo's connection to Conner, Wallace Berman, and the Bay Area post-Beat bohemian scene gives her work a funky, occasionally serrated edge. At Cooper, the pictures are, with one or two exceptions, all black-and-white and uniformly quite small; some are no bigger than snapshots. Their intimacy is seductive; the closer you get to each work, the more intriguing and unsettling it is. In an essay for the new book, Justine Kurland refers to the "airy weight" of DeFeo's photographs, and that oxymoronic phrase strikes me as just right. Even when DeFeo is making pictures of solid, very ordinary things—a crab shell, a chandelier, a wooden staircase, a woman's tattered shoe—the results look like they were captured in a dream, not ephemeral but haunted.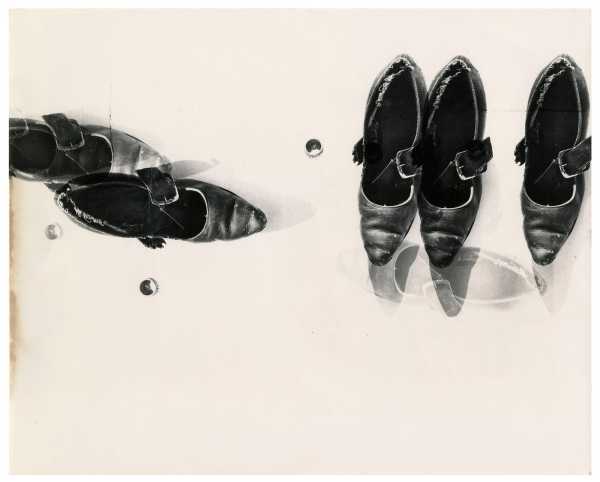 "Untitled," 1973.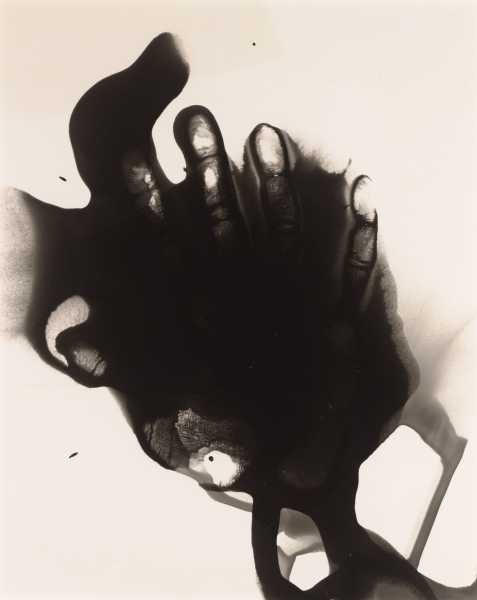 "Untitled (Salvador Dalí's Birthday Party)," May 11, 1973.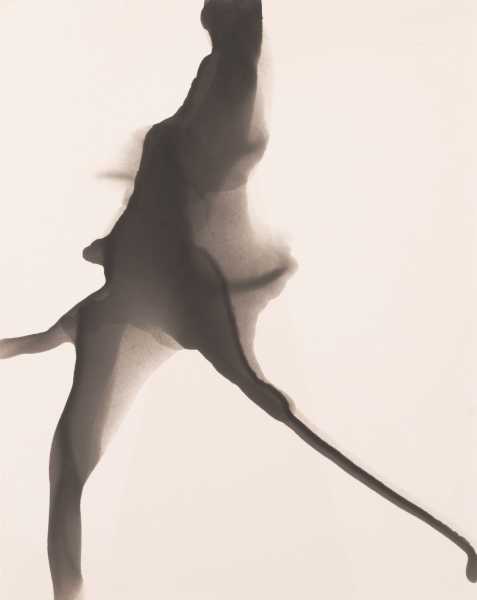 "Untitled (Salvador Dalí's Birthday Party)," May 11, 1973.
Like the Surrealists, DeFeo was drawn to discarded, broken, and useless objects, which she sometimes collaged into arrangements that seemed freakishly new: part organic, part mechanical and wholly, sometimes exquisitely, alien. Some of these images look like studies of works in progress, including a series featuring her dog's gnarly, mummy-wrap cast: detritus as sculpture. Others have almost no basis in the physical world. All of them smooth the transition into abstraction—into texture and movement and pure, pulsing atmosphere—and, ultimately, back into painting. Included in both the book and exhibition are photograms in the Man Ray tradition—the jumbled silhouettes of physical objects exposed to light on photographic paper—and chemigrams, splashes of chemicals on photo paper that suggest volcanic eruptions or brain wave.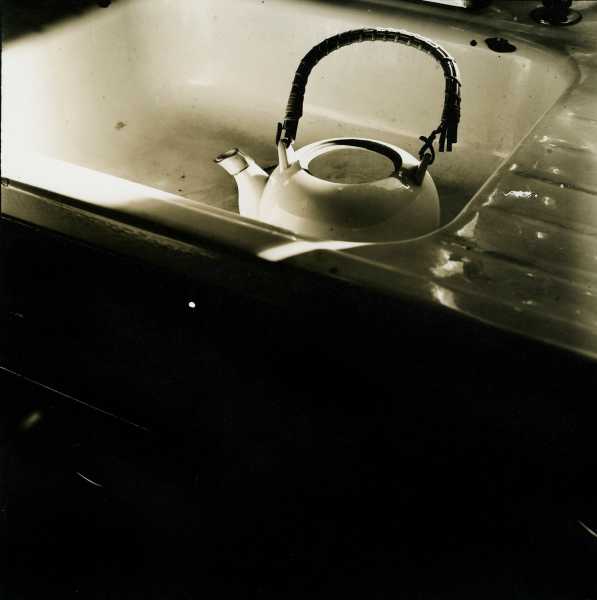 "Untitled," c. 1973.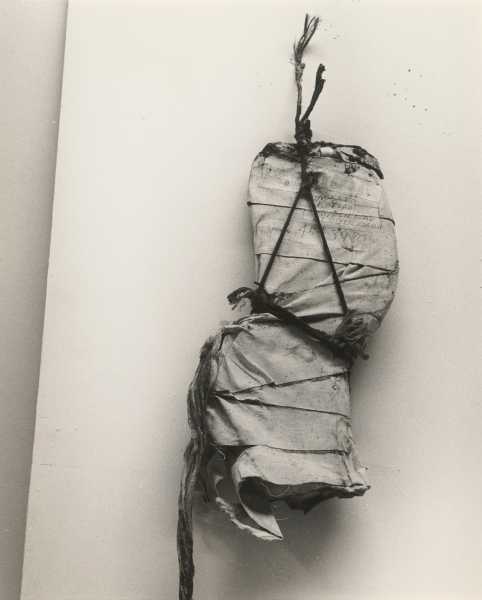 "Untitled (R. Mutt's cast)," 1973.
"The lens really taught me how to see and to really see," DeFeo once said. But the more she experimented with the camera and explored the possibilities of the darkroom, the more she was drawn back to other media. Increasingly, she used her camera to record the day-by-day progress of sculptures she made—salvaged paper and cardboard, twisted like a body in motion—or exuberant, gestural paintings. After making work she could hold in one hand, perhaps DeFeo was missing the impacts of scale and weight. If photography allowed her to see, it also gave her a new way out of representation and back to a rough materiality. It gave her a middle ground, fertile and familiar, and a language rich with dialects, diversions, and rude slang. She mastered it, first by losing herself in its endless possibilities, then by turning it little by little, but decisively, to her own ends.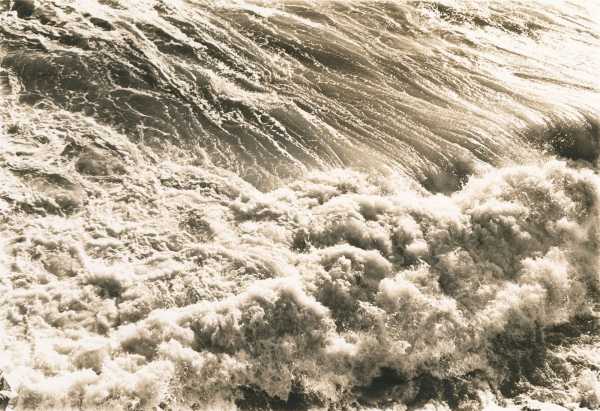 "Untitled," 1973.
Sourse: newyorker.com