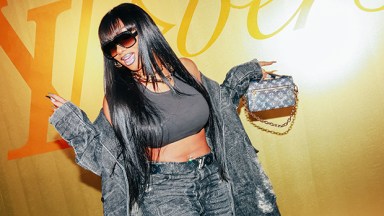 Image Credit: Pierrick Rocher/BFA.com/Shutterstock
Megan Thee Stallion hit the gym looking sexier than ever when she rocked a tiny crop top with super short and tight biker shorts while at the gym. The 28-year-old posted a video of herself working out on TikTok while putting her toned abs and tiny waist on full display.
In the video, Megan rocked a camouflage hat while showing off her super intense workout. In the video, Megan was showing off the exercises she was doing while telling the camera that despite the workouts being "tiring," "I told myself, you need to be more disciplined."
@theestallion

Gym updates 💪🏽🤸🏽‍♀️

♬ Major – Young Dolph
Megan also posted the video to her Instagram with the caption, "Staying disciplined no matter what 💪🏽 it's literally about to be a movie hotties." She also said in the video, "I've been up for the past couple of days shooting this music video for y'all. So I really hope that y'all love it. But as you can see, I did not let my job affect me getting my a** in that motherf*****g gym."
Megan has been on a roll lately when it comes to her outfits and aside from this yellow two-piece set, she showed off her incredible figure in a completely sheer black jumpsuit. The sleeveless one-piece was skintight and covered in crystals while the V-neckline was plunging, revealing ample cleavage. She accessorized her look with a diamond choker necklace, layered diamond bracelets, a Chanel purse, and gorgeous glam. In the same slideshow, Megan rocked a sheer black lace top with a pair of matching high-waisted sheer black tights. Beneath the tights, you could clearly see her tiny black G-string thong.
Sourse: hollywoodlife.com