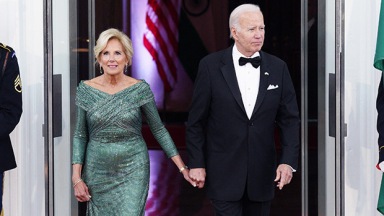 View gallery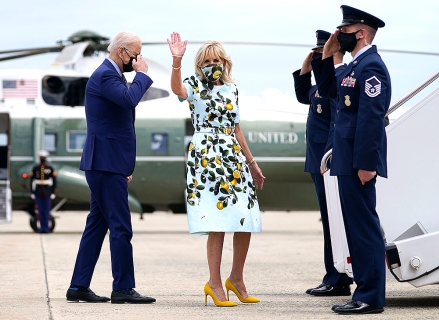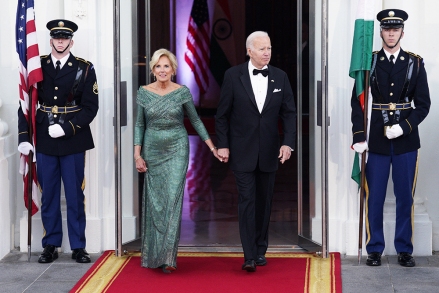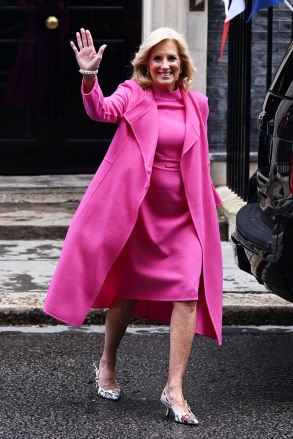 Image Credit: Gripas Yuri/ABACA/Shutterstock
First Lady Jill Biden looked beautiful as she arrived for the White House's state dinner with India on Thursday, June 22. The first lady, 72, always looks fantastic as she hosts public events, and she stunned as she and President Joe Biden welcomed officials from India for the event.
The First Lady glowed in a sparkling sage green dress with a crisscross design over the chest and a floor length skirt and three-quarter length sleeves. She wore her hair in an elegant, softly curled updo and completed the look with matching dangling gemstone earrings and stackable yellow gold bangles. In one photo, she held hands with the President as they entered the event.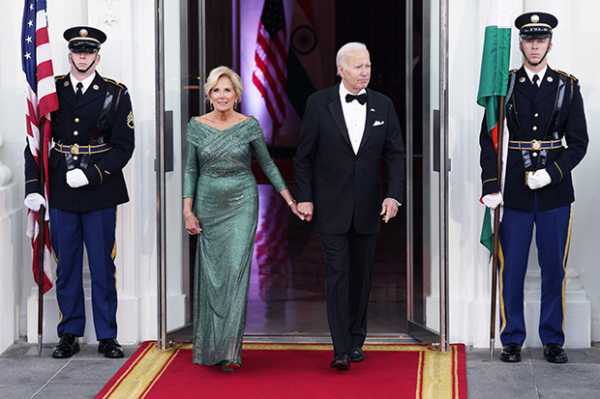 Gripas Yuri/ABACA/Shutterstock
The Bidens hosted Indian Prime Minister Narendra Modi and many more at the event. As the PM is a vegetarian, the first lady announced that she'd asked the White House chef to prepare a plant-based menu to prepare for his arrival in a speech on Wednesday, June 21. "After years of strengthening ties, the U.S.-India partnership is deep and expansive as we jointly tackle global challenges. But our relationship isn't only about governments. We're celebrating the families and friendships that span the globe—those who feel the bonds of home in both of our countries," she said of the visit.
During the announcement, Biden also announced that singer-songwriter Joshua Bell would provide entertainment as would the University of Pennsylvania South Asian acappella group Penn Masala. The state dinner with India is the third of Biden's administration. He hosted his first with France in December, and the second was held in April, welcoming South Korean officials.
Ahead of the dinner, the president shared a photo of himself and the first lady welcoming Modi to the White House on Twitter on Thursday. For the welcome, Jill wore a deep, navy blue, long-sleeve dress, matching her husband's suit. Modi sported a gray vest as he posed alongside the president and first lady. Jill also shared that she hosted a panel on education with Modi on her Instagram on Wednesday.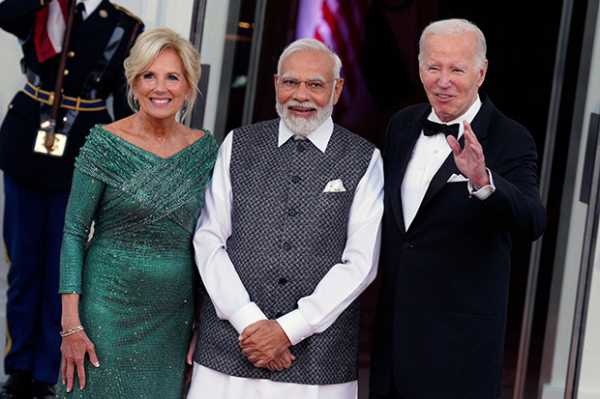 Gripas Yuri/ABACA/Shutterstock
Speaking of the first lady's amazing outfits, the state dinner comes a little over a month after she attended King Charles' coronation ceremony in London at the beginning of May. She attended the event with her granddaughter Finnegan, and it's clear that they had lots of fun while bonding in the UK. The first lady rocked a light blue, long-sleeve dress, while her granddaughter went for a light yellow look with a cape.
The state dinner comes months after the president also officially announced that he would be running for president again in the 2024 election. Jill had previously said that she was "all for" him running again and supported him in a February interview with CNN. Joe officially launched his 2024 election campaign in April, where he promised to continue to fight for the rights of all Americans. "Every generation of Americans has faced a moment when they've had to defend democracy, stand up for our personal freedoms and stand up for our right to vote and our civil rights. This is ours. Let's finish the job," he said in his campaign video.
Click to Subscribe to Get Our Free HollywoodLife Daily Newsletter to get the hottest celeb news.
View Related Gallery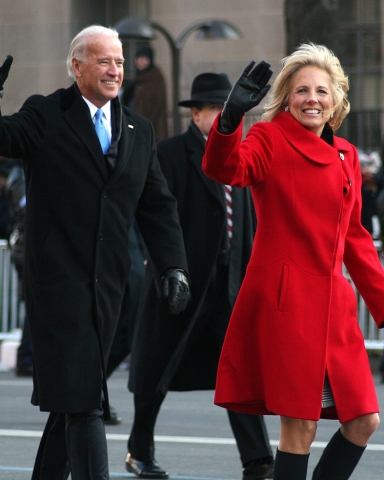 Vice President Joe Biden and his wife Jill walk along Pennsylvania Avenue Tuesday, Jan. 20, 2009, in Washington, during the inaugural parade. (AP Photo/Clarissa M. Rucker)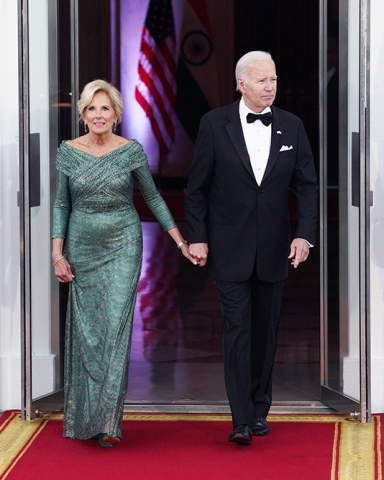 U.S. President Joe Biden and first lady Jill Biden walk out to greet Indian Prime Minister Narendra Modi on arrival for the State Dinner at the White House in Washington on June 22, 2023. USA-India State Dinner – Washington, United States – 22 Jun 2023
Sourse: hollywoodlife.com