Image Credit: FOX
Rappelling down a 330-foot wall isn't for the faint of heart, and Savannah Chrisley knows about that first-hand. In the October 2 episode of Special Forces: World's Toughest Test season 2, Savannah, 26, pukes while hanging off the side of the wall.
Just as she was about to begin the challenge, the Chrisley Knows Best star loses her balance. She screams and begins to cough. "I gotta get out!" Savannah yells. She's told by one of the DS agents that she has to keep going. Suddenly, Savannah throws up.
"Oh, she threw up," Robert Horry says from below. Savannah tells the DS agent that she needs to "get out" immediately. However, he tells her that the only way she's getting out is by going down.
"Even though I'm scared inside, I'm gonna keep going because I don't lose. I'm not losing. There's not another battle I'm going to lose," Savannah says.
She attempts the challenge and makes it to the bottom despite vomiting beforehand. She completes the task, but Bode Miller beats her. Savannah doesn't fret over a little bit of puke. "Did you see my puke?" she asks her fellow recruits. Savannah keeps charging forward and remains a recruit.
The same can't be said for three of her fellow recruits. Tara Reid, Blac Chyna, and Dez Bryant all go home in the October 2 episode alone. Blac, 35, refuses to participate in the rappelling challenge. Dez, 34, completes the challenge, but he loses his temper with the DS. Tara, 47, quits halfway through the second day after struggling from the moment she arrived.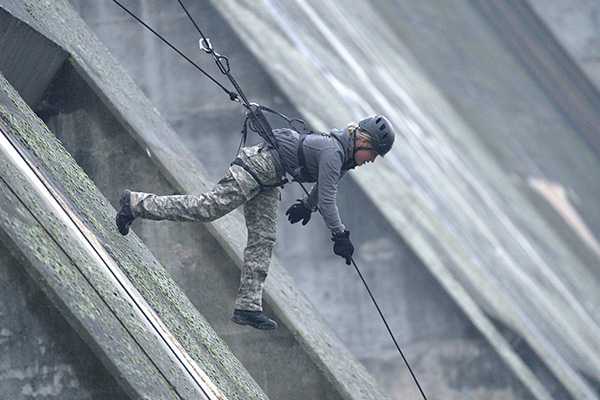 Savannah Chrisley during the October 2 episode. (FOX)
Savannah joined Special Forces season 2 in the wake of her parents, Todd and Julie Chrisley, going to prison. Her dad and mom were sentenced to serve a combined 19 years in prison for tax fraud earlier this year. As of September 2023, Todd and Julie's release dates have been bumped up. Julie, 50, will be getting out in 2028, while Todd, 54, will be getting out in 2033. New episodes of Special Forces: World's Toughest Test season 2 air Mondays at 9 p.m. on FOX.
Sourse: hollywoodlife.com