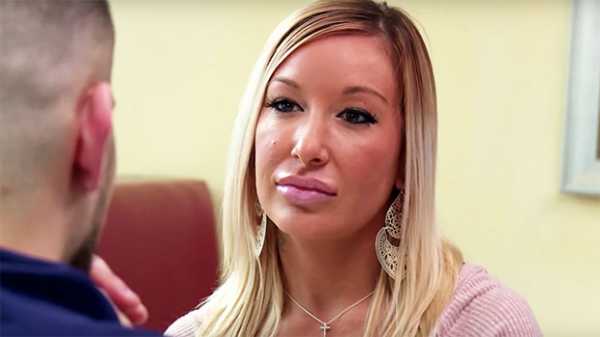 Lacey and Shane finally come face-to-face in this EXCLUSIVE preview of the all-new 'Love After Lockup.' However, she's not telling him the full truth.
Shane is so excited that he's finally meeting Lacey in person. "I've been talking to lacey in prison for about 8 months," Shane says in our EXCLUSIVE preview of the Sept. 6 episode of Love After Lockup. "The first impression I thought of Lacey when I seen her pictures, I was just blown away by how beautiful she was. I thought it was kind of like too good to be true. I did feel as though at first I was getting catfished."
During their first meeting, Shane gushes over Lacey. "I can't stop staring at your eyes," he tells her. He asks her why she doesn't have a boyfriend. There's an awkward pause. "Well, I just recently got divorced from my ex-husband," Lacey tells Shane, who replies, "I would never do anything to hurt you. I just want you to know that."
But there's something else that Lacey isn't telling Shane. "I feel horrible," Lacey admits. "I'm not ready to tell Shane right now about my relationship with Sean but I could definitely see me and Shane developing a stronger relationship. It feels to me that we've known each other forever."
The synopsis for the Sept. 6 episode reads: "Cheryl and Josh's sexy reunion is threatened when bad news sends Cheryl over the edge. Angela's shocked by a surprising offer, and Lacey's troubled by temptation when sparks fly with Shane. Andrea's wedding dress shopping takes an unexpected turn." Love After Lockup airs Fridays at 9 p.m. on WE tv. This season, the show follows 7 couples on their journeys from prison to (hopefully) the altar.
Sourse: hollywoodlife.com