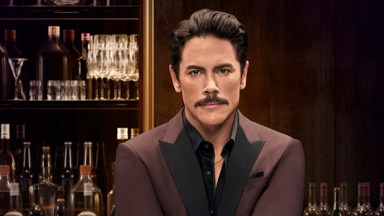 Image Credit: Tommy Garcia/Bravo
Tom Sandoval is an original cast member on Vanderpump Rules.
His cheating scandal with Raquel Leviss played out during the season 10 finale and reunion.
Tom will appear in Vanderpump Rules season 11.
Tom Sandoval, 40, became one of the most hated reality stars ever due to his cheating scandal with Raquel Leviss, 29, that made Vanderpunp Rules a pop culture sensation again. The TomTom owner had to deal with major fallout for cheating on his longtime girlfriend, Ariana Madix, 38, with one of their co-stars for over six months. The scandal, which broke in March 2023, and has become known as the "Scandoval," came to a head at the show's season 10 reunion, where Tom and Raquel faced the wrath of those wronged by their affair. It was the biggest television event of 2023 so far.
Bravo decided to start filming the next season of the show shortly after the reunion to capture all the fallout. However, not everyone involved in the "Scandoval" decided to let the cameras back into their lives.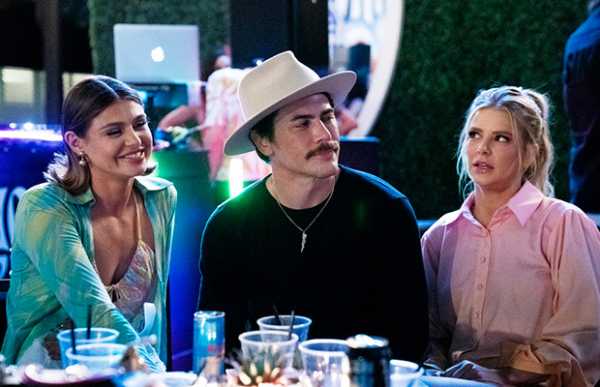 Raquel Leviss, Tom Sandoval, and Ariana Madix (Photo: Nicole Weingart/Bravo)
Will Tom Sandoval Be In Season 11?
Yes, Tom Sandoval will appear in Vanderpump Rules season 11. Tom missed some of the beginning of the season to shoot Fox's Special Forces: World's Toughest Test season 2, but he ultimately returned as a main act member alongside Ariana, Lala Kent, Scheana Shay, Tom Schwartz, Katie Maloney, James Kennedy, and Lisa Vanderpump. Tom's return to the show was confirmed when he was seen filming the upcoming season with the rest of the cast throughout the summer of 2023. On July 11, Tom was seen getting into a screaming match with Scheana outside SUR while cameras were rolling.
Tom went on the season's first cast trip to Lake Tahoe, where he seemed pretty chummy with his co-stars minus Ariana and Katie, who weren't there. Lala and Scheana both addressed the backlash over them hanging out with Tom and taking a group photo with him for a fan.
"It like still blows my mind that people don't realize we're filming a show," Lala said in a video on her Instagram Story at the end of July. Scheana added, "We're in a group. We're all here. We hopped in a photo. You know what? I happened to be standing where I was standing. I take photos with strangers every f****** day. That's how you take a photo. I stand like that. I smile. I tilt my head to my good side."
At the end of the season, the entire cast flew to San Francisco and attended a party where Tom was involved in a wild altercation, as seen in a since-deleted fan video that circulated on the internet.
What Has Tom Sandoval Said About His Future With Vanderpump Rules?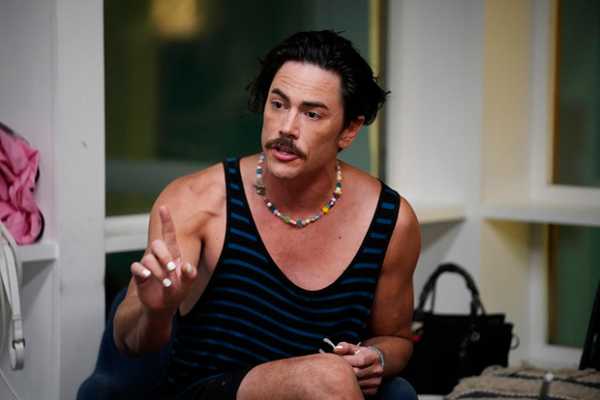 Tom Sandoval (Photo: Casey Durkin/Bravo)
After filming on season 11 wrapped in early September, Tom opened up about how hard it was to work with his co-stars again after his cheating scandal. Tom told The Hollywood Reporter on Sept. 13 that he "did actually really go back and forth about" coming back to the show.
"[Raquel] went away to a facility and I really wish I could have done that, but I'm really glad that I was able to stay here, face it on a day-to-day basis," he said. "I had to go on tour to make money, so I had to go out and actively be working on things, actively be talking to fans and reconnecting with people. Being in therapy is one thing when you're away in a facility, but being in therapy and then going out into the real world and actually using what you learned in therapy to practice in real time, then going back to therapy and being like, 'This worked, this didn't work,' I felt worked out the best for me."
Tom also admitted that filming season 11 "sucked." He said, "Oh my god, it was not fun. It was very isolating and hard. It's going to be a very unique season. It wasn't easy for a lot of people because there's a lot of pressure from the public, not just on me but on other people, so it's like if anyone is seen talking to me they get backlash. So, it's tough."
In an interview with E! News, Tom said season 11 was "very rough and isolating" for him. "You walk in and you feel like nobody in the room likes you. And it's a s*** feeling, I can tell you. But, I'm glad we got through it and I feel like there was a lot of things that needed to be said and that needed to be addressed. And we got it out there. And it's gonna be a very interesting, very unique season for people to see."
Are Tom and Ariana Filming Together?
Before season 11 started, Ariana made it clear that she would not interact with Tom on-camera, despite that fact that they still live in the same house. "I have nothing to say to either of them," Ariana told The New York Times about filming the show with Tom and Raquel. "Our show is very real and follows a real group of friends, and neither of them are in the group of friends, so, good luck."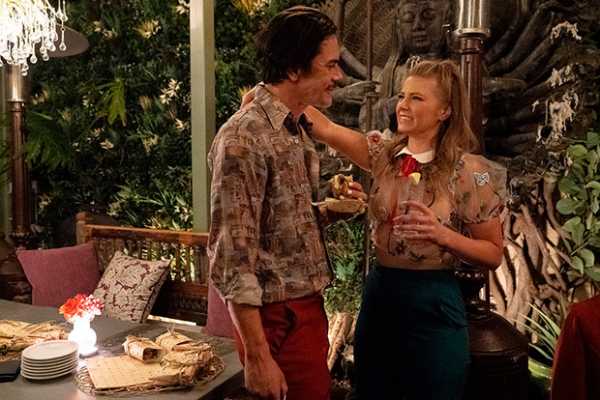 Tom Sandoval and Ariana Madix (Photo: Nicole Weingart/Bravo)
While the season was in production, TMZ claimed that Ariana was "refusing to share the screen" with her ex-boyfriend and that she "hasn't spoken to" Tom "directly" since the season 10 reunion. Ariana and Tom were photographed together for the first time since their breakup at an outdoor water tasting event on August 8. They stood as far away from each other as possible in the group photo with their co-stars.
Despite their messy split, Tom is still rooting for Ariana in life. Tom even revealed on Sept. 13 that he plans to vote for his ex-girlfriend on Dancing With The Stars season 32. "I think she's going to do really well," he said to Extra. "She's got a lot of actual ability when it comes to dancing. She's been wanting to be on the show for a long time. I'm super stoked for her. I hope she does really well. I think she will."
Is Raquel Leviss Coming Back?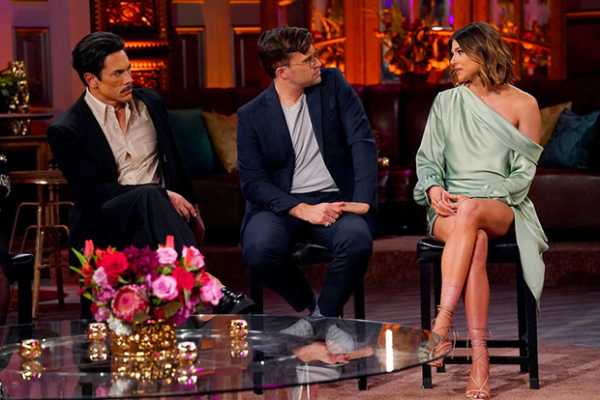 Tom Sandoval, Tom Schwartz and Raquel Leviss (Photo: Nicole Weingart/Bravo)
No, Raquel Leviss is not returning for season 11 of Vanderpump Rules. Entertainment Tonight broke the news of her exit from the show on August 17. "There was a possibility up until recently she'd be returning for the new season, but ultimately decided against it," a source told the outlet. They said that Raquel, who goes by her birth name, Rachel, again, "is focused on her mental health journey and knew going back to the show would open her up to trauma she's been working on healing. Rachel is looking forward to what the future holds for her."
After her affair with Tom was exposed, Raquel checked herself into a mental health facility for treatment, in April of 2023. Raquel left the facility after two months and she talked about everything from her relationship with Tom to her experience getting treatment on Bethenny Frankel's podcast at the end of August. Raquel discussed her decision to quit the show despite production wanting her to return. "My mistakes that I've made on camera live on forever. And you mentioned something about the addiction of doing reality TV and the way that they always dangle that carrot in front of you, like, 'Well, you need to tell your side of the story otherwise it's gonna be written for you,' " she said to Bethenny. "And that's terrifying. So I almost went back, I know just because of that."
Sourse: hollywoodlife.com