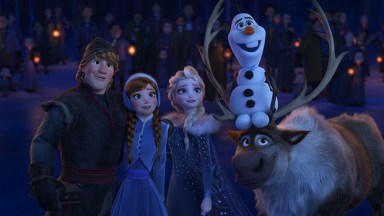 Image Credit: Walt Disney Studios/Kobal/Shutterstock
It's official — we're getting Frozen 4. Disney CEO, Bob Iger, announced the big news during his appearance on Good Morning America. "Frozen 3 is in the works, and there might be a Frozen 4 in the works, too," he said. "But, I don't have much to say about those films right now. But Jenn Lee, who created Frozen, the original Frozen and Frozen 2, is hard at work with her team at Disney Animation on not one, but actually two stories."
Keep reading to find out everything we know about Frozen 4!
When Does 'Frozen 4' Come Out in Theaters?
A release date for the fourth film is currently unclear, as TV and film productions halted for four months amid the WGA and SAG-AFTRA strikes. The Walt Disney Company was one of the several studios artists were striking against for fair wages, use of artificial intelligence and more.
When to Stream 'Frozen 4':
Since the theatrical release has not been decided yet, Disney+ subscribers will also have to wait for a streaming date is unveiled.
Moviestore/Shutterstock
Who Is in the 'Frozen 4' Cast?
A full cast list has not been decided, but it's safe to assumed that the main cast will return for the fourth movie: Kristen Bell as Anna, Idina Menzel as Elsa, Jonathan Groff as Kristoff and Josh Gad as Olaf.
What Has Walt Disney Studios Said About 'Frozen'?
Bob refrained from discussing Frozen 3 and 4 during his GMA appearance, but he delved into the impact that the franchise has had on the company and its theme parks.
"For years, at our Disney Parks, we've been creating these large immersive worlds. Essentially, they are the physical embodiment of some of the greatest stories that we've told," he began. "And, of course, Frozen being one of our most valuable franchises, as you mentioned, a very successful film, I think it's just right for building the place that Frozen takes place in. It's just a fantastic land that enables people to get immersed in the story of Frozen and interact with all the great characters from the films."
While describing the upcoming plan for Disneyland in Honk Kong, Bob pointed out, "I think the best thing is you visit and you actually can meet Olaf and Anna and Elsa, and all the gang from Frozen. Of course there's great attractions, but there's also great restaurants. I think the thing that's great about it is you actually feel like you're in the place that the movie took place in. And it just gives you this powerful sense of story that I think people have grown to love over the last decade."
Sourse: hollywoodlife.com