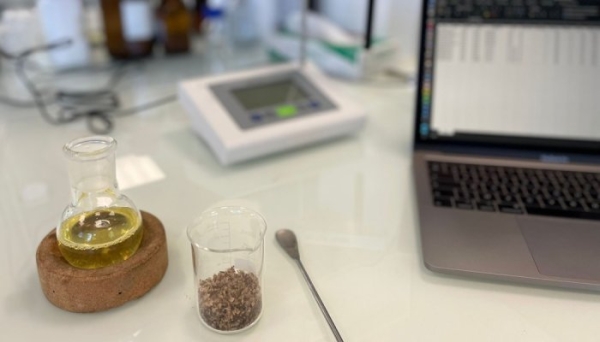 Startup Yifixia combines eco-extraction and white chemistry to offer the cosmetics industry 100% natural formulation ingredients derived from food industry waste.
Based in Montpellier, in the south of France, young company Yifixia was founded in 2022 by two researchers, Nicolas Gaboriaud-Kolar, PhD in Chemistry specialized in natural molecules, and Rémi Przybylski, PhD in Process Engineering, to recover agricultural co-products in the French southern region of Occitanie and turn them into molecules of interest.
"Thanks to our specialisms, we can combine eco-extraction technologies and white chemistry, so we manage to use enzymes or micro-organisms to keep creating molecules until the source co-product is completely drained, and obtain the best added value," explains Nicolas Gaboriaud-Kolar.
Yifixia's approach involves the cascading recovery of waste considered as a potential source for developing several ingredients. "If we carefully choose the technologies we use, we will be able to generate two or three ingredients with the same single raw material," says the founder and CEO of the company.
The developments are mainly formulation ingredients: the first excipient will be marketed in late 2023. "The choice of natural excipients is limited right now on the market, and yet there is a rising demand from consumers for natural and healthy products. So, we aim to offer manufacturers natural ingredients derived from renewable raw materials, so that they can formulate cosmetic products with alternative solutions," adds Nicolas Gaboriaud-Kolar.
The company aims to develop five to eight extracts by 2026.
Exclusively local, committed sourcing
Yifixia works directly with its suppliers, who are transformers in the Occitanie region's food industry. "This way, we get to know our suppliers, understand how they work, and give them advice, so that the co-product is not too damaged and we can retrieve it in the best conditions," explains the Director.
In addition, this company aims to make a difference: they do not only aim to make a profit, but also to have a positive impact on the environment or society. In fact, they made their commitments with their suppliers official in their statutes and purchase raw materials at the highest price possible. "It is a way to value their work, highlight a regional product, and create an incentive. It is costly for transformers to remove a co-product. So, we aim to transform costs into revenues," he says.
To support its partners with this strategy, Yifixia offers a service to companies willing to recover their waste.
"We have also been considering providing this service the other way round, by developing an offer based on cosmetics manufacturers' needs in terms of actives or ingredients derived from co-products. The idea is to use our diverse expertise to build a bridge between the farming and cosmetics industries," concludes Nicolas Gaboriaud-Kolar.
Portfolio