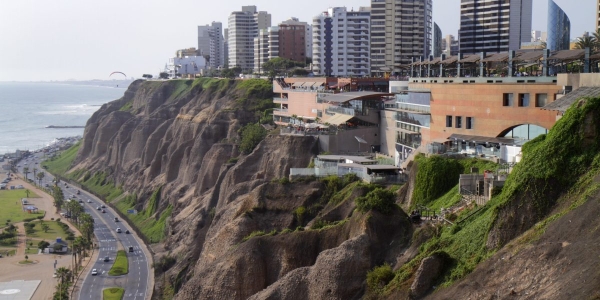 The best restaurant in the world is Central, in Lima. The dynamic tasting menu restaurant from chef Virgilio Martinez features ingredients from Peru's very diverse landscape, from potatoes sourced from of the heights of the Andes mountains to sea urchin from the ocean and notes the latitude of each dish. 
The pronouncement from World's 50 Best, an independent organization, moved the restaurant world's epicenter away from Copenhagen, which had claimed the top spot for the last two years: In 2022 with Geranium, an ambitious Scandi restaurant whose home is a football station. The year before, it was the reincarnated Noma, which had won the No. 1 ranking five times in its past and present incarnations.
The No. 2 restaurant is Disfrutar in Barcelona, run by chefs Oriol Castro, Mateu Casañas and Eduard Xatruch, who are all alumni of the famed El Bulli which features mind-bending dishes like a gazpacho "sandwich." 
It was a very good night for Lima; The Peruvian capital had four spots on the top 50 list alone, including two in the top 10. (Maido came in at No. 6; Kjolle was No. 28, and Mayta No. 47.) Likewise, Spain could celebrate: Along with Disfrutar, it had six additional places in the top 50.
Another big winner on this year's list: Dubai. For the first time, two restaurants from the city arrived in the top 50: Trèsind Studio, the modern Indian dining room, was at No. 11; Orfali Bros. Bistro, the innovative restaurant from a group of Syrian brothers was No. 46. Earlier this year, Orfali was named the top restaurant in the World's 50 Best Middle East and North Africa regional awards. "50 Best has put Dubai on the gastronomic map. It was already there but they needed someone to highlight," says Mohamed Orfali. "It brings all kinds of people to Dubai and changes their perspective that Dubai is all about shopping, hotels, and beaches. There's not just good food but delicious food."
All the attention to Dubai's restaurants has been paying off: Spending by the superrich on fine dining in the Middle East rose 74% this year, according to a report released Tuesday by Julius Baer.
The awards were announced at a live event in Valencia on Tuesday night; last year they were set in London. "We are delighted to partner with Visit Valencia to bring the awards to one of Spain's most forward-thinking cities," said William Drew, director of content for World's 50 Best; he declined to comment on the details of the partnership.
Past No. 1 winners are no longer eligible to win, a decision made by World's 50 Best in 2019, to shake up the names at the top of the list. Now, places like Osteria Francescana in Modena, France, New York's Eleven Madison Park, and Noma, which has announced its closure at the end of next year, live in an emeritus category. 
Copenhagen didn't just lose its No. 1 restaurant ranking. It now only has one place in the top 50, Alchemist, at No. 5, which also won the Gin Mare Art of Hospitality award.The new list marked a slow fade for the era of Nordic cooking which has dominated the food world for the last decade, and a strong influx of energy from South America and Mexico. 
It was a mostly good year for the formerly dominant city, Paris. Two high-ranking spots dropped precipitously: Le Clarence fell almost 40 spots, from 28 to 67. And the acclaimed Arpège which has been a mainstay on the top half of the list, fell to 62, from 31. To compensate, Table by Bruno Verjus the idiosyncratic restaurant from a former blogger, claimed the Highest New Entry Award, at No. 10.
For the US the cause to celebrate was Atomix, the exceptional Korean tasting menu spot that rose up the charts to No. 8. (It was also named the Villa Massa Highest Climber, moving up from 33.) 
For the UK the news was good: there are now three places in the top 50, one more than last year. Along with last year's spots Ikoyi (No. 35), and Clove Club (38), the unconventional Mexican restaurant Kol, catapulted up, from No. 73 to 23. 
Dedicated awards at the ceremony included Best Female Chef to Elena Reygadas of Mexico City's Rosetta. Tatiana, New York's breakout hit restaurant from Kwame Onwuachi was given the Resy One to Watch award.
This year's rankings were compiled from the votes from 1,080 restaurant industry experts, including food writers, chefs and restaurateurs and "well-traveled gourmets." They represent 27 regions around the world; each region has 40 voters, and they can cast up to seven votes in that area. 
The UK-based company William Reed Business Media compiles the World's 50 Best Restaurants list. It's celebrating its 21st year, having started in Restaurant magazine in 2002.
The second half of the list, restaurants ranked from 51-100, was announced in early June. Among the new entries on the full top 100 list is Bangkok's Potong, No. 88, headed up by Pichaya Utharntham, also known as Chef Pam. "Thailand is very supportive of bringing in Michelin and 50 Best, it's pushing younger generations to have dreams and to have a goal to work forward to," she said. "This is an award that reminds you you are doing the right thing, and that you're on the right path." 
Here are the winning restaurants. Last year's rankings are listed in parentheses; restaurants that newly made the top 50 are marked with an asterisk. 
1. Central, Lima, Peru (2)
2. Disfrutar, Barcelona, Spain (3)
3. Diverxo, Madrid, Spain (4)
4. Asador Etxebarri, Axpe, Spain (6)
5. Alchemist, Copenhagen, Denmark (18)
6. Maido, Lima, Peru (11)
7. Lido 84, Gardone Riviera, Italy (8)
8. Atomix, New York, US (33)
9. Quintonil, Mexico City, Mexico (9)
10. Table by Bruno Verjus, Paris, France (77)
11. Trèsind Studio , Dubai, UAE (57)
12. A Casa do Porco, São Paulo, Brazil (7)
13. Pujol, Mexico City, Mexico (5)
14. Odette, Singapore (36)
15. Le Du, Bangkok , Thailand (65)
16. Reale, Castel di Sangro, Italy (15)
17. Gaggan Anand, Bangkok , Thailand (*)
18. Steirereck, Vienna, Austria (13)
19. Don Julio, Buenos Aires, Argentina (14)
20. Quique Dacosta, Denia, Spain (42)
21. Den, Tokyo, Japan (20)
22. Elkano, Getaria, Spain (16)
23. Kol, London , UK (73)
24. Septime, Paris, France (22)
25. Belcanto, Lisbon, Spain (46)
26. Schloss Schauenstein, Fürstenau, Switzerland (40)
27. Florilège, Tokyo, Japan (30)
28. Kjolle, Lima, Peru (*)
29. Boragó, Santiago, Chile (43)
30. Frantzén, Stockholm, Sweden (25)
31. Mugaritz, San Sebastian, Spain (21)
32. Hiša Franko, Kobarid, Slovenia (34)
33. El Chato, Bogotá, Colombia (83)
34. Uliassi, Senigallia, Italy (12)
35. Ikoyi, London, UK (49)
36. Plénitude, Paris, France (*)
37. Sézanne, Tokyo, Japan (82)
38. Clove Club, London, UK (35)
39. The Jane, Antwerp, Belgium (23)
40. Restaurant Tim Raue, Berlin, Germany (26)
41. Le Calandre, Rubano, Italy (10)
42. Piazza Duomo, Alba, Italy (19)
43. Leo, Bogotá, Colombia (48)
44. Le Bernardin, New York, US (44)
45. Nobelhart & Schmutzig, Berlin, Germany (17)
46. Orfali Bros. Bistro, Dubai, UAE (87)
47. Mayta, Lima, Peru (11)
48. La Grenouillère, La Madelaine-sous-Montreuil, France (61)
49. Rosetta, Mexico City, Mexico (60)
50. The Chairman, Hong Kong (24)
Here are the previously announced winners from 51 to 100.
51. Narisawa, Tokyo (45)
52. Hof Van Cleve, Kruishoute, Belgium (27)
53. Brat, London (81)
54. Alcalde, Guadalajara (51)
55. Ernst, Berlin (62)
56. Sorn, Bangkok (39)
57. Jordnær, Copenhagen (38)
58. Lasai, Rio de Janeiro (78)
59. Mérito, Lima *
60. La Cime, Osaka (41)
61. Chef's Table at Brooklyn Fare, New York (63)
62. Arpège, Paris (31)
63. Neolokal, Istanbul 
64. Aponiente, El Puerto de Santa María, Spain 
65. Burnt Ends, Singapore (94)
66. Turk Fatih Tutak, Istanbul *
67. Le Clarence, Paris (28)
68. SingleThread, Healdsburg (50)
69. Zén, Singapore (70)
70. Sud 777, Mexico City (52)
71. Core by Clare Smyth, London 
72. Sühring, Bangkok (66)
73. Cosme, New York (69)
74. Nusara, Bangkok *
75. Fyn, Cape Town (37)
76. Oteque, Rio de Janeiro (47)
77. Tantris, Munich (98)
78. Alléno Paris au Pavillon Ledoyen, Paris (58)
79. Nuema, Quito *
80. Flocons de Sel, Megève (99)
81. Azurmendi, Larrabetzu, Spain (55)
82. Enigma, Barcelona 
83. Sazenka, Tokyo (59)
84. Meta, Singapore (95)
85. Enrico Bartolini, Milan *
86. Lyle's, London (54)
87. Ossiano, Dubai *
88. Potong, Bangkok *
89. Mingles, Seoul (71)
90. Wing, Hong Kong (100)
91. Kadeau, Copenhagen 
92. Neighbourhood, Hong Kong (76)
93. Kei, Paris *
94. La Colombe, Cape Town (81)
95. Ceto, Roquebrune-Cap-Martin, France *
96. Ricard Camarena Restaurant, Valencia *
97. Labyrinth, Singapore *
98. Saison, San Francisco 
99. Fu He Hui, Shanghai (64)
100. Maito, Panama City *