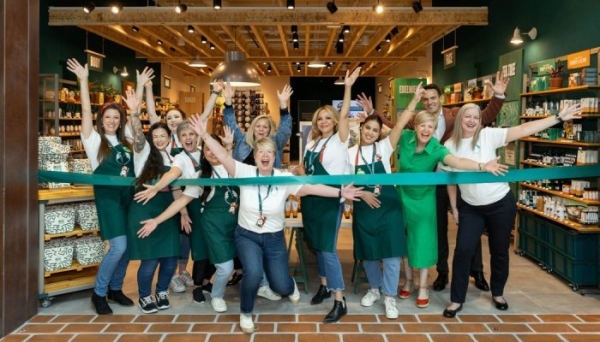 The Body Shop Canada has opened the doors to its newest flagship location at Yorkdale Shopping Centre in Toronto. Unlike traditional stores, The Body Shop's new Changemaker's Workshop is designed to give customers an immersive, sensorial product experience, as well as empower Canadians to channel their inner activist – inviting them to participate in social and environmental causes that are important to them and their community. To date, these new concept stores are welcoming higher traffic and sales compared to traditional stores.
"Our new Workshop locations are proving to be something very special," said Hilary Lloyd, VP of Brand & Corporate Social Responsibility, The Body Shop North America. "If activism is the soul of our brand, our retail locations are the heart. This is why we put so much effort into our Chagemaker's Workshop stores. Our goal was to create a physical space that people truly want to be a part of. Whether learning about our incredible products and testing them through our sink experiences, or engaging in Changemaking through our Act station, a space dedicated to petition signing and advocacy, the Workshop retail experience is different, and people are noticing."
This is The Body Shop's sixth Changemaker's Workshop location in Canada. Other locations are in Vancouver, Oshawa, Calgary, Burnaby, and Edmonton. There are five more stores set to open this year.
A key feature for each Canadian Workshop store is that they reflect the local communities they serve and each store is unique with a variety of local artists designing in-store murals, installations and/or sculptures.
In the Yorkdale location, The Body Shop presents a custom piece of textile art by multidisciplinary Toronto-based artist, Laura Moore. The piece, a handmade memory quilt, was inspired by the brand's 40+ years of activism work in Canada, made with The Body Shop materials sourced across the brand's Canadian employee collective as well as from the previous Yorkdale store. The Body Shop has a long history of using textiles as tools for change, upcycled tote bags, aprons, t-shirts, scarves – all designed to communicate our Canadian activism efforts over the years. With the textiles stitched together to shape a map of Toronto, the quilt represents the power of community, and The Body Shop's long history of changemaking in Canada.
Key features at the workshop stores include:


A central sink area where customers can smell, lather and test The Body Shop's best-loved products.


A gifting station for people to personalize gifts with ribbons and recyclable paper.


A dedicated ACT area that gives customers the chance to learn about and engage with issues that impact their communities.


A refill station where customers can take The Body Shop's 300ml aluminum bottle and fill it up with any 12 of the brand's best-loved shower gels, shampoos, conditioners and hand washes.


Sustainable countertops that are created from recycled plastic destined for landfill.


A range of upcycled and reclaimed materials such as reclaimed wood and part-recycled plastic storage crates.

Portfolio