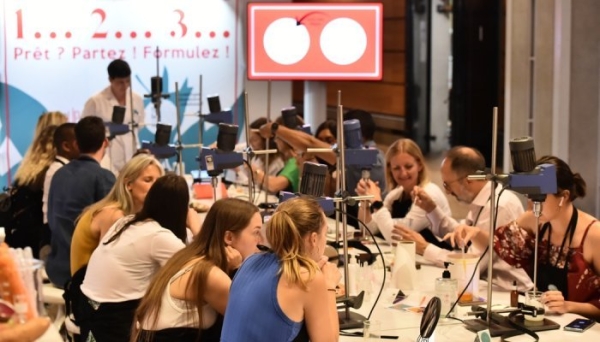 The B2B show is back on 14 and 15 June 2023 at the Carrousel du Louvre in Paris, at a time of growth in all beauty categories. With a significant increase in the number of exhibitors, the event will offer a fresh look at cosmetics trends: no fewer than 12 guest agencies, an innovation contest, a robust programme of workshops and conferences, and an ambassador specialising in diversity.
For its 2023 edition, MakeUp in Paris will host 150 exhibitors, a 36% increase compared to 2022. About 47 new companies will join the exhibition hall this year, including many North American companies (Allta, A&H Cosmetics, APR, Balance, Crystal Formulations & Packaging, Kirker, OPT Industries) and Asian companies (Beauty Yaurient Cosmetics Accessories, Beukay Cosmetics, Hakuhodo Company, Hwasung Cosmetics, Jotim Daily Chemical, etc.). And among the French suppliers who did not take part in the 2022 event are France Lab Marie Claire Beauty Group, Maprecos, Metapack, Texen and WWP Beauty Europe.
In terms of visitors, the organisers expect to welcome more than 4,000 professionals (against 3,580 last year). "The enthusiasm surrounding this new edition of the show is undeniable: since online registrations began, with constant double-digit growth since March, reflecting the dynamism of our industry," explains Aurélie de Boisvilliers, the show's Marketing & Communications Director.
Hybridization, diversity, innovations
While skincare and make-up categories are hybridizing, with increasingly blurred boundaries, for several years now, MakeUp in Paris has adapted its offer with a growing representation of the skincare offer. "This year, more than 58% of our exhibitors also propose skincare solutions," underlines Aurélie de Boisvilliers. This should meet visitors' expectations, where demand is also high, with 64% of visitors already registered saying they were looking for make-up and skincare innovations.
To illustrate this shift towards skincare, MakeUp in Paris has chosen as its ambassador, Aïmara Coupet, founder of Be+Radiance, a make-up brand enriched with active probiotics and superfood ingredients with, in the words of its founder, a native multi-racial approach meeting the needs of all skin types, whatever their level of pigmentation.
As the show's ambassador, Aïmara Coupet is also a member of the Innovation & Trends (IT) Awards jury, and she will be presenting the awards to the winners at the ceremony on 14 June at 10.30 am.
This year's competition saw an explosion in the number of submissions, with a 46% increase in the number of products presented. In total, the jury assessed 117 submissions and selected 32 finalists (against 21 last year). "Generally speaking, the innovations presented are indicative of the major trends shaping the future of the beauty industry. This year, they highlight solutions based on sustainability, minimalism, personalisation, sensoriality, the absence of preservatives and water, and inclusiveness," explains Aurélie de Boisvilliers.
Workshops and conferences
For the second consecutive year, MakeUp in Paris will also propose a pop-up laboratory in partnership with the company Co-Lab-Ora, created by Aurélie Banco. Located in the centre of the cosmetic ingredients zone, it will allow visitors to try their hand at a Good Mood formulation by creating a lip oil or a make-up remover night serum, all in 30 minutes flat! (To check available slots and book your place, click here.)
Other workshops will explore the new frontiers of ageing (Adélaïde Lohio, L'Observatoire Beauté), the new forms of well-being (Peclers Paris), the latest colour trends (Merck and Beautystreams), the role of AI in creation (De Baschmakoff), the new generations of peptides (Maprecos), the expectations of Gen Z (Nelly Rodi), and more.
The conference programme will also cover the major themes of the moment: the great divide between ultra-shine and ultra-matte (Colorprescription), the latest concepts from Asia (Asia Cosme Lab), the influence of cosmetic surgery on cosmetics (In Trend), the challenges of naturalness (LO Consulting, Eclo Beauty, TrendColour, Faber-Castell Cosmetics), the expectations of buyers (GO Beauty, All Tigers, Cosmetics 27, La Samaritaine), Gen Z and beauty (Kantar), R&D and inclusiveness (Aimara Coupet, Dr Imen Jerbi Azaiez), anhydrous beauty (Re-Sources, Anjac Health & Beauty, NEO by Nature, Opac, MS Beautilab), the regulatory challenges of refillable beauty products (FEBEA).
"The primary request of MakeUp in Paris visitors is to have access to the latest innovations and trends, and this is precisely what we are offering, in the exhibition hall and with the workshops and conferences," underlines Aurélie de Boisvilliers.
Personalised experiences
This year again, MakeUp in Paris is reiterating its commitment to CEW Beauty Centres. Visitors will be able to make an appointment with a professional portrait artist on the CEW France stand. After a make-up session (sponsored by Geka, Red of view, Trendcolor and INCA Cosmetici) and for a donation of 35 euros (corresponding to 1 treatment in a CEW socio-aesthetic centre), they will leave the stand with the perfect photo to update their LinkedIn profile. it is strongly recommended to book your place in advance (here).
Last but not least, visitors, exhibitors and speakers will be able to take a selfie to activate an AI-controlled facial recognition system and get a personalised photo report of their visit to the show in real-time!
"We're proud to be using AI to offer our community a unique experience. But beyond these innovations, the exhibition's fundamentals remain the same: business, proximity, conviviality and efficiency," concludes Aurélie de Boisvilliers.
Download your invitation to MakeUp in Paris 2023: here

Portfolio