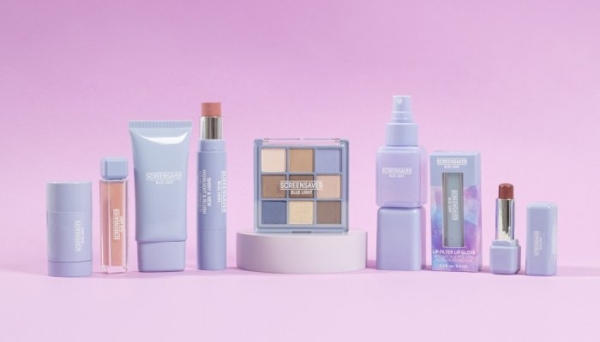 Innovative Beauty Group's (IBG) Brand Incubator has launched a blue light-blocking cosmetics line, developed to protect the skin from the harmful effects of digital devices, at Walmart.
Named Screensaver, the 9-product color cosmetics assortment comprises a comprehensive range of makeup products including primer, eyeshadow, blush, highlighter, lip gloss and more. Each item in the range, which was launched exclusively over 1,200 Walmart stores and Walmart.com in August, is priced at USD 9.98.
Each product in the range is formulated with functional ingredients such as calcium sodium borosilicate, jasmine leaf cell extract and sunflower seed oil that help reduce damage caused by daily environmental stressors, and offer light-reflecting properties. This not only blocks blue light pollution from digital devices, but also gives users a long-lasting glow beyond just the glow of their screens.
The product offerings include:

Eye-Scaping Eyeshadow Palette – An eye-catching, day-to-night eyeshadow palette formulated with calcium sodium borosilicate for its light reflective properties.

Face Filter Luminizing Primer – A skin-brightening and blue light-blocking face primer for use under makeup that minimizes dullness and hides imperfections.

Shiny & New Highlight & Blush – A creamy, hydrating, and lightweight dual-ended highlight and blush stick that offers a pop of color and the perfect glow – and makes application a breeze when on the go.

Lip Filter Lip Gloss – A high shine, nourishing and non-sticky lip gloss that delivers the perfect, glowing pout.

Face Filter Setting Spray – A setting spray that acts as a filter from blue light devices. Ideal for locking in a finished makeup look for all-day wear, or, can be used as an all-over facial spray for a mid-day spritz and refresh.

Highlight Powder – A glow-giving highlight powder formulated to help users stand out in a crowd.

Lip Filter Lipstick – A universally flattering lipstick infused with a blue light-blocking ingredients. When worn, it feels like balm but looks like a nourishing lipstick with an effortless hue.

Face Filter Priming & Setting Powder – A 2-in-1 universal priming and setting powder designed for all skin tones to keep makeup in place all day, with light-reflective properties for use against environmental stressors.

Refresh-Face All Over Cooling Face Balm – An all-over cooling face balm stick developed to refresh, hydrate, de-puff and cool the skin.
"At IBG, we are constantly looking to develop new products that align with industry trends and address consumers' evolving needs in the market," said Jennifer Raphael, CEO of Innovative Beauty Group North America. "We are thrilled to launch this premium collection of truly functional, blue light-blocking cosmetics that effectively defend against environmental stressors like blue light pollution at an attainable price point."
Comprised of Orchard Custom Beauty and Fasten Packaging, IBG, is Albéa Group's full service division. IBG offers mass and prestige beauty brands the support, resources, and facilities to bring innovative beauty and personal care products to market through full-service turnkey capabilities, from design, product development and manufacturing to packaging, logistics and marketing. IBG's Brand Incubator was founded to cultivate a portfolio of brands in collaboration with strategic partners, and to promote the development of unique beauty concepts.