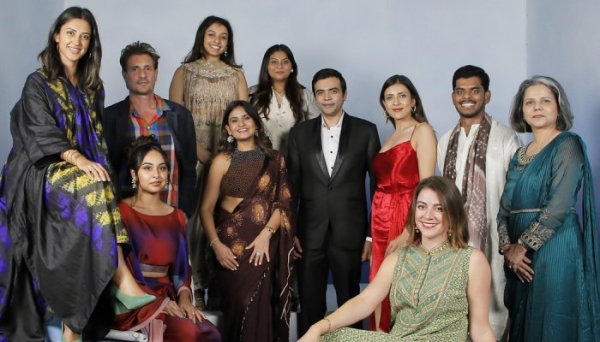 The Estée Lauder Companies (ELC) and Nykaa, one of India's leading omnichannel beauty and lifestyle retailers, have announced the winners of the 2023 Beauty&You Awards.
Launched in July 2022, the program aims to discover, spotlight, and propel the next generation of Indian-focused beauty founders, innovators, and creatives.
With over 600 entries from 150 cities, the 2023 application pool included a multitude of beauty brands across categories – skin care, hair care, fragrance, and color cosmetics. Selected by brand, product, marketing, and investment experts from ELC and Nykaa, the twenty-seven finalists presented to a jury of industry experts. [1] The winners were announced at an awards evening at Snowball Studios, Mumbai, on November 2, 2023.
The winners are:
BREAKTHROUGH Category
A $50,000 prize for innovation in active ingredients that address key areas for the Indian consumer.

Biome Laboratories, a purpose-driven skin care company championing Indian skin inclusivity, founded and led by scientist Rhea Goenka Jalan with a firm belief that biology is the most advanced technology on the planet.

S H Kelkar & Co – Keva Fragrances, Flavours & Aroma Ingredients (Kedar Vaze, CEO and Director, and Dr. Avani Mainkar, Chief Scientific Officer), a manufacturer of industrial perfumes and one of India's largest fragrance companies with an ever-expanding global presence into natural actives for cosmetics.
CREATE Category
A $50,000 Prize for The Next Generation of Creative Talent Submitting Work Around the Theme of 'Experiential Beauty in India'.

Priya Minhas, a London-born Creative Director with over eight years of experience in artist development, directing, and content production. Her film concept called "Honey & Mud" is a short film that explores the relationship between perfume, memory and identity through individual stories.
GROW Category
A $150,000 Prize for in-market businesses.

Call of the Valley, a Mumbai-based perfume brand founded by Jean-Christophe Bonnafous in 2019, after a decade-long career as flutist, with a vision to bring single-ingredient simplicity back to beauty and highlight traditional Indian wellness practices and the centuries-old art of Indian perfumery on a global stage.
IMAGINE Category
A $75,000 prize for pre-launch concepts.

Baboski, a luxury bath and body brand with products that are meticulously crafted using top-tier ingredients, including natural extracts and a proprietary EncapShield SPF technology. Founder: Hetali Kamdar.
IMPACT Category
A $50,000 Prize for the most innovative corporate social responsibility (CSR) programming.

Sohrai, a revolutionary beauty brand that transcends skincare, ignites change, and enriches lives. Founders: Khanak Gupta and Rupesh Pawar.

C16 Biosciences, the makers of Palmless, platform for sustainable palm oil alternatives. The C16's proprietary technology platform uses biomanufacturing to create next-generation ingredients and materials that successfully address global ESG challenges—including climate change, food security, the environmental and safety impacts of natural resource extraction, and more. Co-Founder and CEO: Shara Ticku.
COMMUNITY Category
A $10,000 Prize for The Best Community Engagement and Support. Winners for the Community category were determined via an independent voting process on www.beautyandyouawards.com and an analysis of social engagement.

Beautywise, a dermatology-led supplement brand founded by Anousha Chauhan and Shreyansh Chauhan, with the mission to empower everyone to embrace their unique beauty by incorporating sustainable, evidence-based solutions that work from within.

Havah (Founder, Giti Datt), which draws from India's rich heritage of perfumery, art, and philosophy to develop a unique perspective on the power of fragrance in contemporary life.