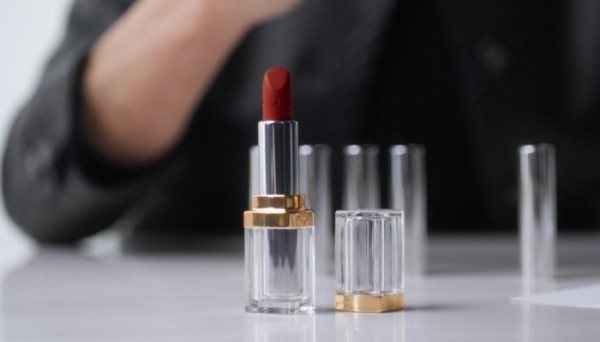 The first Chanel lipstick to be presented in a faceted square glass case, 31 Le Rouge is inspired by the mirrors that line the staircase in Gabrielle Chanel's rue Cambon apartment. An achievement that the brand presents as "a true technical feat," which would have required four years of development.
For 31 Le Rouge, the French luxury house has chosen to replace the materials usually used for tubes (plastic and metal) with glass. Made by a Japanese glassmaker, the tube houses an aluminium refill with the lipstick formula.
The gleam of the metal interior reflects off the glass sides, which are set with a golden-hued ring.
"Inspired by the mirrors that line the legendary Art Deco staircase in Gabrielle Chanel's Paris apartment at 31 rue Cambon, 31 Le Rouge unlocks a fusion of sophistication, technical mastery and design fluidity with an intimate, aesthetic experience," said the brand.
According to Chanel, four years were needed to overcome the challenges associated with creating a glass lipstick case that is thin and durable enough for a product of its kind.
"I didn't want an ounce of plastic in this object. I wanted to look to the future. To create a glass lipstick was a dream. I worked with one of our manufacturers in Japan. Nobody else was capable of making it like that, neither in France nor in Italy. It took a long time," told Sylvie Legastelois, Chanel's Director of Packaging Creation and Graphic Identity, in an interview with the online magazine All I.C.
The refills are interchangeable and can be removed and replaced without any limit, and there is no need to use the product completely before changing the refill. The product inside the refill is protected by a cover.
Longwearing formula
The 31 Le Rouge range features 12 shades ranging from soft beige to deep garnet. Finely micronized pigments combine with sheer mother-of-pearl to deliver intense, purely radiant colour.
Composed of 75% naturally derived ingredients, the longwearing formula is enriched with Gardenia Oil, and maracuja oil, both of which provide skincare benefits. Clinical evaluations showed a 70% improvement in lip hydration, 44% in smoothness and 55% in firmness, after one month of use.
Portfolio