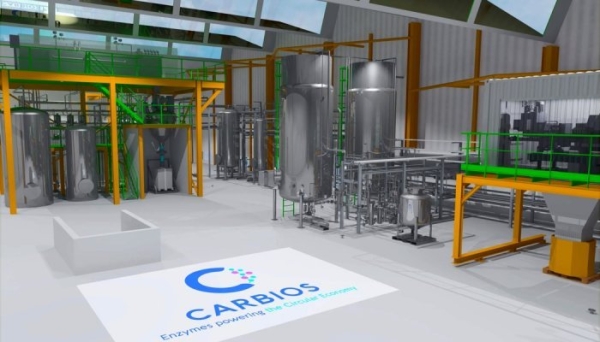 The French biotech company specialising in enzymatic plastic recycling wants to raise EUR 122 million to build its first industrial plant and strengthen its R&D. The company is striving to become one of the world leaders in plastic recycling, a booming market, far beyond r-PET.
Carbios, a pioneer in the development and industrialization of biological recycling technologies for plastics, has announced the launch of a capital increase totalling an initial gross amount of around EUR 122 million, likely to be increased to around EUR 141 million if the extension clause is fully exercised.
A first industrial unit from 2025
For the most part, the sums raised will be used to build of the company's first plant, with an estimated production capacity of 50,000 tonnes per year. The remaining will be will be used to fund PET R&D activities.
This plant will be built in Longlaville, East of France, in joint venture with Indorama Ventures. Start of construction, recruitment and training of plant staff are planned to begin at the end of 2023, and commissioning of the plant is due in 2025.
Carbios has secured an initial source of supply for its future plant by winning part of the CITEO tender for the biorecycling of multilayer trays. The company is in discussions with other players to secure the yearly 50kt of waste expected for the plant's full capacity. Thanks to its innovative technology, Carbios can minimize the use of bottles – an expensive feedstock — and gain in competitiveness by to diversifying its mix of raw materials to include food trays, fines and textile waste.
A dynamic global market
According to Carbios' estimates – taking into consideration improved textile collecting and sorting, use of textile feedstock and advanced recycling scale-up – the global r-PET market is expected to almost double in 25 years. Thus, r-PET could represent 50% of the total PET market by 2050.
Carbios' ambition is to position itself as a world leader to capture 4 to 8% of this market by 2030 and between 8 to 12% by 2035, and even 23% by 2050.
In particular, the company should benefit from the strong growth of advanced recycling technologies, while growth in mechanical r-PET will be constrained by limited availability of feedstock able to be processed by this technology. Carbios also predicts that Virgin PET will also be limited due to lower demand for petro-sourced materials led both by brands' sustainability ambitions and governmental regulations worldwide.
Beyond PET
Carbios also emphasizes that its constant efforts to expand its innovation pipeline and extend its proprietary technologies to other polymers — especially polyamides (including nylon) and polyolefins (polyethylene and polypropylene) — are about to bear fruits with first patents expected from 2023.
In collaboration with its academic partners, Toulouse Biotechnology Institute and the University of Bordeaux, Carbios recently published an article entitled "Enzymes' power for plastics degradation" in Chemical Reviews. According to the company, this article marks a turning point in the search for enzymes to degrade plastics other than PET and PLA.
"It is now time to take our industrial and commercial project a step further with the commissioning in 2025, in France, of the world's first PET biorecycling plant, in partnership with Indorama Ventures. It is with the aim of financing this plant, accelerating our R&D and the deployment of research activities for other polymers and other applications of our technologies, that we are launching this capital increase with the maintenance of pre-emptive subscription rights to let you take part in the acceleration of our growth," said Emmanuel Ladent, CEO of Carbios.