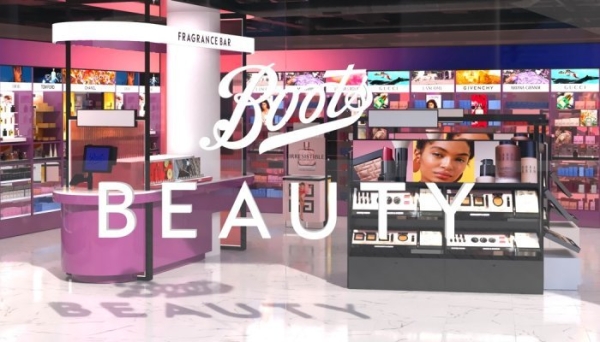 The British health and beauty retailer will launch a new beauty-only store at Battersea Power Station, in London. Set to open later this year, the new 11,200 sq ft destination will showcase over 250 brands across cosmetics, skincare, and haircare, including new UK-exclusive brands and ranges from diverse and female owned brands. On opening, Boots will also introduce all of the new beauty brands to boots.com
The move is part of the retailer's ongoing beauty reinvention programme and follows the rejuvenation of over 170 beauty halls across the UK and Ireland – most recently in St Albans, White City, Kilbride, Grantham and Stratford-upon-Avon. These new reinvented beauty halls have been the first to stock new brands such as Grown Alchemist, Sol de Janeiro and Function of Beauty, alongside beauty brands UK customers are more accustomed to, including Kylie Cosmetics, NARS, MAC Cosmetics and Drunk Elephant.
"Our new Beauty showcase solidifies Boots' position as the UK's number one beauty destination and marks the latest innovation under our ongoing beauty reinvention programme. Boots continues to invest in providing a market-leading beauty shopping experience and this new beauty-only concept not only allows customers to be the very first to try new brands and products but also provides a platform to launch new services that we know our customers will love," said Paul Niezawitowski, Beauty Director at Boots.
Boots now offers more than 500 beauty, skincare and haircare brands and has launched almost 4,000 new lines from top beauty names this year alone. The retailer has been making heavy investment in beauty recently in a context of increased competition since LVMH-owned Sephora re-entered the British market with an online launch last October and the opening of a first store in London in March, a second in July, and more to come.
Despite posting strong sales over the latest quarter, the British retail chain announced last June its intention to continue cutting store numbers in the UK, with plans to close a further 300 point of sales in the next year. During the three months ended 31 May 2023, Boots' retail sales grew by 13.4%. The retailer said it represents its ninth consecutive quarter of market share growth with gains across all categories, led by beauty. Indeed, sales in beauty were up over 18% year on year, led by skincare and May saw the biggest week for the category outside of Christmas.
The UK beauty market is the sixth largest in the world according to Euromonitor, behind Germany but ahead of France—clocking in at an estimated USD 29.88 billion in 2022 and projected to reach USD 40.5 billion by 2027—growing at a CAGR of 6.27%.