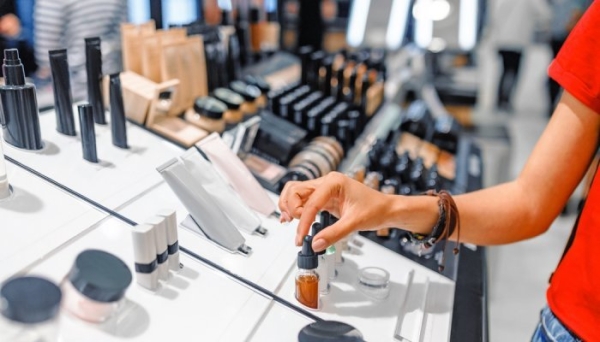 Following a solid recovery since the height of the COVID-19 pandemic, beauty is on an upward trajectory across all categories. The market is projected to grow 6 percent a year during the next few years, says McKinsey & Company in a recent report. At the same time, new challenges emerge and the beauty landscape is expected to become even more competitive.
"Today, beauty is on an upward trajectory across all categories," says McKinsey & Company in recently released report The State of Fashion: Beauty.
In 2022, the beauty market — defined as skincare, fragrance, makeup, and haircare — generated approximately USD 430 billion in revenue, and is expected to reach approximately USD 580 billion by 2027, growing by a projected 6 percent a year. This is in line with or slightly higher than other consumer segments such as apparel, footwear, eyewear, pet care, and food and beverages.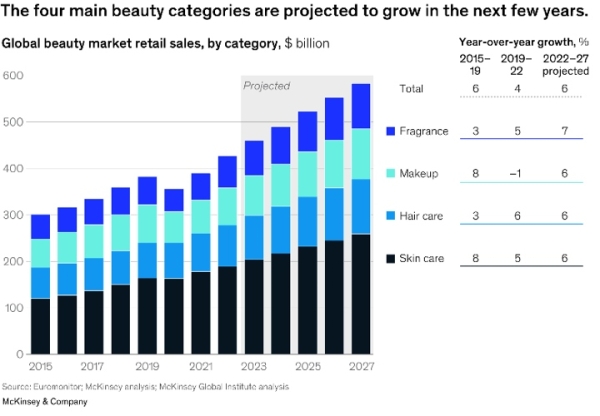 Premiumisation and luxury boom
However, the consulting firm expects the premium beauty tier to grow at an annual rate of 8 percent (compared with 5 percent in mass beauty) between 2022 and 2027, as consumers trade up and increase their spending. The fragrance and make-up categories are forecast to be the most impacted by this trend toward premiumization.
According to McKinsey, another growth opportunity across geographies will be products and services in the top tier of the pricing pyramid: the luxury and ultraluxury beauty market has the potential to double, from around USD 20 billion today to around USD 40 billion by 2027.
Increased competition
Despite the dynamism of the beauty landscape, McKinsey identifies a series of market transformations likely to increase competition among industry players. In particular, the consulting firm mentions: the emergence of independent players seeking to gain market share, the growth of e-commerce, and the slowdown in Chinese growth.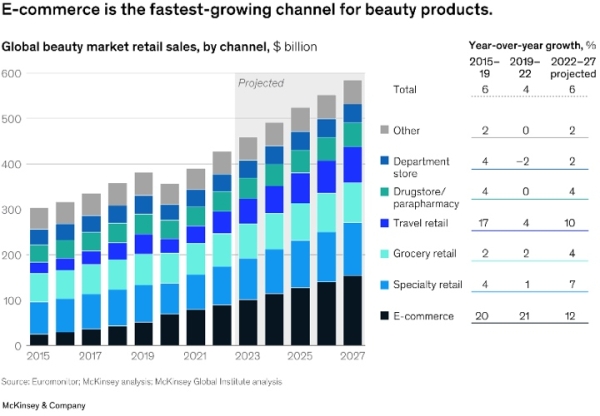 If China and the United States will remain mighty forces for the industry, with the beauty market expected to reach USD 96 billion in China and USD 114 billion in North America by 2027, McKinsey says geographic diversification will become more essential than ever, with regions — including the Middle East and India — that are ready to step into the limelight, offering distinct potential for specific categories and price tiers.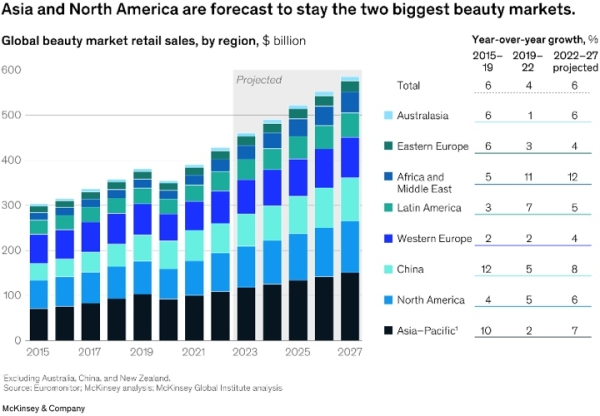 Five disruptive themes
Eventually, the consulting firm identifies five key dynamics that are likely to transform the beauty landscape:

The redrawing of the growth map, with a slowdown in China resulting in the growing importance of the US market, along with the Middle East over the same period, and India in the longer term.

The rise of wellness, with consumers increasingly engaging with beauty products and services to not only look good but also feel good.

The influence of Gen Zers, who scrutinize brands as part of their search for value.
The imperative to scale for indie beauty brands.

The recalibration of M&A, with dealmaking not being the same as when cost of capital was low.
Download the full report here.