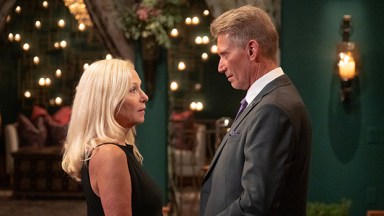 Image Credit: ABC
Ellen Goltzer became an instant fan favorite on The Golden Bachelor and viewers rallied around her after learning about her best friend Roberta Zaktzer's battle with cancer. Gerry Turner had to narrow down his top 6 to his top 3 before hometown dates, and Ellen was one of the lovely ladies who was sent home in the October 26 episode. HollywoodLife spoke exclusively with Ellen about her elimination and if she had an inkling at all that she wouldn't be getting a rose.
"I sensed it at the amusement park, and there was a different body language. I'm pretty intuitive with that. I poured out my heart, and it wasn't exactly the same responses I got in the balloon," the 71-year-old retired teacher revealed.
She continued, "I was pretty down the rest of the evening because I just had a feeling that what I had to offer was not exactly what he anticipated. I'm very independent. I love where I live. I wanted it to be halfway, teamwork, that kind of thing. When I saw where he was going, I saw he was more [about] his dream in a way. And I'm not making excuses, but that's really what I think, so that's good for him. I don't know if it would have been good for me, and that sort of gave me some peace of mind because he really is a great guy."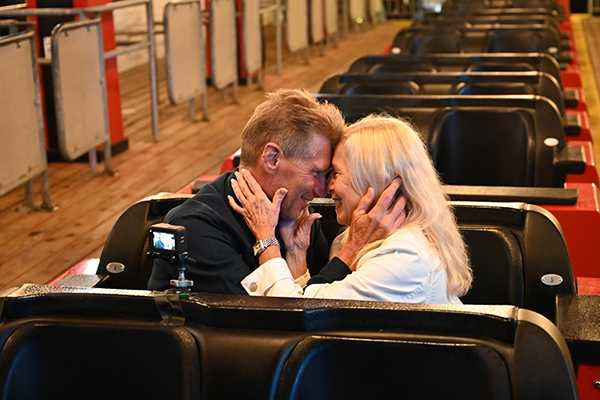 Ellen Goltzer and Gerry Turner on 'The Golden Bachelor.' (ABC)
Despite her romance with Gerry not working out, Ellen has no regrets about what went down. "I honestly just wanted to thank him for opening me up to a new world that I haven't had in a very long time. Phone calls are pouring in from a lot of very eligible people, so that's something new to me because I was living day to day and playing my little pickleball and not even thinking much about social life until this character named Gerry decided to open that heart up. I'm grateful to him, and I want him to be happy. He's a great guy."
But is she dating again? Ellen revealed, "No, I need time to rest. I need time to heal the wound."
The debut season of The Golden Bachelor is dedicated to Ellen's best friend. Roberta convinced Ellen to sign up for the show. Unfortunately, Roberta passed away just before the show's premiere after a battle with cancer.
When Ellen got home, she was by Roberta's side. "I'm sorry that I never got to watch it with her. I just gave her permission to go," Ellen recalled. "I said, 'Don't hold on anymore. You can go.' Ten minutes later, she pretty much passed away in my arms, which was unbelievable. But I said we watched them in a different place together. That's all."
Ellen admitted that she's felt Roberta's "spirit nearby" in the wake of her death. "I'm not usually a very spiritual person, but it gets me through it," she continued. "I know she would be so happy and proud of me that that's what kept me motivated the entire time. I'm okay with it. I'm okay with everything that ended. I didn't want to leave Gerry. I didn't want her to pass away. I didn't want any of that to happen, but I've come to terms with all of it. And I'm okay. I'm in a good place."
View this post on Instagram
Ellen also noted that her kids have been a "great" support system for her as she starts this new chapter. "Even my ex-husband was happy for me. Everyone was happy for me. My friends are so supportive, my community, my friends from high school," she said.
With The Golden Bachelor wrapping up in the coming weeks, everyone is wondering about a possible Golden Bachelorette spinoff. Ellen weighed in about the exciting possibility.
"I had a friend that didn't have a chance to move on to the next day. Honestly, with everything that's happened this whole summer — good and bad — I want to live each day as it comes and whatever is put in front of me," Ellen said. "If it's not, I'm not going to really think about it. And if it is, I'll discuss it and talk about it then. But I want to enjoy every single minute that I have of this experience. And that's how I answer it. That's really the truth. I'm genuine. I would tell you the truth, but that's really the truth." The Golden Bachelor airs Thursdays on ABC.
Sourse: hollywoodlife.com