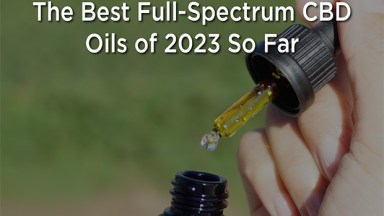 Image Credit: Real Tested CBD
A ton of new full-spectrum CBD products have entered the market this year and, although 2023 isn't over yet, us at Real Tested CBD believe it's important to keep you up-to-date on which of these new products are the best. Unfortunately, with sponsored ads and articles flooding the internet, it can be difficult to distinguish between actual high-quality and low-quality CBD products. So whether you are new to the CBD industry, or you're a CBD veteran, keep reading on to find out which full-spectrum CBD oils are truly the best of 2023 so far.
What is Full-Spectrum CBD?
A legitimate full-spectrum CBD product contains the 'full-spectrum' of the hemp plant, including rare cannabinoids and terpenes. Rare cannabinoids, such as CBG, CBC, CBN and delta-9 THC, are present, in addition to cannabidiol. Many CBD consumers use full-spectrum CBD products because it is believed that these cannabinoids interact with the body's endocannabinoid system to cause the "entourage effect." It's been reported that this makes for a more effective CBD product, overall.
Top Three Full-Spectrum CBD Oils
When shopping for full-spectrum CBD oil, you should look for each product's COA (Certificate of Analysis), to make sure that its label claims match up with its unbiased lab test results. This can help you confirm that there are no harmful residuals or solvents present, but it can also show you whether a product is truly "full-spectrum" or not. We have lab tested each of the following products, so you can rest assured that they contain the advertised cannabinoids. You can find the full lab test results and unbiased CBD reviews on our website.
1. Butler Hemp Co. Extra Strength Full Spectrum 3000mg CBD Oil
Like all the Butler Hemp Co. CBD products we've tested, this full-spectrum CBD oil lives up to its label claims.It contains every cannabinoid that we look for in a full-spectrum CBD product, and at just $0.01 per mg of CBD, this is one of the least expensive CBD oils that we have tested. If you're looking for a reliable full-spectrum CBD oil, this one is definitely worth a try!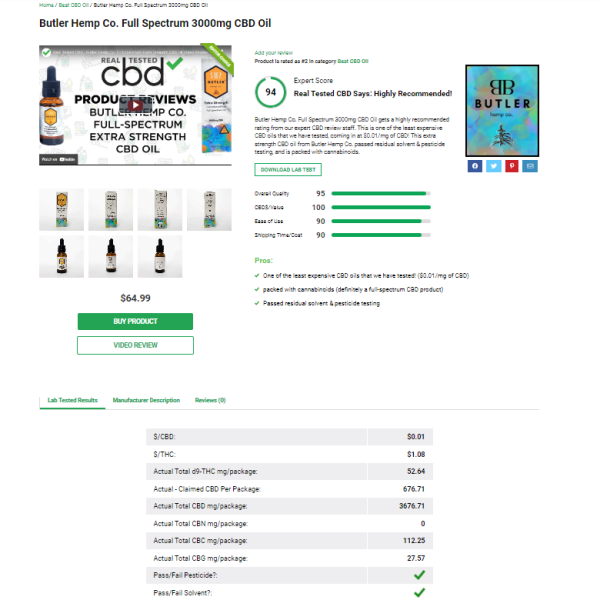 Photo Credit: Real Tested CBD
2. Dad Grass Classic Formula CBD Tincture
This full-spectrum tincture from Dad Grass is packed with cannabinoids, tests over the label claim for CBD, and is moderately priced at $0.04/mg of CBD. It also passed residual solvent & pesticide testing, and like all other Dad Grass products we've tested, comes in their classic packaging. In short, this product has everything we look for when testing and reviewing full-spectrum CBD oils.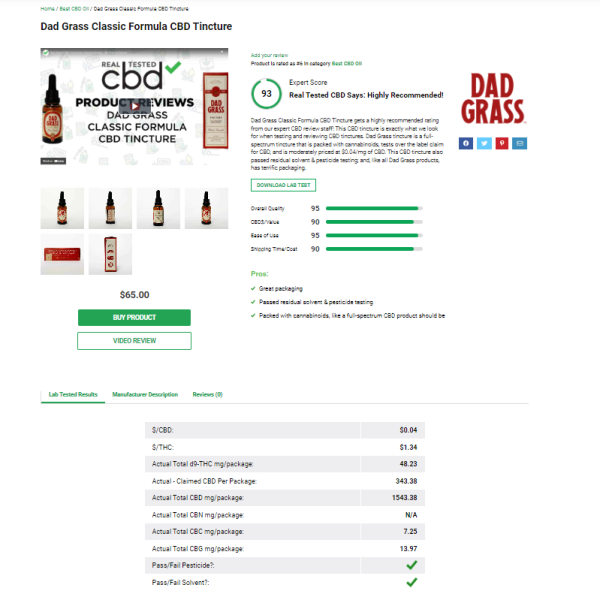 Photo Credit: Real Tested CBD
3. Cannacea Tagrid's 100 Full-Spectrum Hemp Oil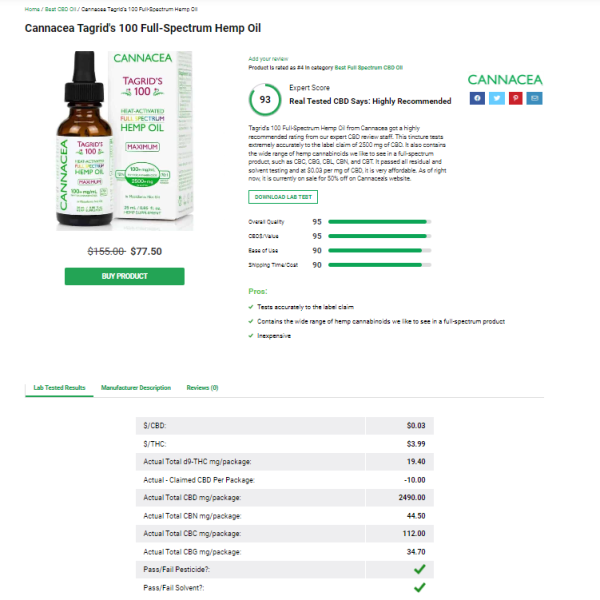 Photo Credit: Real Tested CBD
This tincture tests extremely accurately to the label claim of 2500 mg of CBD and contains a wide range of hemp cannabinoids, such as CBC, CBG, CBL, CBN, and CBT. This trustworthy CBD oil is also certified by the Vegan society, as it's 100% plant based. It's already pretty affordable, at $0.03 per mg of CBD, but as of right now, it is currently on sale for 50% off on Cannacea's website.
Find Full-Spectrum CBD Oils You Can Trust with Real Tested CBD!
As previously mentioned, some rankings and reviews of "full-spectrum" products you come across on the internet might be downright misleading. That's why Real Tested CBD is dedicated to providing you with unbiased reviews and third-party lab test results for all of today's leading CBD products.
Next time you're shopping for full-spectrum CBD oil, be sure to stop by RealTestedCBD.com first. There, you will find more lab test results and reviews for the best full-spectrum CBD oils, along with our rankings for other CBD products and delta-8 products. You can also discover the answers to all of your CBD-related questions on our blog, and visit our Delta-8 Resource Center the next time you're searching for "delta-8 near me." Whether you're looking for trustworthy CBD or delta-8 products, Real Tested CBD can help!
Sourse: hollywoodlife.com