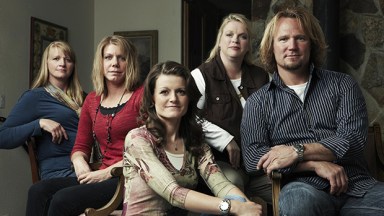 Image Credit: Puddle Monkey Prods/Figure 8/Kobal/Shutterstock
Season 18 of Sister Wives is already packed with a ton of bombshells, but the drama doesn't only involve the family patriarch, Kody Brown. The businessman's ex-wife Christine Brown has aired out a lot of her grievances throughout the season following her and Kody's split. Among some of her most major revelations, though, involved Kody's remaining wife, Robyn Brown.
Fans of the popular reality TV show have watched Robyn and Christine's relationship transform into a much icier one over the years. In season 17, the Cooking With Just Christine star called Robyn the "favorite wife" above Kody's now-ex-wives Janelle Brown, Meri Brown and Christine, igniting an uproar in the polygamous family.
Now that season 18 is unfolding on TLC, viewers are watching more of Christine and Robyn's drama. During the episode that aired on Sunday, September 17, Christine didn't hold back in sharing her unfiltered opinions about Robyn.
Keep reading to learn everything that Christine said about Robyn.
Robyn Allegedly Denied Kody's Preference for Her
"[When our family lived] in Vegas, we all did counseling sessions together — all the adults," Christine explained. "In the therapy sessions, I was very direct, and I said specifically the problem is [Kody] prefers Robyn and prefers being in Robyn's house more than anywhere else."
The reality star then claimed that Robyn "would just deny it, and she'd just be like, 'He's not here.' And he'd be like, 'I don't know what you're talking about. I'm over at your house equally.' And I was like, 'No, you're not. No, you're not.'"
Why Christine Doesn't 'Trust' Robyn
"She knew that Kody was over at her house more than anybody else's," Christine alleged. "I'm not going to trust someone who says they want family, yet they are fine with Kody only being at their house. That's not a family. That's Monogamy."
Christine 'Would Have Rejected' Robyn as a Friend
Robyn explained during her own confessional that she was heartbroken over Christine's feelings about her.
"I feel like we really did have the potential of just having a great relationship," Robyn said while struggling to hold back tears. "And I just never understood why we couldn't. I just don't know how to come to terms with the heartbreak of it."
However, Christine stood her ground and explained why she would have "rejected" Robyn's "olive branch" in the end.
"If it bothered her that she didn't have a relationship with me, she should've said, 'Hey, why don't we have a relationship? Can we be friends?'" Christine noted during the episode. "But I want you to know, I would've rejected her friendship anyway to be completely honest with you."
Sourse: hollywoodlife.com