Becca Haley is surrounded by her loved ones as she prepares to talk down the aisle in this exclusive preview of the October 25 episode of Married at First Sight. Lindsey, Becca's maid of honor, is thrilled to see Becca have her big moment. "I just feel like you just have it all," Lindsey says. "Like, you're creative, you're driven, you're just committed to making everyone around you better. I'm so proud of you for being here."
Becca is moved by Lindsey's words, and Lindsey soon begins to cry. Becca hugs Lindsey as they embrace this emotional moment. Donna, Becca's mom, tells the girls to take deep breaths. Becca gives her bridesmaid, Marina, a hug as well.
"I just feel like… between you and Lindsey, you really did show me what I deserve," Becca says to Marina. "Every guy that's come along the way. You guys are the first to really believe in me and teach me not to settle."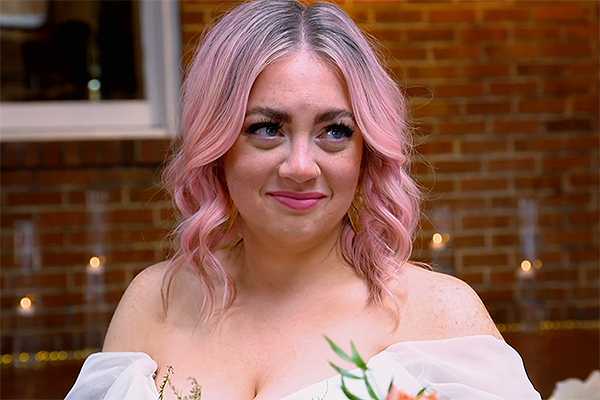 Becca in the October 25 episode of 'Married at First Sight.' (Lifetime)
Becca and Austin R. met in the season 17 premiere and wanted to explore their connection further. Becca is a photographer specializing in weddings and bridal shoots. In a preview released ahead of the premiere, Austin admitted that he's had one-night stands. Austin also revealed that he wants someone who is "structured" and "ambitious" but also "full of energy."
The official synopsis for the October 25 episode reads: "With one pair having already exchanged their vows in Denver, our other 8 singles make the final preparations for their own mile-high matrimonies. But on Wedding Day, as their anxieties reach a pinnacle – will one bride disappear into thin air?"
Married at First Sight season 17 kicked off on October 18 with 10 Denver singles looking to take the big leap by marrying a complete stranger. In the premiere episode, Emily and Brennan were the only couple to walk down the aisle. Meanwhile, Michael was left at the altar after his bride ran away. Married at First Sight season 17 airs Wednesdays on Lifetime.
Sourse: hollywoodlife.com